Welcome to The Visible Embryo, a comprehensive educational resource on human development from conception to birth.

The Visible Embryo provides visual references for changes in fetal development throughout pregnancy and can be navigated via fetal development or maternal changes.

The National Institutes of Child Health and Human Development awarded Phase I and Phase II Small Business Innovative Research Grants to develop The Visible Embryo. Initally designed to evaluate the internet as a teaching tool for first year medical students, The Visible Embryo is linked to over 600 educational institutions and is viewed by more than one million visitors each month.

Today, The Visible Embryo is linked to over 600 educational institutions and is viewed by more than 1 million visitors each month. The field of early embryology has grown to include the identification of the stem cell as not only critical to organogenesis in the embryo, but equally critical to organ function and repair in the adult human. The identification and understanding of genetic malfunction, inflammatory responses, and the progression in chronic disease, begins with a grounding in primary cellular and systemic functions manifested in the study of the early embryo.

---


The World Health Organization (WHO) has created a new Web site to help researchers, doctors and
patients obtain reliable information on high-quality clinical trials. Now you can go to one website and search all registers to identify clinical trial research underway around the world!




Disclaimer: The Visible Embryo web site is provided for your general information only. The information contained on this site should not be treated as a substitute for medical, legal or other professional advice. Neither is The Visible Embryo responsible or liable for the contents of any websites of third parties which are listed on this site.

Content protected under a Creative
Commons License.

No dirivative works may be made or used for commercial purposes.
Return To Top Of Page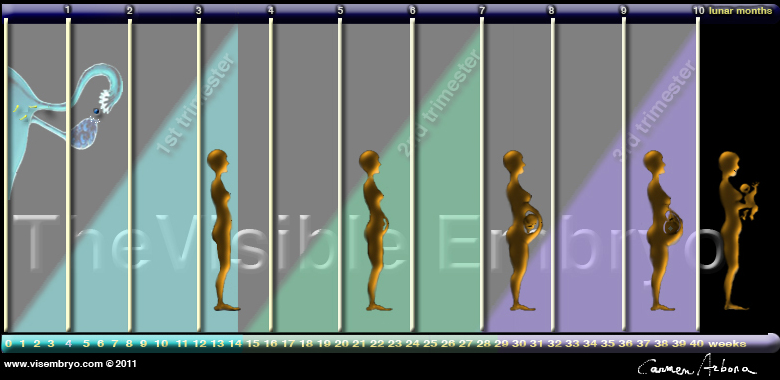 Click weeks 0 - 40 and follow fetal growth
April 25, 2013--------News Archive
Symptoms usually include one or more of the following: orthopnea (difficulty breathing while lying flat), dyspnea (shortness of breath on exertion), pitting edema (swelling), cough, frequent night-time urination, excessive weight gain during the last month of pregnancy (1-2+ kg/week; two to four or more pounds per week), palpitations (sensation of racing heart-rate, skipping beats, long pauses between beats, or fluttering), and chest pain.

The shortness of breath is often described by PPCM patients as the inability to take a deep or full breath or to get enough air into the lungs. Also, patients often describe the need to prop themselves up overnight by using two or more pillows in order to breathe better. These symptoms, swelling, and/or cough may be indications of pulmonary edema (fluid in the lungs) resulting from acute heart failure and PPCM.

Unfortunately, patients and clinicians sometimes dismiss early symptoms because they appear to be typical of normal pregnancy. Yet, early detection and treatment are critically important to the patient with PPCM. Delays in diagnosis and treatment of PPCM are associated with increased morbidity and mortality.e, and human

source: A Mother's Heart







Potential biomarker for pregnancy-associated heart disease?
Peripartum cardiomyopathy (PPCM) is a deterioration in cardiac function that occurs in pregnant women during the last monthof pregnancy—or the months following pregnancy. This disorder can occur in women with no prior history of heart disease and the causes are not well understood.
In the Journal of Clinical Investigation, Ingrid Struman and colleagues at the University of Liege in Liege, Belgium, identified a molecule, miR-146a, that can serve as a biomarker for peripartum cardiomyopathy.
---
Struman and colleagues found that expression of the molecule miR-146a was induced by the nursing hormone prolactin.
---
MiR-146a expression promotes vascular damage and was increased in a mouse model of PPCM. Conversely, loss of miR-146a in mice prevented PPCM.
Importantly, miR-146a expression was elevated in the serum of pregnant women who developed PPCM, suggesting that serum miR-146a levels could predict which patients are at risk for the disease.
In a companion commentary, Richard Kitsis of Albert Einstein College of Medicine in New York, discusses the potential implications of this work for the identification and treatment of PPCM.
TITLE: MicroRNA-146a is a therapeutic target and biomarker for peripartum cardiomyopathy
AUTHOR CONTACT:
Ingrid Struman
University of Liege, Liege, BEL
Phone: +3243663566; E-mail: i.struman@ulg.ac.be
View this article at: http://www.jci.org/articles/view/64365?key=54a58644d5c203c3b462
ACCOMPANYING COMMENTARY
TITLE: A microRNA links prolactin to peripartum cardiomyopathy
AUTHOR CONTACT:
Richard N Kitsis
Albert Einstein College of Medicine, Bronx, NY, USA
Phone: (718) 430-2609; Fax: (718) 430-8989; E-mail: richard.kitsis@einstein.yu.edu
View this article at: http://www.jci.org/articles/view/69286?key=ea00e37108ce3ec09bd1
Original article: http://www.eurekalert.org/pub_releases/2013-04/joci-apb041713.php