Welcome to The Visible Embryo, a comprehensive educational resource on human development from conception to birth.

The Visible Embryo provides visual references for changes in fetal development throughout pregnancy and can be navigated via fetal development or maternal changes.

The National Institutes of Child Health and Human Development awarded Phase I and Phase II Small Business Innovative Research Grants to develop The Visible Embryo. Initally designed to evaluate the internet as a teaching tool for first year medical students, The Visible Embryo is linked to over 600 educational institutions and is viewed by more than one million visitors each month.

Today, The Visible Embryo is linked to over 600 educational institutions and is viewed by more than 1 million visitors each month. The field of early embryology has grown to include the identification of the stem cell as not only critical to organogenesis in the embryo, but equally critical to organ function and repair in the adult human. The identification and understanding of genetic malfunction, inflammatory responses, and the progression in chronic disease, begins with a grounding in primary cellular and systemic functions manifested in the study of the early embryo.

---


The World Health Organization (WHO) has created a new Web site to help researchers, doctors and
patients obtain reliable information on high-quality clinical trials. Now you can go to one website and search all registers to identify clinical trial research underway around the world!




Disclaimer: The Visible Embryo web site is provided for your general information only. The information contained on this site should not be treated as a substitute for medical, legal or other professional advice. Neither is The Visible Embryo responsible or liable for the contents of any websites of third parties which are listed on this site.

Content protected under a Creative
Commons License.

No dirivative works may be made or used for commercial purposes.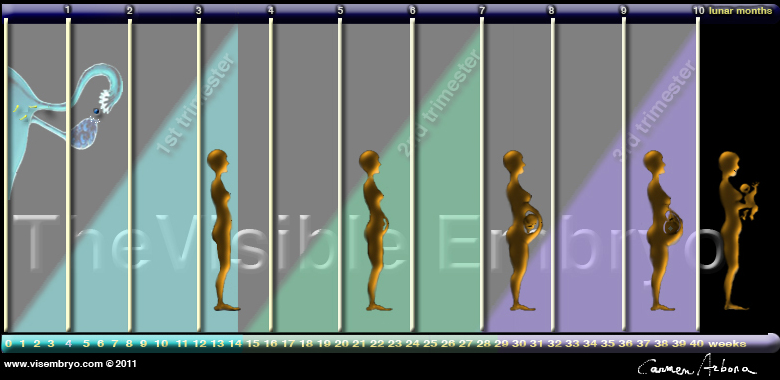 CLICK ON weeks 0 - 40 and follow along every 2 weeks of fetal development
Home | Pregnancy Timeline | News Alerts |News Archive Nov 19, 2013
Bacteria a model for next-generation antibiotics
The recent rise in antibiotic-resistant bacteria is a serious public health threat, and there is a need for new therapeutic strategies to combat these infections.

A study published by Cell Press on November 14th in the journal Molecular Cell has revealed a new toxin that inhibits bacterial growth by blocking the DNA replication machinery, which is not targeted by currently available antibiotics. The findings open new therapeutic avenues for developing the next generation of antibiotics.
---
"One source of inspiration for new antibiotic targets is bacteria themselves. By studying the ways in which toxins produced by bacteria inhibit their growth, we may potentially find clues into targets that hadn't been considered previously."

Michael Laub, senior study author, Massachusetts Institute of Technology.
---
Bacterial growth is regulated in part by sets of genes known as toxin-antitoxin (TA) systems, each of which typically encodes two proteins—the toxin and the antitoxin.

These proteins normally form a non-toxic complex, but under stressful conditions, the antitoxin degrades and frees up the toxin, which then inhibits bacterial proliferation. Despite the key role TA systems play in regulating bacterial growth, relatively little is known about how they work, and they currently are not targeted by any antibiotics in clinical use.
In the new study, Laub and his team identified a novel TA system called SocAB. Unlike all other known TA systems, SocAB targets bacterial DNA replication machinery. The toxin, SocB, blocks DNA replication and inhibits bacterial growth by interacting with a protein called DnaN, a central hub in protein networks involved in multiple cellular processes. The researchers also pinpointed the region on DnaN that is critical for this interaction.
---
The findings suggest that novel antibiotics that mimic the effects of SocB by targeting this region on DnaN could form the basis of a promising therapeutic strategy in the future.
---
"Our results reveal unexpected diversity in the molecular mechanisms underlying toxin-antitoxin systems, which are found throughout the bacterial kingdom," Laub says. "Because DnaN is highly conserved between bacteria, targeting this part of the DNA replication machinery may be a generalizable strategy to inhibit bacterial growth."
Abstract Highlights
SocAB is an atypical toxin-antitoxin system in Caulobacter crescentus
The antitoxin SocA is required for ClpXP-mediated degradation of the toxin SocB
In the absence of SocA or ClpXP, SocB accumulates and inhibits DNA replication
SocB inhibits replication by binding the β sliding clamp

Summary
Toxin-antitoxin (TA) systems are ubiquitous on bacterial chromosomes, yet the mechanisms regulating their activity and the molecular targets of toxins remain incompletely defined. Here, we identify SocAB, an atypical TA system in Caulobacter crescentus. Unlike canonical TA systems, the toxin SocB is unstable and constitutively degraded by the protease ClpXP; this degradation requires the antitoxin, SocA, as a proteolytic adaptor. We find that the toxin, SocB, blocks replication elongation through an interaction with the sliding clamp, driving replication fork collapse. Mutations that suppress SocB toxicity map to either the hydrophobic cleft on the clamp that binds DNA polymerase III or a clamp-binding motif in SocB. Our findings suggest that SocB disrupts replication by outcompeting other clamp-binding proteins. Collectively, our results expand the diversity of mechanisms employed by TA systems to regulate toxin activity and inhibit bacterial growth, and they suggest that inhibiting clamp function may be a generalizable antibacterial strategy.
Molecular Cell, Aakre et al.: "A Bacterial Toxin Inhibits DNA Replication Elongation Through a Direct Interaction with the beta Sliding Clamp."