Welcome to The Visible Embryo, a comprehensive educational resource on human development from conception to birth.

The Visible Embryo provides visual references for changes in fetal development throughout pregnancy and can be navigated via fetal development or maternal changes.

The National Institutes of Child Health and Human Development awarded Phase I and Phase II Small Business Innovative Research Grants to develop The Visible Embryo. Initally designed to evaluate the internet as a teaching tool for first year medical students, The Visible Embryo is linked to over 600 educational institutions and is viewed by more than one million visitors each month.

Today, The Visible Embryo is linked to over 600 educational institutions and is viewed by more than 1 million visitors each month. The field of early embryology has grown to include the identification of the stem cell as not only critical to organogenesis in the embryo, but equally critical to organ function and repair in the adult human. The identification and understanding of genetic malfunction, inflammatory responses, and the progression in chronic disease, begins with a grounding in primary cellular and systemic functions manifested in the study of the early embryo.

---


The World Health Organization (WHO) has created a new Web site to help researchers, doctors and
patients obtain reliable information on high-quality clinical trials. Now you can go to one website and search all registers to identify clinical trial research underway around the world!




Disclaimer: The Visible Embryo web site is provided for your general information only. The information contained on this site should not be treated as a substitute for medical, legal or other professional advice. Neither is The Visible Embryo responsible or liable for the contents of any websites of third parties which are listed on this site.

Content protected under a Creative
Commons License.

No dirivative works may be made or used for commercial purposes.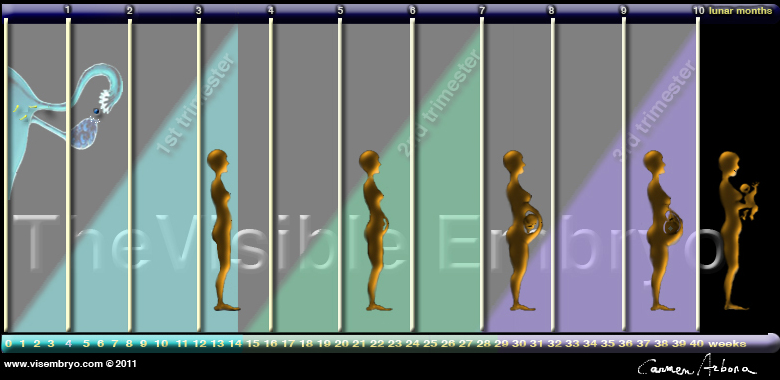 CLICK ON weeks 0 - 40 and follow along every 2 weeks of fetal development
Home | Pregnancy Timeline | News Alerts |News Archive Nov 27, 2013
How the early embryo changes shape
In an early mammalian embryo, just 8-cells large, the roundish cells do something they had never done until that moment – something that would determine whether the embryo survived or failed. They change their shape.

The cells become elongated and compacted against each other, before returning to their rounded shape and dividing again and again. If this compaction and rounding does not occur, embryos tend not to survive. And the timing of compaction has been linked to success in IVF (in vitro fertilisation) treatments. But how do these young, seemingly featureless cells undertake this vital shaping process?
Scientists from the EMBL Australia research team based at Monash University's Australian Regenerative Medicine Institute (ARMI) have revealed new insights into how cells organise and form an early mammalian embryo. Their research is published in Nature Cell Biology

Researchers Dr Nicolas Plachta, Dr Juan Carlos Fierro-González and Dr Melanie White have found a new mechanism controlling the process. The team used live imaging technology and microinjected fluorescent markers to capture the action in vivid images and video.
---
"Our images reveal arm-like structures called filopodia appearing on the outer membrane of some cells during the 8-cell stage, and it is these filopodia that are responsible for contorting cell shape, and forming the embryo's first tissue-like layers.

"For the first time, we have been able to watch as filopodia reach out and grab neighbouring cells, pulling them closer and elongating the cell membranes. We think that this enables the cells to effectively compact, as their new non-rounded shape makes the most of the available space."

Juan Carlos Fierro-González, PhD, EMBL Australia at Monash University's Australian Regenerative Medicine Institute
---
But the role of filopodia was made clearer upon seeing what happened next.

"We then saw the filopodia retract as they released their grip on neighbouring cells, allowing them to return to a somewhat rounded shape before they continued on their journey of cell division," Dr Fierro-González said.
---
Dr Plachta and his team observed that cell division never occurred while filopodia were extended over the cells, but only once the filopodia had retracted.

These observations have lead the researchers to believe that the filopodia provide the necessary surface tension to allow the cells to undergo expansion and compaction.
---
"Our findings reveal a completely unanticipated mechanism regulating the earliest stages of embryo development, and we can apply that knowledge to human IVF treatments," Dr Plachta, Leader of the Plachta Group, said.

Dr Plachta and his team are pioneering live imaging techniques to watch mouse embryos developing in real-time. And they are already working in partnership with the Monash School of Engineering to improve implantation success rates for human embryos.

"Now that we know what controls early development, we are designing non-invasive imaging approaches to see if human embryos used in IVF form normal filopodia and undergo normal compaction. This could help us choose which embryos should or shouldn't be implanted back in the uterus," Dr Plachta said.
Abstract
Compaction of the preimplantation embryo is the earliest morphogenetic process essential for mammalian development, yet it remains unclear how round cells elongate to form a compacted embryo. Here, using live mouse embryo imaging, we demonstrate that cells extend long E-cadherin-dependent filopodia on to neighbouring cells, which control the cell shape changes necessary for compaction. We found that filopodia extension is tightly coordinated with cell elongation, whereas retraction occurs before cells become round again before dividing. Laser-based ablations revealed that filopodia are required to maintain elongated cell shapes. Moreover, molecular disruption of the filopodia components E-cadherin, α- and β-catenin, F-actin and myosin-X prevents cells from elongating and compacting the embryo. Finally, we show that early filopodia formation triggered by overexpressing myosin-X is sufficient to induce premature compaction. Our findings establish a role for filopodia during preimplantation embryonic development and provide an in vivo context to investigate the biological functions of filopodia in mammals.