Home | Pregnancy Timeline | News Alerts |News Archive Dec 10, 2013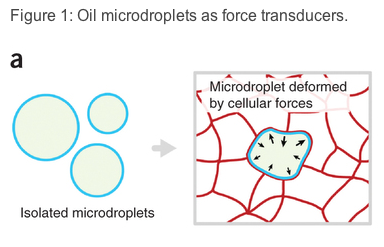 (a) Sketch of spherical oil droplets in solution (left) and
embedded in between cells in embryonic tissue (right).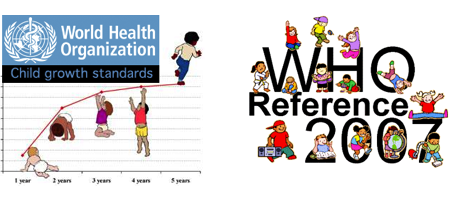 Measuring life's tugs and pulls

As embryonic tissue develops, cells push and pull on each other, and they must do so correctly for the tissue to develop properly. Now scientists at Harvard University have devised the first method to measure these forces in three-dimensional (3D) tissues and living embryos.
The method, which involves injecting tiny oil droplets, could lead to new tools to diagnose cancer, hypertension, connective tissue diseases, and more. Scientists from the Wyss Institute for Biological Engineering at Harvard University and the Harvard School of Engineering and Applied Sciences (SEAS) reported the work online December 8 in Nature Methods.
---
"Now that we can quantify the forces within a cell, we can find entirely new ways to diagnose the extraordinary range of diseases that alter cell contractility and tissue stiffness.

"Just as important, we can answer crucial questions about development that have lay unexamined for decades."

Don Ingber, M.D., Ph.D., Founding Director of the Wyss Institute, Professor of Bioengineering at SEAS, and senior author of the study
---
Tissue cells don't just sit there inside the body — they are constantly in motion, tugging on and nudging other cells within their extracellular matrix — the molecular scaffold that knits cells into tissues. As a result, tissues live in a state of dynamic tension, like a stretched rubber band.
---
Studies in lab-grown cells suggest that mechanical forces are as important in regulating biological function as chemicals and genes.

But scientists previously had no way of studying these mechanisms in developing embryos because they had no way to quantify mechanical forces in living tissues.
---
Such forces are particularly important as the body develops from the fertilized egg into tissues and organs with specialized shapes and functions — a process known as morphogenesis.

Biologists studying morphogenesis knew that as the embryo develops, mechanical forces direct cells to multiply, steer to their proper locations, and specialize. But they have long focused on detailing the genes and cellular pathways that direct and coordinate this process, rather than the role of cellular forces. And this was simply because they did not have the tools to measure those forces according to Otger Campàs, Ph.D.

Dr. Campas is an Assistant Professor of mechanical engineering who holds the Mellichamp Chair in Systems Biology at the University of California, Santa Barbara (UCSB). Campàs is also a former postdoctoral fellow at the Wyss Institute and SEAS.
---
"Shaping tissues and organs involves an interplay between genetics and physics. If you can't measure the physical side of it, you can't completely understand the problem."

Otger Campàs, Ph.D., Assistant Professor of mechanical engineering who holds the Mellichamp Chair in Systems Biology at the University of California, Santa Barbara (UCSB).
---
Scientists had previously developed several methods to quantitate how cells push and pull on each other while growing in a dish in the lab. But they had no good way to measure these forces while the cells are building 3D tissues in their natural environment.
Campàs decided to invent one. As a doctoral student, he had used oil droplets to measure forces exerted by a network of protein filaments that drive cell movement. Inspired by that work, he decided to try using oil microdroplets as force transducers in living tissues.
Campàs and Ingber identified a special oil called a fluorocarbon that remains separate from the cell membrane, like oil does from water, and is safe for cells and tissues. Then they devised a special coating for the droplets so it sticks to cells or to the extracellular matrix. This enabled them to measure how cells push and pull within living tissues.
They also coated droplets with a chemical that made their surface glow when illuminated with a laser, then videotaped under a microscope as cells tugged and pressed on the droplet in 3D. The oil droplets on their own are spherical, but squeezing or stretching them deforms them as if squeezing or stretching a water balloon. By measuring how deformed each droplet was, the scientists could precisely calculate the force exerted on it by the neighboring cells adhering to it and by the extracellular matrix.
---
Using the oil droplets, scientists were able to quantitfy the forces within lab-grown 3D aggregates of mouse mammary tumor cells, and within living 3D tissues from embryonic mouse jaws.

They found that an individual cell exerted huge forces — 24 times as much pressure on the droplet as the jaws of an ant – and that the cells exerted the same amount of force in cultured aggregates as in tissues, lending confidence to the accuracy of their technology.
---
In his new lab at UCSB, Campàs now uses the method to determine the spatial patterns of forces that shape different embryonic structures in fish, chicken, and other organisms.
Abstract
Cell-generated mechanical forces play a critical role during tissue morphogenesis and organ formation in the embryo. Little is known about how these forces shape embryonic organs, mainly because it has not been possible to measure cellular forces within developing three-dimensional (3D) tissues in vivo. We present a method to quantify cell-generated mechanical stresses exerted locally within living embryonic tissues, using fluorescent, cell-sized oil microdroplets with defined mechanical properties and coated with adhesion receptor ligands. After a droplet is introduced between cells in a tissue, local stresses are determined from droplet shape deformations, measured using fluorescence microscopy and computerized image analysis. Using this method, we quantified the anisotropic stresses generated by mammary epithelial cells cultured within 3D aggregates, and we confirmed that these stresses (3.4 nN μm−2) are dependent on myosin II activity and are more than twofold larger than stresses generated by cells of embryonic tooth mesenchyme, either within cultured aggregates or in developing whole mouse mandibles.

In addition to Campàs and Ingber, the research team also included:
L. Mahadevan, Wyss Core Faculty member, Lola England de Valpine Professor of Applied Mathematics, of Organismic and Evolutionary Biology, and of Physics; David A. Weitz, Ph.D., Wyss Associate Faculty member and Mallinckrodt Professor of Physics and Applied Physics at Harvard SEAS; Richard Maas, M.D., Ph.D., a Professor of Medicine at Harvard Medical School and Brigham and Women's Hospital; Tadanori Mammoto, Ph.D., Instructor at Harvard Medical school and Boston Children's Hospital; Sean Hasso, Ph.D., a former postdoc at Boston Children's Hospital; Ralph A. Sperling, Ph.D., a former postdoc at Harvard SEAS; Daniel O'Connell, Ph.D. '11, and Ashley Bischof, Ph.D. '13, former graduate students at Harvard Medical School.

The work was funded by the National Institutes of Health, SysCode Consortium, the MacArthur Foundation, the Harvard NSF-MRSEC, and the Wyss Institute.
About the Wyss Institute for Biologically Inspired Engineering at Harvard University
The Wyss Institute for Biologically Inspired Engineering at Harvard University uses Nature's design principles to develop bioinspired materials and devices that will transform medicine and create a more sustainable world. Working as an alliance among Harvard's Schools of Medicine, Engineering, and Arts & Sciences, and in partnership with Beth Israel Deaconess Medical Center, Brigham and Women's Hospital, Boston Children's Hospital, Dana Farber Cancer Institute, Massachusetts General Hospital, the University of Massachusetts Medical School, Spaulding Rehabilitation Hospital, Boston University, Tufts University, and Charité - Universitätsmedizin Berlin, the Institute crosses disciplinary and institutional barriers to engage in high-risk research that leads to transformative technological breakthroughs. By emulating Nature's principles, Wyss researchers are developing innovative new engineering solutions for healthcare, energy, architecture, robotics, and manufacturing. These technologies are translated into commercial products and therapies through collaborations with clinical investigators, corporate alliances, and new start-ups. The Wyss Institute recently won the prestigious World Technology Network award for innovation in biotechnology.
About the Harvard School of Engineering and Applied Sciences
Harvard School of Engineering and Applied Sciences (SEAS) serves as the connector and integrator of Harvard's teaching and research efforts in engineering, applied sciences, and technology. Through collaboration with researchers from all parts of Harvard, other universities, and corporate and foundational partners, we bring discovery and innovation directly to bear on improving human life and society. For more information, visit: http://seas.harvard.edu