Home | Pregnancy Timeline | News Alerts |News Archive Jan 1, 2014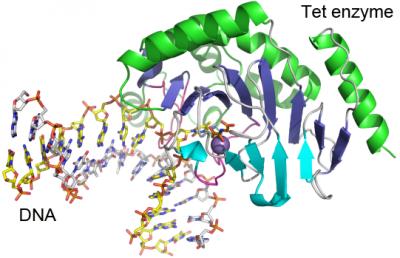 Above the Tet Enzyme (GREEN and BLUE sitting on a strand of the DNA double helix)
bends the double helix backwards, flipping out the base to be modified.
Below: the amoeba Naegleria gruberi
Named after French zoologist Mathieu Naegler, Naegleria gruberi is not pathogenic and is commonly found in warm freshwater (lakes, rivers, and hot springs) and soil.

It is famous for its ability to change from an amoeba, without a cytoskeleton,
to a flagellate, with an elaborate cytoskeleton, including flagella.



Image source:
Wikipedia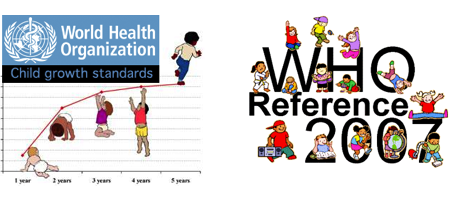 Understanding epigenetics getting closer
The first picture of an enzyme attached to a DNA strand and altering methylation by bending the DNA strand backwards popping out bits of newly embeded code, has been realized.
The finding is important to the field of epigenetics because Tet enzymes chemically modify DNA, changing signposts telling cell machinery "turn this gene OFF " into signs that say "turn this gene ON"
---
Tet enzymes' have only come to light in the last five years. Stem cells need them to maintain a multipotent state. But, they are also involved in early embryo and brain development — as well as in cancer.
---
The results of this study could help scientists understand how to regulate Tet enzymes — assisting in the search for drugs to manipulate them.

The work is published in Nature.
The research was led by Xiaodong Cheng, PhD, who determined the structure of this particular Tet enzyme by using X-ray crystallography on the amoeba Naegleria gruberi. The crystallographic structure of the amoeba shows how the tet enzyme bends the DNA double helix backwards until it has flipped out a base to which the enzyme was attached — therefore affecting how the DNA strand is read — to produce or not produce a specific protein.
"This base flipping mechanism is also used by other enzymes to modify — and repair DNA — but we see from the X-ray structure that the Tet family enzymes interact with DNA in a very distinct way," Cheng says.
---
Using oxygen, Tet enzymes change 5-methylcytosine into 5-hydroxymethylcytosine and other oxidized forms of methylcytosine.

5-methylcytosine (5-mC) and 5-hydroxymethylcytosine (5-hmC) are both epigenetic modifications of DNA, which change how DNA is regulated without altering the letters of the genetic code itself.

5-mC is generally found on genes that are turned OFF, on repetitive regions of the genome. It helps shut off genes that aren't supposed to be working (depending on the cell the gene is located within).

Changes in 5-mC's distribution underpin a healthy cell's transformation into a cancer cell.

In contrast, 5-hmC appears to be enriched in ACTIVE genes, especially brain cells. Having a Tet enzyme form 5-hmC seems to be a way for cells to erase or at least modify the "off" signal from 5-mC, although the functions of 5-hmC are still an active topic of investigation, explains Cheng.

Alterations of the Tet enzymes have been found in forms of leukemia, so having information on the enzymes' molecular structure could help scientists design drugs that interfere with them.
---
N. gruberi is a single-celled organism found in soil or fresh water that can take the form of an amoeba or a flagellate; its close relative N. fowleri can cause deadly brain infections.

Cheng chose to study the enzyme in Naegleria because this amoeba is smaller and simpler to crystallize for the process of X-ray crystallography than are mammalian forms of the same enzyme — yet Naegleria protein sequences still resemble mammalian protein sequences.
However, mammalian Tet enzymes appear to have an additional regulatory domain that Naegleria forms do not. Understanding how this additional domain works will be a new piece of the puzzle to be worked out through comparison to the Naegleria structure, Cheng adds.
Abstract
Cytosine residues in mammalian DNA occur in five forms: cytosine (C), 5-methylcytosine (5mC), 5-hydroxymethylcytosine (5hmC), 5-formylcytosine (5fC) and 5-carboxylcytosine (5caC). The ten-eleven translocation (Tet) dioxygenases convert 5mC to 5hmC, 5fC and 5caC in three consecutive, Fe(II)- and α-ketoglutarate-dependent oxidation reactions1, 2, 3, 4. The Tet family of dioxygenases is widely distributed across the tree of life5, including in the heterolobosean amoeboflagellate Naegleria gruberi. The genome of Naegleria6 encodes homologues of mammalian DNA methyltransferase and Tet proteins7. Here we study biochemically and structurally one of the Naegleria Tet-like proteins (NgTet1), which shares significant sequence conservation (approximately 14% identity or 39% similarity) with mammalian Tet1. Like mammalian Tet proteins, NgTet1 acts on 5mC and generates 5hmC, 5fC and 5caC. The crystal structure of NgTet1 in complex with DNA containing a 5mCpG site revealed that NgTet1 uses a base-flipping mechanism to access 5mC. The DNA is contacted from the minor groove and bent towards the major groove. The flipped 5mC is positioned in the active-site pocket with planar stacking contacts, Watson–Crick polar hydrogen bonds and van der Waals interactions specific for 5mC. The sequence conservation between NgTet1 and mammalian Tet1, including residues involved in structural integrity and functional significance, suggests structural conservation across phyla.

Authors
Hideharu Hashimoto, June E. Pais, Xing Zhang, Lana Saleh, Zheng-Qing Fu, Nan Dai, Ivan R. Corrêa, Yu Zheng & Xiaodong Cheng
Xiaodong Cheng is professor of biochemistry at Emory University School of Medicine and a Georgia Research Alliance Eminent Scholar. The first author of the paper is research associate Hideharu Hashimoto, PhD. A team led by Yu Zheng, PhD, a senior research scientist at New England Biolabs, contributed to the paper by analyzing the enzymatic activity of Tet using liquid chromatography–mass spectrometry.

Nature (2013) doi:10.1038/nature12905
Received 22 May 2013 Accepted 19 November 2013 Published online 25 December 2013

The research was supported by the National Institute of General Medical Sciences (GM049245, GM095209, GM105132) and the Georgia Research Alliance.