Welcome to The Visible Embryo, a comprehensive educational resource on human development from conception to birth.

The Visible Embryo provides visual references for changes in fetal development throughout pregnancy and can be navigated via fetal development or maternal changes.

The National Institutes of Child Health and Human Development awarded Phase I and Phase II Small Business Innovative Research Grants to develop The Visible Embryo. Initally designed to evaluate the internet as a teaching tool for first year medical students, The Visible Embryo is linked to over 600 educational institutions and is viewed by more than one million visitors each month.

Today, The Visible Embryo is linked to over 600 educational institutions and is viewed by more than 1 million visitors each month. The field of early embryology has grown to include the identification of the stem cell as not only critical to organogenesis in the embryo, but equally critical to organ function and repair in the adult human. The identification and understanding of genetic malfunction, inflammatory responses, and the progression in chronic disease, begins with a grounding in primary cellular and systemic functions manifested in the study of the early embryo.

---


The World Health Organization (WHO) has created a new Web site to help researchers, doctors and
patients obtain reliable information on high-quality clinical trials. Now you can go to one website and search all registers to identify clinical trial research underway around the world!




Disclaimer: The Visible Embryo web site is provided for your general information only. The information contained on this site should not be treated as a substitute for medical, legal or other professional advice. Neither is The Visible Embryo responsible or liable for the contents of any websites of third parties which are listed on this site.

Content protected under a Creative
Commons License.

No dirivative works may be made or used for commercial purposes.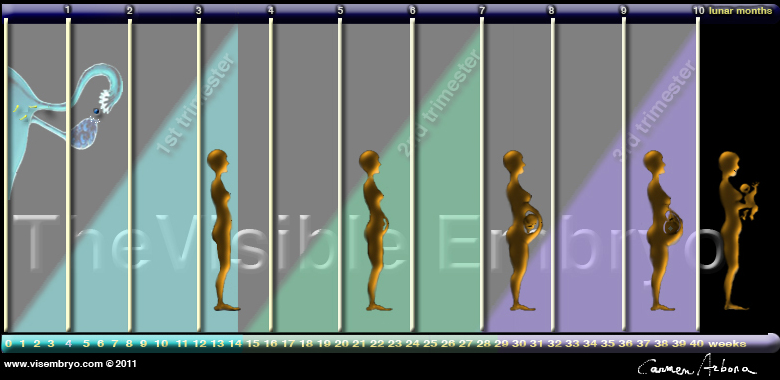 CLICK ON weeks 0 - 40 and follow along every 2 weeks of fetal development
Home | Pregnancy Timeline | News Alerts |News Archive Feb 21, 2014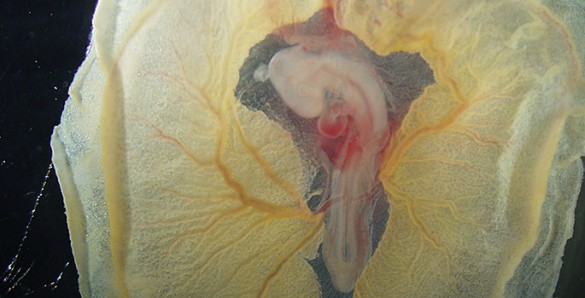 This microphotograph of a chick embryo shows the U-shaped tube
from which the heart (darkest pink - image center) will develop.
At this stage of heart is the size of a comma on a printed page.

Image Credit: M.K. Sewell-Lofkin, Vanderbilt University.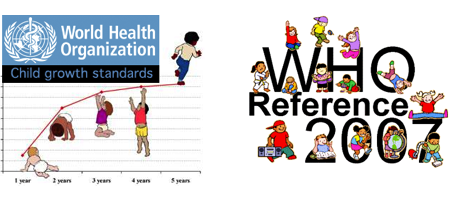 Baby hearts need rhythm to develop correctly


Baby hearts need rhythm — even before they have blood to pump — to develop correctly.
A team of engineers, scientists and clinicians is attempting to grow replacement heart valves from a patient's own cells. In the journal Biomaterials, they report that mechanical forces generated by the rhythmic expansion and contraction of cardiac muscle cells, play a decisive role in initial heart valve formation.
---
"We have discovered that mechanical forces are important when making baby hearts."

Mary Kathryn Sewell-Loftin, graduate student, Vanderbilt University
---
A heart valve consists of two or three flaps, called leaflets, which open and close to control blood flow — and is designed to cycle two to three billion times in a person's lifetime. But, humans and chickens are unusual in that in most other animals - large and small - have hearts that beat only about one billion times in their entire lives. However, human heart valves can also be damaged by birth defects, diseases such as rheumatic fever, cancer, heart attacks and eventually advanced age.
"For the last 15 years, people have been trying to create a heart valve out of artificial tissue using brute-force engineering methods without any success," adds Assistant Professor of Biomedical Engineering W. David Merryman. "We decided to take a step back and study how heart valves develop naturally so we can figure out how to duplicate the process." To do so, they designed a series of experiments with chickens, whose hearts develop in a fashion similar to the human heart.
---
"The discovery that the deformations produced by the beating cardiac muscle cells are important provides an entirely new perspective on the process."

W. David Merryman, project director, assistant professor, Biomedical Engineering, Vanderbilt University
---
"This is the second major advance that we've made," said Professor of Pharmacology Joey Barnett, co-principal investigator of the heart valve project.
Abstract
Epithelial-to-mesenchymal transition (EMT) of endocardial cells is a critical initial step in the formation of heart valves. The collagen gel in vitro model has provided significant information on the role of growth factors regulating EMT but has not permitted investigation of mechanical factors. Therefore we sought to develop a system to probe the effects of mechanical inputs on endocardial EMT by incorporating hyaluronic acid (HA), the primary component of endocardial cushions in developing heart valves, into the gel assay. This was achieved using a combination collagen and crosslinkable methacrylated HA hydrogel (Coll-MeHA). Avian atrioventricular canal explants on Coll-MeHA gels showed increased numbers of transformed cells. Analysis of the mechanical properties of Coll-MeHA gels shows that stiffness does not directly affect EMT. Hydrogel deformation from the beating myocardium of explants directly led to higher levels of regional gel deformation and larger average strain magnitudes associated with invaded cells on Coll-MeHA gels. Inhibition of this contraction reduced EMT on all gel types, although to a lesser extent on Coll-MeHA gels. Using the system we have developed, which permits the manipulation of mechanical factors, we have demonstrated that active mechanical forces play a role in the regulation of endocardial EMT.
The Vanderbilt effort is part of a broader program to develop artificial organs named the Systems-based Consortium for Organ Design and Engineering (SysCODE). It is a National Institutes of Health "Roadmap" initiative to speed the movement of scientific discoveries from the bench to the bedside.