Welcome to The Visible Embryo, a comprehensive educational resource on human development from conception to birth.

The Visible Embryo provides visual references for changes in fetal development throughout pregnancy and can be navigated via fetal development or maternal changes.

The National Institutes of Child Health and Human Development awarded Phase I and Phase II Small Business Innovative Research Grants to develop The Visible Embryo. Initally designed to evaluate the internet as a teaching tool for first year medical students, The Visible Embryo is linked to over 600 educational institutions and is viewed by more than one million visitors each month.

Today, The Visible Embryo is linked to over 600 educational institutions and is viewed by more than 1 million visitors each month. The field of early embryology has grown to include the identification of the stem cell as not only critical to organogenesis in the embryo, but equally critical to organ function and repair in the adult human. The identification and understanding of genetic malfunction, inflammatory responses, and the progression in chronic disease, begins with a grounding in primary cellular and systemic functions manifested in the study of the early embryo.

---


The World Health Organization (WHO) has created a new Web site to help researchers, doctors and
patients obtain reliable information on high-quality clinical trials. Now you can go to one website and search all registers to identify clinical trial research underway around the world!




Disclaimer: The Visible Embryo web site is provided for your general information only. The information contained on this site should not be treated as a substitute for medical, legal or other professional advice. Neither is The Visible Embryo responsible or liable for the contents of any websites of third parties which are listed on this site.

Content protected under a Creative
Commons License.

No dirivative works may be made or used for commercial purposes.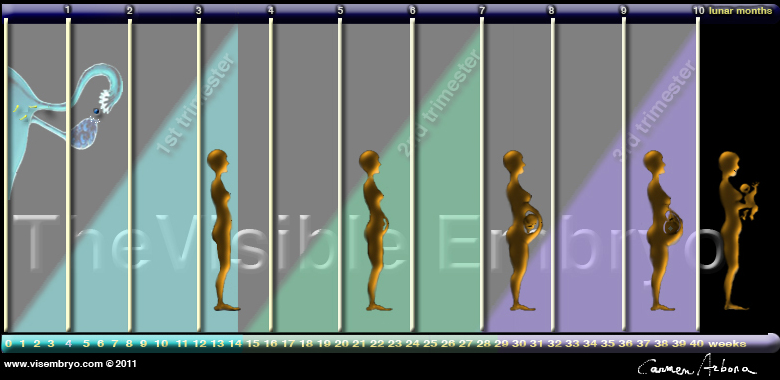 CLICK ON weeks 0 - 40 and follow along every 2 weeks of fetal development
Home | Pregnancy Timeline | News Alerts |News Archive March 26, 2014
Of 45 young healthy women in Brisbane aged 18 to 47, those who showed high rates
of sun exposure accounted for up to a 20 per cent reduction in their folate levels.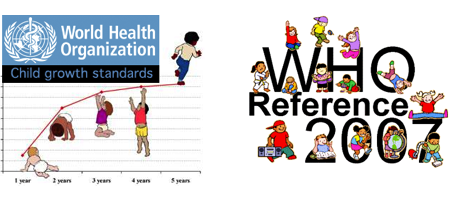 UV exposure lowers folate in young women

Women who are pregnant or trying to become pregnant and taking a folic acid supplement, may be at risk of reducing their folate benefit through sun exposure, a new QUT study has warned.

In a paper titled "Exposure to solar ultraviolet radiation is associated with decreased folate status in women of childbearing age," published in the Journal of Photochemistry and Photobiology, QUT researchers found UV exposure significantly depleted folate levels.
---
Professor Michael Kimlin and Dr David Borradale, from QUT's AusSun Research Lab, said the study of 45 young healthy women in Brisbane aged 18 to 47, showed high rates of sun exposure accounted for up to a 20 per cent reduction in folate levels.
---
"This is concerning as the benefits of folic acid are well-known, with health professionals urging young women to take a folic acid supplement prior to and during pregnancy," says Professor Kimlin.
"Folate has been found to reduce miscarriage and neural tube defects such as spina bifida in unborn babies. The NHMRC recommends pregnant women or those planning a pregnancy take 500 micrograms a day."

Professor Kimlin said the study, which was the first to investigate the effects of sun exposure on folate levels in women of childbearing age, found women who had high levels of sun exposure had folate levels below those recommended for women considering pregnancy.

"The women at risk were those who were outside during the most UV
intense time of the day, between 10am and 3pm, with little sun protection," Professor Kimlin said."These were the women who had the highest levels of sun exposure and the lowest levels of folate, whilst not deficient in folate, they were on the lower side of normal."
---
Dr Borradale said, in showing the link between UV exposure and folate depletion, further research including a controlled clinical trial was needed.
---
"We are not telling women to stop taking folate supplements, but rather urging women to talk to their doctor about their folate levels and the importance of folate in their diet, especially those who are planning a pregnancy," Dr Borradale said. "The results of this study reinforce the need for adequate folate levels prior to and during pregnancy."
---
What is folate and how can I get it?

Folic acid is a B vitamin that is very important for pregnant women and those planning a baby. Folate is found in foods such as green leafy vegetables like spinach, citrus fruits, legumes, whole grains and vegemite. Folic acid is also added to many foods such as breads, flours and pastas. Folic acid can also be taken as a pill.
---
Abstract
In vitro studies indicate that folate in collected human blood is vulnerable to degradation after exposure to ultraviolet (UV) radiation. This has raised concerns about folate depletion in individuals with high sun exposure. Here, we investigate the association between personal solar UV radiation exposure and serum folate concentration, using a three-week prospective study that was undertaken in females aged 18-47years in Brisbane, Australia (153 E, 27 S). Following two weeks of supplementation with 500μg of folic acid daily, the change in serum folate status was assessed over a 7-day period of measured personal sun exposure. Compared to participants with personal UV exposures of <200 Joules per day, participants with personal UV exposures of 200-599 and >600 Joules per day had significantly higher depletion of serum folate (p=0.015). Multivariable analysis revealed personal UV exposure as the strongest predictor accounting for 20% of the overall change in serum folate (Standardised B=-0.49; t=-3.75; p=<0.01). These data show that increasing solar UV radiation exposures reduces the effectiveness of folic acid supplementation. The consequences of this association may be most pronounced for vulnerable individuals, such as women who are pregnant or of childbearing age with high sun exposures.