Welcome to The Visible Embryo, a comprehensive educational resource on human development from conception to birth.

The Visible Embryo provides visual references for changes in fetal development throughout pregnancy and can be navigated via fetal development or maternal changes.

The National Institutes of Child Health and Human Development awarded Phase I and Phase II Small Business Innovative Research Grants to develop The Visible Embryo. Initally designed to evaluate the internet as a teaching tool for first year medical students, The Visible Embryo is linked to over 600 educational institutions and is viewed by more than one million visitors each month.

Today, The Visible Embryo is linked to over 600 educational institutions and is viewed by more than 1 million visitors each month. The field of early embryology has grown to include the identification of the stem cell as not only critical to organogenesis in the embryo, but equally critical to organ function and repair in the adult human. The identification and understanding of genetic malfunction, inflammatory responses, and the progression in chronic disease, begins with a grounding in primary cellular and systemic functions manifested in the study of the early embryo.

---


The World Health Organization (WHO) has created a new Web site to help researchers, doctors and
patients obtain reliable information on high-quality clinical trials. Now you can go to one website and search all registers to identify clinical trial research underway around the world!




Disclaimer: The Visible Embryo web site is provided for your general information only. The information contained on this site should not be treated as a substitute for medical, legal or other professional advice. Neither is The Visible Embryo responsible or liable for the contents of any websites of third parties which are listed on this site.

Content protected under a Creative
Commons License.

No dirivative works may be made or used for commercial purposes.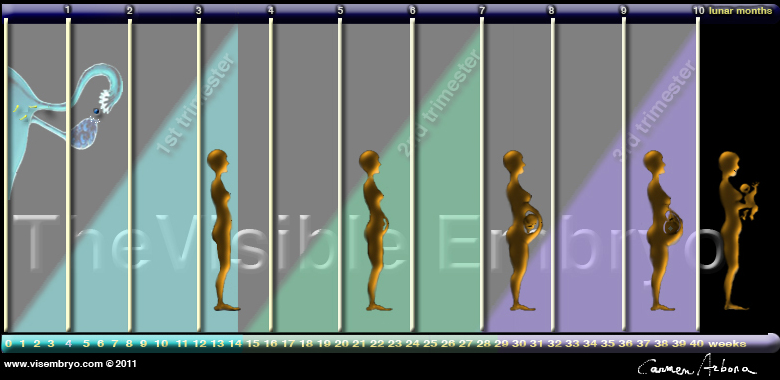 CLICK ON weeks 0 - 40 and follow along every 2 weeks of fetal development
Home | Pregnancy Timeline | News Alerts |News Archive April 14, 2014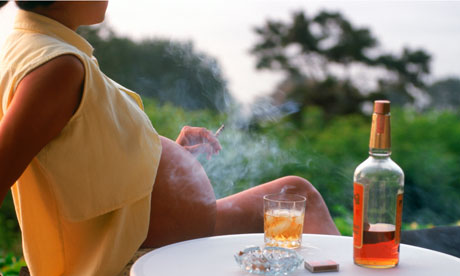 Different types of prenatal stressors activate a single molecular trigger in brain cells
that may make newborns susceptible to late-onset neuropsychiatric disorders.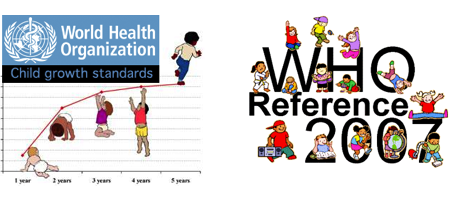 Yale search for earliest roots of psychiatric disorders

Yale University researchers have identified a single molecular mechanism in the developing brain that sheds light on how cells go awry when exposed to a variety of different environmental insults.

Newborns who were exposed during pregnancy to any one of a variety of environmental stressors — such as trauma, illness, and alcohol or drug abuse — become susceptible to various psychiatric disorders that frequently arise later in life. It had been unclear how these stressors affect the cells of the developing brain prenatally and gave rise to conditions such as schizophrenia, post-traumatic stress disorder, and some forms of autism and bipolar disorders.

But findings, to be published in the May 7 issue of the journal Neuron, suggest that different types of stressors prenatally activate a single molecular trigger in brain cells that make exposed individuals susceptible to late-onset neuropsychiatric disorders.
---
The researchers found that mouse embryos exposed to alcohol, methyl-mercury, or maternal seizures all activate in the developing brain cells a single gene — HSF1 or heat shock factor — which protects and enables some of the brain cells to survive prenatal insult.

Mice lacking the HSF1 gene showed structural brain abnormalities and were prone to seizures after birth, even after exposure to very low levels of the toxins.
---
In addition, researchers created stem cells — which are capable of becoming many different tissue types, including neurons — from biopsies of individuals diagnosed with schizophrenia. Genes from these "schizophrenic" stem cells responded more dramatically when exposed to environmental insults than stem cells obtained from non-schizophrenic individuals. The findings provide support to the thesis that stress induces vulnerable cells to malfunction.
---
"It appears that different types of environmental stressors can trigger the same condition if they occur at the same period of prenatal development.

"Conversely, the same environmental stressor may cause different pathologies, if it occurs at different times during pregnancy."

Pasko Rakic, senior author of the study
---
Since HSF1 activation can potentially serve as a permanent marker of a stressed or damaged cell, it opens the possibility for identifying these cells in adults in order to 1) explore the harmful beginning of postnatal disorders and 2) learn how to protect vulnerable cells.
Highlights
•HSF1 is activated in the cortex by various types of prenatal environmental stresses
•Loss of HSF1 increases seizure susceptibility upon prenatal exposure to challenges
•Hsp70 partially mediates the pluripotent roles of HSF1
•Cell-to-cell variability of HSF1 activation is increased in schizophrenia iPSC-NPC

Summary
Prenatal exposure of the developing brain to various environmental challenges increases susceptibility to late onset of neuropsychiatric dysfunction; still, the underlying mechanisms remain obscure. Here we show that exposure of embryos to a variety of environmental factors such as alcohol, methylmercury, and maternal seizure activates HSF1 in cerebral cortical cells. Furthermore, Hsf1 deficiency in the mouse cortex exposed in utero to subthreshold levels of these challenges causes structural abnormalities and increases seizure susceptibility after birth. In addition, we found that human neural progenitor cells differentiated from induced pluripotent stem cells derived from schizophrenia patients show higher variability in the levels of HSF1 activation induced by environmental challenges compared to controls. We propose that HSF1 plays a crucial role in the response of brain cells to prenatal environmental insults and may be a key component in the pathogenesis of late-onset neuropsychiatric disorders.
Rakic is the Dorys McConnell Duberg Professor of Neuroscience and Professor of Neurology and Director of the Yale Kavli Institute for Neuroscience and corresponding author. Kazue Hashimoto-Torii formerly of Yale and now at the Center for Neuroscience, Children's National Medical Center, Washington, DC is lead author of the paper.
The research was funded primarily though grants R01 NS014841, R01 DA023999 and K99/R00-AA018387 from the National Institutes of Health.