Home | Pregnancy Timeline | News Alerts |News Archive April 29, 2014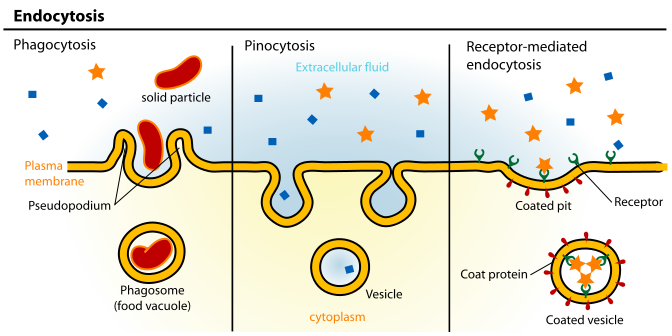 Endocytosis is a process by which cells absorb molecules - such as proteins - from outside the cell
to within the cell, by engulfing the molecule. All cells in the body use endocytosis to absorb big polar
molecules, the most common type, which are two big to pass through the plasma membrane on their own.
Polar refers to a molecule's electric charge. Cells also exhibit polarity. It underlies the surface
tension of the cell membrane, as well as the ability of the cell to incorporate new molecules.

Image credit: www.Wikipedia.org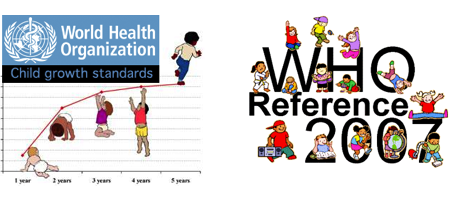 After birth, proteins get the heart pumping
The days and weeks following birth are full of cellular changes that play a role in the structure and function of the heart. Using mouse models, researchers are now able to categorize which genes code proteins and their role in heart function.
The findings, which appear in Nature Communications, also helped identify a protein that regulates some of the alternative splicing that dramatically changes the turning on or off of a gene [which is known as gene expression] during the postnatal period.
---
"The cells of the heart stop dividing after birth but must continue growing and working together for the heart to pump blood. So basically, we made the connection between the process of alternative splicing and the development of a system that coordinates heart contraction and function."

Thomas Cooper, PhD, professor of pathology and immunology, Baylor College of Medicine
---
Researchers at Baylor were able to identify and separate two main cell types in the mouse heart, the cardiomyocytes and cardiac fibroblasts, and then use RNA sequencing1 to look at early-and late-stage heart development days after the birth of the pups.

During RNA sequencing, Cooper and his colleagues were able to follow which genes are turned on and off and which genes undergo alternative splicing — the process by which genes code proteins to specific functions.
Observing these changes in genes over time, the researchers identified that the CELF1 protein is responsible for regulating certain alternative gene splicing events. Being able to turn CELF1on and off at different points in development confirmed its affect on protein formation at various stages of pup heart growth.
---
"We looked at hundreds of genes that undergo alternative splicing and were able to see which ones are regulated by CELF1.

"We asked if there is anything in common among these genes and found that some were responsible for absorbing proteins into the cell membrane (endocytosis) as well as for causing other proteins to exit the cell membrane (exocytosis).

"So what is going on in heart development is related to the processes associated with cell membrane dynamics of absorption."

Thomas Cooper, PhD

It turns out that in cell membrane machinery required to coordinate heart muscle contraction, the electrical pulsing of the heart, all develops in mouse pups postnatally — after birth.
---
There are some heart malfunctions that CELF1 is already associated with, arrhythmias and some forms of muscular dystrophy, which Cooper believes may become possible targets for future research.
"Now we know what happens during a specific time period — what genes are turned on and off and what alternative splicing takes place. This gives us new information on which to build future studies," Cooper added.
Abstract
During postnatal development the heart undergoes a rapid and dramatic transition to adult function through transcriptional and post-transcriptional mechanisms, including alternative splicing (AS). Here we perform deep RNA-sequencing on RNA from cardiomyocytes and cardiac fibroblasts to conduct a high-resolution analysis of transcriptome changes during postnatal mouse heart development. We reveal extensive changes in gene expression and AS that occur primarily between postnatal days 1 and 28. Cardiomyocytes and cardiac fibroblasts show reciprocal regulation of gene expression reflecting differences in proliferative capacity, cell adhesion functions and mitochondrial metabolism. We further demonstrate that AS plays a role in vesicular trafficking and membrane organization. These AS transitions are enriched among targets of two RNA-binding proteins, Celf1 and Mbnl1, which undergo developmentally regulated changes in expression. Vesicular trafficking genes affected by AS during normal development (when Celf1 is downregulated) show a reversion to neonatal splicing patterns after Celf1 re-expression in adults. Short-term Celf1 induction in adult animals results in disrupted transverse tubule organization and calcium handling. These results identify potential roles for AS in multiple aspects of postnatal heart maturation, including vesicular trafficking and intracellular membrane dynamics.

(1)RNA sequencing in genetics and biochemistry is how the primary structure of an unbranched biopolymer is determined. Biopolymer examples are cellulose, starch, chitin, proteins, peptides, DNA and RNA, whose structure is made up of sugars, amino acids, and nucleotides. Sequencing results in a linear 'picture' - a sequence - which summarizes most of the atomic structure of that molecule.
This work was performed by Jimena Guidice, a postdoctoral fellow in Cooper's lab. Others who contributed to this research include Zheng Xia, Marissa A. Scavuzzo, Amanda J. Ward, Auinash Kalsotra, Wei Wang, Xander H.T. Wehrens, Wei Li, all of Baylor College of Medicine; and Eric T. Wang and Christopher B. Burge, both with Massachusetts institute of Technology. Ward and Kalsotra are currently with Isis Pharmaceuticals, Carlsbad California.
Funding for this research is from the National Institutes of Health (R01HL045565, R01AR060733, and R01AR045653), the Muscular Dystrophy Association, the Pew Charitable Trusts, the Myotonic Dystrophy Foundation, the American Heart Association, the National Institute of Neurological Disorders and Stroke, CPRIT and Foundation Leducq.

Return to top of page