Estrodial A Unisex Hormone Essential To Metabolism
Possible treatment options could result for diabetes, obesity and heart disease.
Remove Fibroids - Prevent Recurrent Miscarriages
Research has found the first, firm evidence that fibroids are associated with recurrent miscarriages.
Understanding How Brain White Matter Develops
Study findings indicate a key step in the generation of white matter and understanding developmental disabilities.
'Alarm Clock' Gene Wakes-Up Biological Clock
Finding promises insight into sleeplessness, aging and chronic illness, such as diabetes and cancer.
September 29, 2011--------News Archive
Control Gene for Developmental Timing Discovered
Research has identified a key regulator controlling the speed of development in fruit flies. Blocking this regulator sped up the animals' rate of maturity.
Low Zinc/Copper Might Cause Spontaneous Abortion
This hypothesis had never been proven before in humans, and now has been demonstrated by University of Granada research.
Scientists Identify New Brain Stem Cell Activity
Finding raises questions of how the human brain develops and evolves.
Millesecond Memory
'Teleportation' of rats sheds light on how the memory is organized.
September 28, 2011--------News Archive
What Do Infants Remember, What Do They Forget?
In fact, they understand that objects once seen, should not disappear.
Found: New Gene Region for Testicle Development
Research has found a new genetic region which may control testicle development in the foetus.
September 27, 2011--------News Archive
Severe/Moderate Preemie Lung Function Improves
The negative effects of premature birth, whether moderately premature or extremely so, may be reversed by their teenage years.
Mom's Exercise Protects Baby From Alzheimer's
New research suggests prenatal exercise improves brain plasticity, decreases toxic protein deposits, inflammation and oxidative stress, warding off Alzheimer's.
Predicting the Best Treatment for Breast Cancer
Researchers identify new genes that help determine breast cancer prognosis.
September 26, 2011--------News Archive
Key Step Reprograms Adult Cells to Mimic Stem Cells
UNC researchers identify an important difference in sperm cell reprogramming needed to initiate formation of the embryo.
First USA Embryonic Stem Cell Therapy for Paralysis
The trial is being run by Geron Corp. of Menlo Park, Calif., which developed and manufactures the cells being tested.
UK Begins Stem Cell Trial for Disorder of the Retina
A new clinical trial using retinal cells derived from stem cells will treat people with an inherited eye condition which causes loss of sight in young people.
Pregnancy Occupation Can Cause Asthma in Child
Mothers who are exposed to particular agents during pregnancy could give birth to children with a higher risk of asthma, according to new research.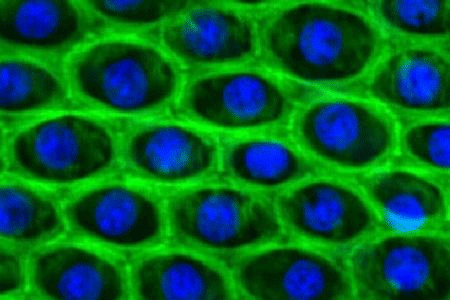 The honeycomb-like appearance of the human retinal pigment epithelial cells.

Trials of an experimental new treatment that could offer hope to young people suffering from a currently untreatable inherited eye condition will get underway soon at Moorfields Eye Hospital following approval on Thursday 22 September, by the Medicines and Healthcare Products Regulatory Agency (MHRA).
The trials, due to start in the next few months, will investigate the safety of using retinal cells derived from stem cells to treat people with advanced Stargardt disease, C that causes disabling loss of sight in young people. The cells will be injected into the retina during an operation lasting up to an hour.
"There is real potential that people with blinding disorders of the retina, including Stargardt disease and age-related macular degeneration, might benefit in the future from transplantation of retinal cells," says retinal surgeon Professor James Bainbridge, who will be conducting the trials at the National Institute for Health Research (NIHR) Biomedical Research Centre based at Moorfields and the UCL Institute of Ophthalmology.
"The ability to regenerate retinal cells from stem cells in the laboratory has been a significant advance and the opportunity to help translate such technology into new treatments for patients is hugely exciting. Testing the safety of retinal cell transplantation in this clinical trial will be an important step towards achieving this aim."
"We are delighted to be the site for these very exciting new clinical trials in stem cell therapy, which have the potential to give hope and make such a difference to the lives of people with currently untreatable blinding retinal conditions,"adds Professor Peng Khaw, director of the biomedical research centre at Moorfields.
"It is crucial that we continue to attract external investment for world-leading research in the UK, through the NIHR's transformational investment in research infrastructure through national biomedical research centres such as ours here at Moorfields and the UCL Institute of Ophthalmology. "
The technology has been developed by US company Advanced Cell Technology (ACT), who got the go ahead to run similar trials in the United States in November 2010.
Original article: http://www.moorfields.nhs.uk/Aboutus/Mediaoffice/Mediareleases/SqhQ