Home | Pregnancy Timeline | News Alerts |News Archive July 4, 2014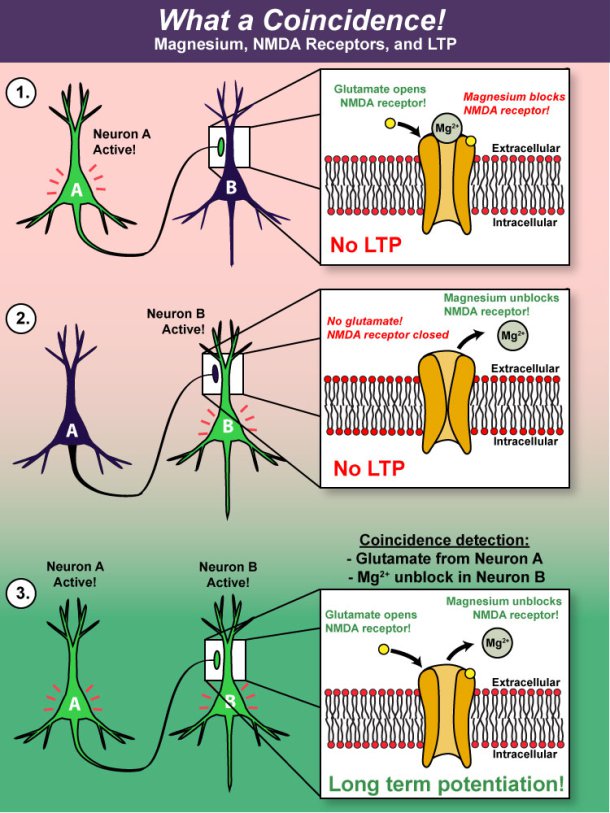 Studies have shown that magnesium (Mg2+) plays a critical role in helping neurons form memories through "coincidence detection." A major memory theory is that brain neurons
store information through a process called long term potentiation (LTP). Neurons form
synaptic connections and those connections strengthen with each new memory.

Foods that are rich in magnesium are rice, wheat, oats, almonds, cashews, and dark leafy greens.
Also, dark chocolate has some of the highest magnesium of all!
Images made by Ryan Jones for Knowing Neurons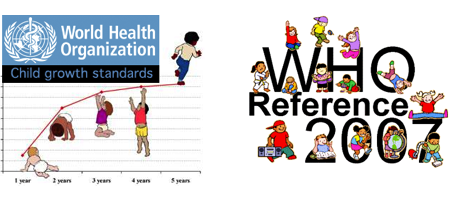 3-D view of brain's center of memory and learning
Researchers with Oregon Health & Science University's Vollum Institute have given science a new and unprecedented 3-D view of one of the most important areas in the brain — a receptor that allows us to learn and remember.

Dysfunction in the N-methyl-D-aspartate, or NMDA receptor, is involved in a wide range of neurological diseases and conditions. The unprecedented 3D view was provided by OHSU research, and published online June 22 in the journal Nature.
With 3D visibility, scientists can see the receptor is in the shape of a circle which may help in developing drugs to combat neurological disease. "The NMDA receptor is one of the most essential receptors in our brain. Now we can see it in fascinating detail," says Eric Gouaux, a senior scientist at the Vollum Institute and a Howard Hughes Medical Institute investigator.
---
Receptors facilitate chemical and electrical signals between neurons in the brain, allowing them to communicate with each other.

Malfunction of the NMDA receptor occurs at moments of increasing and decreasing activity between neurons. Alzheimer's, Parkinson's, depression, schizophrenia and epilepsy are linked to problems with NMDA activity.

The receptor is also made up of "subunits" — each with distinct properties.
---
Gouaux's 3-D model was made using X-ray crystallography — a process which bounces x-ray beams off an object while a computer calibrates the makeup of the structure based on the beams reflected back. Gouaux's 3-D model not only reflected the specific location of subunits in the complex, but gave insight into subunit activity levels during the scanning process.
"This detailed view will be invaluable as we work to develop drugs for specific subunits in order to help fight or improve neurological diseases and conditions," Gouaux added. "Seeing a structure in more detail can unlock some of its secrets — and may end up helping a lot of people."

Abstract
N-methyl-D-aspartate (NMDA) receptors are Hebbian-like coincidence detectors, requiring binding of glycine and glutamate in combination with the relief of voltage-dependent magnesium block to open an ion conductive pore across the membrane bilayer. Despite the importance of the NMDA receptor in the development and function of the brain, a molecular structure of an intact receptor has remained elusive. Here we present X-ray crystal structures of the Xenopus laevis GluN1–GluN2B NMDA receptor with the allosteric inhibitor, Ro25-6981, partial agonists and the ion channel blocker, MK-801. Receptor subunits are arranged in a 1-2-1-2 fashion, demonstrating extensive interactions between the amino-terminal and ligand-binding domains. The transmembrane domains harbour a closed-blocked ion channel, a pyramidal central vestibule lined by residues implicated in binding ion channel blockers and magnesium, and a ~twofold symmetric arrangement of ion channel pore loops. These structures provide new insights into the architecture, allosteric coupling and ion channel function of NMDA receptors.

Scientists working with Eric Gouraux: Chia-Hsueh Lee, Wei Lu, Jennifer Michel, April Goehring, Juan Du and Xianqiang Song
The research was funded by a gift from Bernard and Jennifer Lacroute, along with a grant from the National Institutes of Health (#R37NS038631) and support from the Vollum Institute. Chia-Hsueh Lee is supported by an OHSU Brain Institute Fellowship, funded by Ronni Lacroute.
Abbout the OHSU Vollum Institute
The Vollum Institute is a privately endowed research institute at OHSU and is dedicated to basic research that will lead to new treatments for neurological and psychiatric diseases. Vollum scientists have transformed the field of neuroscience and, in particular, have been pioneers in the study of cellular signaling, neuronal development, gene regulation and the neurobiology of disease.
About OHSU
Oregon Health & Science University is a nationally prominent research university and Oregon's only public academic health center. It serves patients throughout the region with a Level 1 trauma center and nationally recognized Doernbecher Children's Hospital. OHSU operates dental, medical, nursing and pharmacy schools that rank high both in research funding and in meeting the university's social mission. OHSU's Knight Cancer Institute helped pioneer personalized medicine through a discovery that identified how to shut down cells that enable cancer to grow without harming healthy ones. OHSU Brain Institute scientists are nationally recognized for discoveries that have led to a better understanding of Alzheimer's disease and new treatments for Parkinson's disease, multiple sclerosis and stroke. OHSU's Casey Eye Institute is a global leader in ophthalmic imaging, and in clinical trials related to eye disease.