Welcome to The Visible Embryo, a comprehensive educational resource on human development from conception to birth.

The Visible Embryo provides visual references for changes in fetal development throughout pregnancy and can be navigated via fetal development or maternal changes.

The National Institutes of Child Health and Human Development awarded Phase I and Phase II Small Business Innovative Research Grants to develop The Visible Embryo. Initally designed to evaluate the internet as a teaching tool for first year medical students, The Visible Embryo is linked to over 600 educational institutions and is viewed by more than one million visitors each month.

Today, The Visible Embryo is linked to over 600 educational institutions and is viewed by more than 1 million visitors each month. The field of early embryology has grown to include the identification of the stem cell as not only critical to organogenesis in the embryo, but equally critical to organ function and repair in the adult human. The identification and understanding of genetic malfunction, inflammatory responses, and the progression in chronic disease, begins with a grounding in primary cellular and systemic functions manifested in the study of the early embryo.

---


The World Health Organization (WHO) has created a new Web site to help researchers, doctors and
patients obtain reliable information on high-quality clinical trials. Now you can go to one website and search all registers to identify clinical trial research underway around the world!




Disclaimer: The Visible Embryo web site is provided for your general information only. The information contained on this site should not be treated as a substitute for medical, legal or other professional advice. Neither is The Visible Embryo responsible or liable for the contents of any websites of third parties which are listed on this site.

Content protected under a Creative
Commons License.

No dirivative works may be made or used for commercial purposes.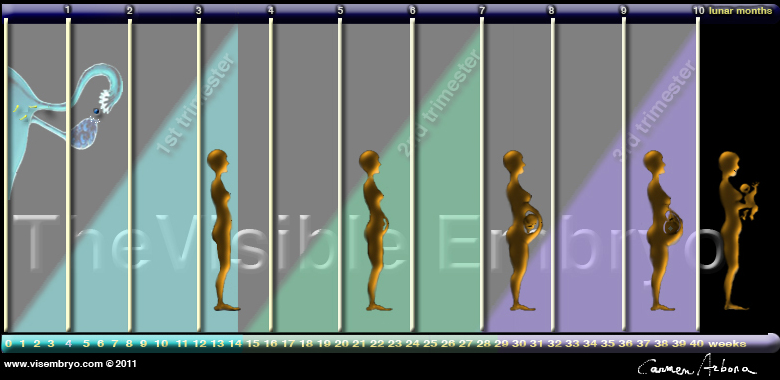 CLICK ON weeks 0 - 40 and follow along every 2 weeks of fetal development
Home | Pregnancy Timeline | News Alerts |News Archive July 8, 2014
Growth patterns
Forty-two hours after they began to differentiate, embryonic cells are clearly
segregating into endoderm (red), mesoderm (blue) and ectoderm (black).
Researchers say the key to achieving this patterning in culture
is confining the colonies geometrically.



All things stem cell

Three germ layers form in the process of gastrulation.
These layers are determined by their position in the now named "gastrula."
The gastrula stage follows the zygote and blastocyst stages and forms when
the embryo is approximately 14-16 days old in humans.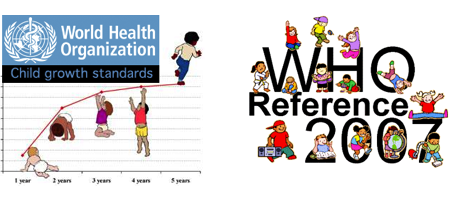 Embryonic stem cells organize geometrically

About seven days after conception, something remarkable occurs in the clump of cells that will eventually become a new human being. They start to specialize or "differentiate" and display characteristics of their ultimate fate as one of the 200 or so cell types that exist in humans.
Although scientists have studied this process in animals, and have tried to coax human embryonic stem cells into taking shape by flooding them with chemical signals, the process has not been successfully replicated in the lab. Led by Ali Brivanlou, PhD, professor in the Robert and Harriet Heilbrunn Institute and head of the Laboratory of Stem Cell Biology and Molecular Embryology at The Rockefeller University, scientists have now found out that the missing ingredient is geometry, not chemistry.
---
"Understanding what happens in this moment, when individual cells in this mass of embryonic stem cells begin to specialize for the very first time and organize into layers, will be a key to harnessing the promise of regenerative medicine. It brings us closer to the possibility of replacement organs grown in petri dishes and wounds that can be swiftly healed."

Ali Brivanlou, PhD, Robert and Harriet Heilbrunn Institute, head, Laboratory of Stem Cell Biology and Molecular Embryology, Rockefeller University
---
In the uterus, human embryonic stem cells receive chemical cues from surrounding tissues that signal them to begin forming layers — a process called gastrulation. Cells in the center begin to form ectoderm, the brain and skin of the embryo, while those migrating to the outside become mesoderm and endoderm, destined to become muscle and blood and many of the major organs, respectively.
Brivanlou and his colleagues made the human embryonic stem cells follow tiny circular patterns on glass plates by chemically pretreating the plates. Cells placed on these plates form "micropatterns" as they are confined within the specific radius of the chemical pretreatment. Then the scientists introduce biological agents to spur the cells to gastrulate. They found that colonies geometrically confined in this way proceeded to form endoderm, mesoderm and ectoderm as they would under natural conditions. Cells that were not confined to the micropatterns did not gastrulate.
The research was published June 29 in Nature Methods.
---
"At the fundamental level, what we have developed is a new model to explore how human embryonic stem cells first differentiate into separate populations with a very reproducible spatial order just as in an embryo. We can now follow individual cells in real time in order to find out what makes them specialize, and we can begin to ask questions about the underlying genetics of this process.

"These cells have a powerful intrinsic tendency to form patterns as they develop. Varying the geometry of the colonies may turn out to be an important tool that can be used to guide stem cells to form specific cell types or tissues."

Aryeh Warmflash, PhD, postdoctoral researcher, Rockefeller University
---
The research also has direct implications for biologists working to create "pure" populations of specific cells, or engineered tissues consisting of multiple cell types, for use in medical treatments.

Abstract
Embryos allocate cells to the three germ layers in a spatially ordered sequence. Human embryonic stem cells (hESCs) can generate the three germ layers in culture; however, differentiation is typically heterogeneous and spatially disordered. We show that geometric confinement is sufficient to trigger self-organized patterning in hESCs. In response to BMP4, colonies reproducibly differentiated to an outer trophectoderm-like ring, an inner ectodermal circle and a ring of mesendoderm expressing primitive-streak markers in between. Fates were defined relative to the boundary with a fixed length scale: small colonies corresponded to the outer layers of larger ones. Inhibitory signals limited the range of BMP4 signaling to the colony edge and induced a gradient of Activin-Nodal signaling that patterned mesendodermal fates. These results demonstrate that the intrinsic tendency of stem cells to make patterns can be harnessed by controlling colony geometries and provide a quantitative assay for studying paracrine signaling in early development.
Authors
Aryeh Warmflash, Benoit Sorre, Fred Etoc, Eric D. Siggia and Ali H. Brivanlou

Return to top of page