Welcome to The Visible Embryo, a comprehensive educational resource on human development from conception to birth.

The Visible Embryo provides visual references for changes in fetal development throughout pregnancy and can be navigated via fetal development or maternal changes.

The National Institutes of Child Health and Human Development awarded Phase I and Phase II Small Business Innovative Research Grants to develop The Visible Embryo. Initally designed to evaluate the internet as a teaching tool for first year medical students, The Visible Embryo is linked to over 600 educational institutions and is viewed by more than one million visitors each month.

Today, The Visible Embryo is linked to over 600 educational institutions and is viewed by more than 1 million visitors each month. The field of early embryology has grown to include the identification of the stem cell as not only critical to organogenesis in the embryo, but equally critical to organ function and repair in the adult human. The identification and understanding of genetic malfunction, inflammatory responses, and the progression in chronic disease, begins with a grounding in primary cellular and systemic functions manifested in the study of the early embryo.

---


The World Health Organization (WHO) has created a new Web site to help researchers, doctors and
patients obtain reliable information on high-quality clinical trials. Now you can go to one website and search all registers to identify clinical trial research underway around the world!




Disclaimer: The Visible Embryo web site is provided for your general information only. The information contained on this site should not be treated as a substitute for medical, legal or other professional advice. Neither is The Visible Embryo responsible or liable for the contents of any websites of third parties which are listed on this site.

Content protected under a Creative
Commons License.

No dirivative works may be made or used for commercial purposes.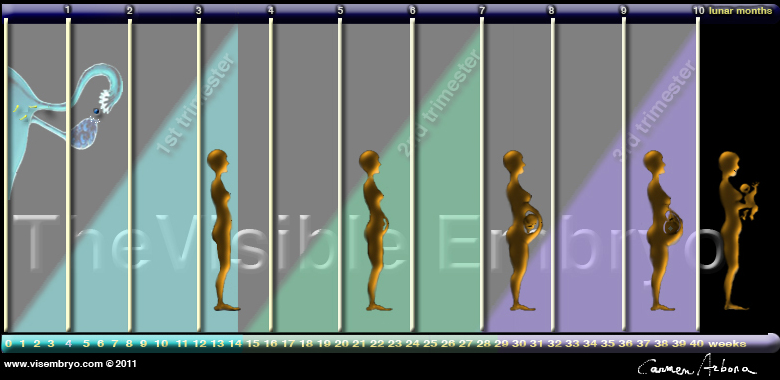 CLICK ON weeks 0 - 40 and follow along every 2 weeks of fetal development
Home | Pregnancy Timeline | News Alerts |News Archive July 24, 2014
Life-saving stem cells may be easier to create
Researchers have found a gene that could be key to creating stem cells — cells that can potentially save millions of lives as they are able to morph into practically any cell in the body.

The gene, known as ASF1A, is one of the genes responsible for cellular reprogramming, a phenomenon that can turn one cell type into another — key in making stem cells.

In a paper published in the journal Science, Michigan State University (MSU) researchers describe how they analyzed more than 5,000 genes from a human egg (oocyte) before determining that gene ASF1A, along with gene OCT4 and a helper molecule, are responsible for cell reprogramming.
---
"This has the potential to be a major breakthrough in the way we look at how stem cells are developed.

"Researchers are just now figuring out how adult skin cells can be turned into embryonic stem cells. Hopefully this will add to our understanding more about how that mechanism works."

Elena Gonzalez-Munoz, a former MSU post-doctoral researcher and first author of the paper.
---
In 2006, an MSU team identified thousands of genes in the oocyte. From these they identified those responsible for cell reprogramming. In 2007, Japanese researchers induced stem cell formation from adult cells by introducing four specific genes into skin cells — without using egg cells — and called the results of this process induced pluripotent stem cells or iPSCs.

"iPSCs are derived directly from adult tissue and can thus be a perfect genetic match for that patient," said Jose Cibelli, an MSU professor of animal science. MSU researchers believe the genes ASF1A and OCT4 work in tandem with a ligand (a hormone-like substance) produced in the oocyte called GDF9 to facilitate the process of cell reprogramming.
---
"We believe that ASF1A and GDF9 are two players, among many that remain to be discovered, which are part of the cellular-reprogramming process.

"We hope that in the near future, with what we have learned here, we will be able to test new hypotheses to reveal more secrets the oocyte is hiding. In turn, we will be able to develop new and safer cell-therapy strategies."

Jose Cibelli, professor of animal science, Michigan State University, member of the stem cell research team and Hasan Otu, University of Nebraska-Lincoln, also a member of the research team.
---
Abstract
Unfertilized oocytes have the intrinsic capacity to remodel sperm and the nuclei of somatic cells. The discoveries that cells can change their phenotype from differentiated to embryonic state using oocytes or specific transcription factors have been recognized as two major breakthroughs in the biomedical field. Here, we show that ASF1A, a histone-remodeling chaperone specifically enriched in the metaphase II human oocyte, is necessary for reprogramming of human adult dermal fibroblasts (hADFs) into undifferentiated iPSCs. We also show that overexpression of just ASF1A and OCT4 in hADFs exposed to the oocyte-specific paracrine growth factor GDF9 can reprogram hADFs into pluripotent cells. Our report underscores the importance of studying the unfertilized MII oocyte as a means to understand the molecular pathways governing somatic cell reprogramming.

See more at: http://msutoday.msu.edu/news/2014/discovery-may-make-it-easier-to-develop-life-saving-stem-cells/#sthash.76cdbM2P.dpuf