Welcome to The Visible Embryo, a comprehensive educational resource on human development from conception to birth.

The Visible Embryo provides visual references for changes in fetal development throughout pregnancy and can be navigated via fetal development or maternal changes.

The National Institutes of Child Health and Human Development awarded Phase I and Phase II Small Business Innovative Research Grants to develop The Visible Embryo. Initally designed to evaluate the internet as a teaching tool for first year medical students, The Visible Embryo is linked to over 600 educational institutions and is viewed by more than one million visitors each month.

Today, The Visible Embryo is linked to over 600 educational institutions and is viewed by more than 1 million visitors each month. The field of early embryology has grown to include the identification of the stem cell as not only critical to organogenesis in the embryo, but equally critical to organ function and repair in the adult human. The identification and understanding of genetic malfunction, inflammatory responses, and the progression in chronic disease, begins with a grounding in primary cellular and systemic functions manifested in the study of the early embryo.

---


The World Health Organization (WHO) has created a new Web site to help researchers, doctors and
patients obtain reliable information on high-quality clinical trials. Now you can go to one website and search all registers to identify clinical trial research underway around the world!




Disclaimer: The Visible Embryo web site is provided for your general information only. The information contained on this site should not be treated as a substitute for medical, legal or other professional advice. Neither is The Visible Embryo responsible or liable for the contents of any websites of third parties which are listed on this site.

Content protected under a Creative
Commons License.

No dirivative works may be made or used for commercial purposes.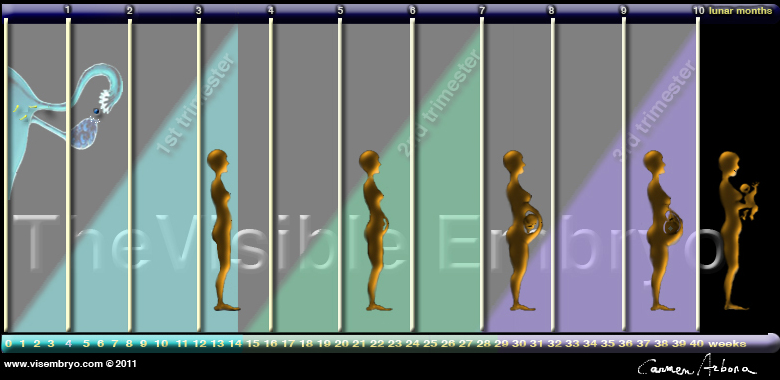 CLICK ON weeks 0 - 40 and follow along every 2 weeks of fetal development
Home | Pregnancy Timeline | News Alerts |News Archive Aug 4, 2014
Menarche signals were enriched in imprinted gene regions specific to one parent-of-origin,
indicating that one parent's genes will determine the beginning of menarche in any individual girl.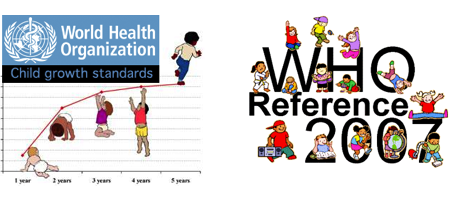 Age of female puberty depends on only one parent
The age at which a girl reaches sexual maturity is influenced by 'imprinted' genes, which are the genes of only one of her parents.

New findings from an international study of more than 180,000 women conducted by scientists from 166 institutions worldwide (including Boston University School of Medicine) have identified 123 genetic variations associated with the timing of when girls will experience their first menstrual cycle.
Analysing the DNA of 182,416 women of European descent from 57 studies — six gene variants were found clustered within imprinted regions of the genome where only one gene copy is working.

Genomic Imprinting
---
Studies of rare human disorders of puberty point to a complex pattern of hypothalamus-pituitary hormone regulation.

However, the mechanisms that determine the timing of puberty and underlying links to disease are unknown.

But, it is known that the activity of imprinted genes differ depending on which parent the gene is inherited from. Some genes are only active when inherited from the mother, others are only active when inherited from the father.
---
With this research, parental imprinted genes have now been identified as capable of determining puberty timing in girls. This indicates a possible biological conflict between mom's genes and dad's genes over their daughter's rate of development. Evidence for this parental imbalance was obtained from over 35,000 women in Iceland, for whom detailed information on their family trees were available — and gave a clear picture of a single parent's genes dictating the timing of puberty.

Further analysis particularly implicated two nuclear hormone receptors known as retinoic acid and γ-aminobutyric acid-B2. Both are part of a group of cellular proteins responsible for sensing steroid and thyroid hormones, as well as other molecules. They are two among hundreds of common mechanisms that coordinate the timing of puberty.
---
This is the first time it has been shown that imprinted genes can control a child's rate of development after birth.
---
Senior author Joanne Murabito, MD, ScM, associate professor of medicine at Boston University School of Medicine /Framingham Heart Study adds the following:

"Our findings demonstrate a complex network of genetic factors underlying the timing of menarche. Menarche is associated with the development of health conditions later in life such as diabetes, cardiovascular disease, and breast cancer. By studying genetic factors we hope to better understand how puberty timing in girls is linked to important health conditions in women."
Research results are published in the journal Nature.

The study was supported in the US by grants from the National Institute on Aging.
Abstract
Age at menarche is a marker of timing of puberty in females. It varies widely between individuals, is a heritable trait and is associated with risks for obesity, type 2 diabetes, cardiovascular disease, breast cancer and all-cause mortality1. Studies of rare human disorders of puberty and animal models point to a complex hypothalamic-pituitary-hormonal regulation2, 3, but the mechanisms that determine pubertal timing and underlie its links to disease risk remain unclear. Here, using genome-wide and custom-genotyping arrays in up to 182,416 women of European descent from 57 studies, we found robust evidence (P < 5 × 10−8) for 123 signals at 106 genomic loci associated with age at menarche. Many loci were associated with other pubertal traits in both sexes, and there was substantial overlap with genes implicated in body mass index and various diseases, including rare disorders of puberty. Menarche signals were enriched in imprinted regions, with three loci (DLK1-WDR25, MKRN3-MAGEL2 and KCNK9) demonstrating parent-of-origin-specific associations concordant with known parental expression patterns. Pathway analyses implicated nuclear hormone receptors, particularly retinoic acid and γ-aminobutyric acid-B2 receptor signalling, among novel mechanisms that regulate pubertal timing in humans. Our findings suggest a genetic architecture involving at least hundreds of common variants in the coordinated timing of the pubertal transition.

Reference
Perry, JRB et al. Parent-of-origin specific allelic associations among 106 genomic1 loci for age at menarche. Nature; 23 July 2014. DOI 10.1038/nature13545