Home | Pregnancy Timeline | News Alerts |News Archive Aug 13, 2014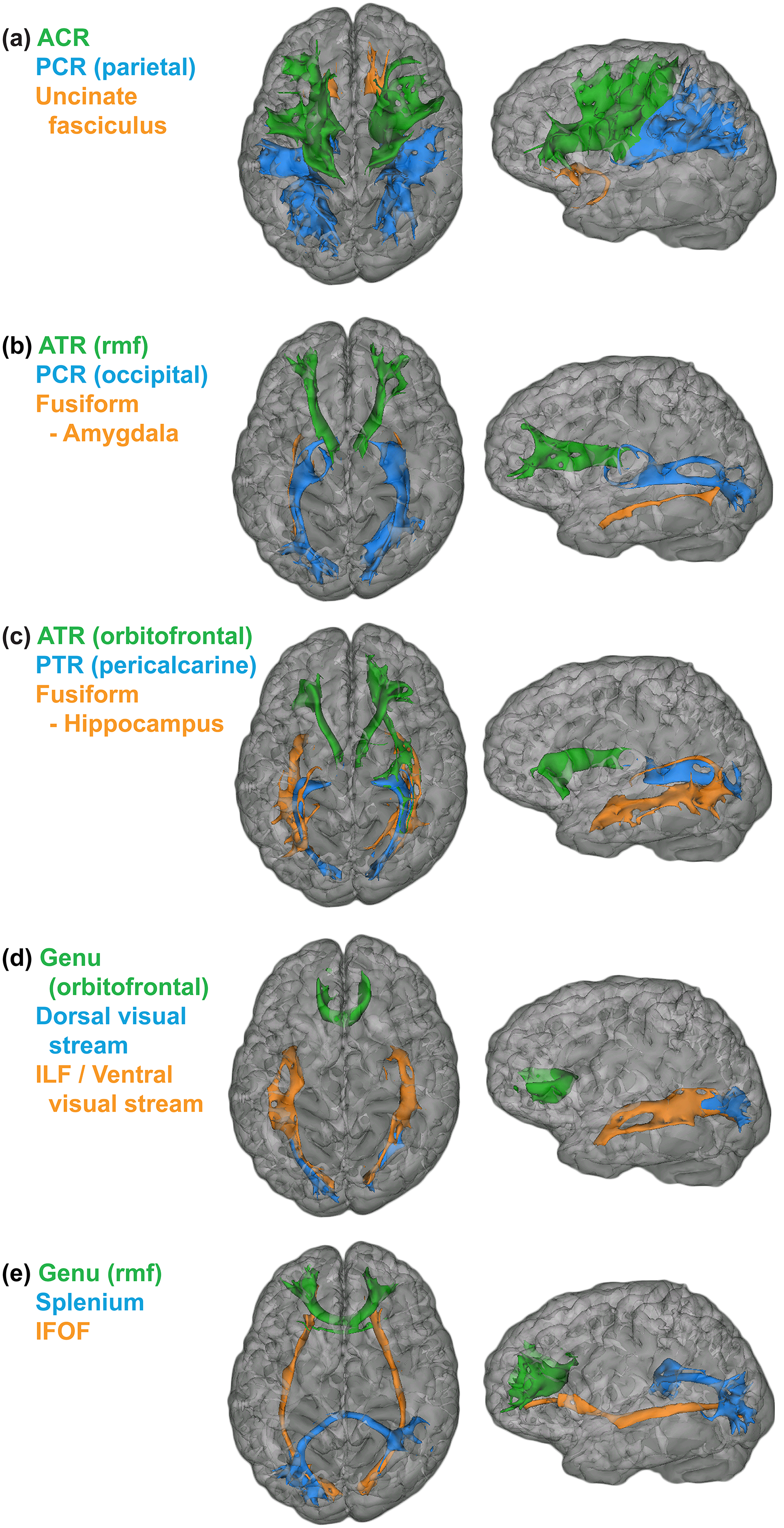 Examples of each delineated white matter tract in specific male subjects.
Green: frontal tracts [critical tracts in social-emotional processing]
Blue: parietal-occipital tracts [sensory perception and multisensory integration]
Orange:temporal tracts.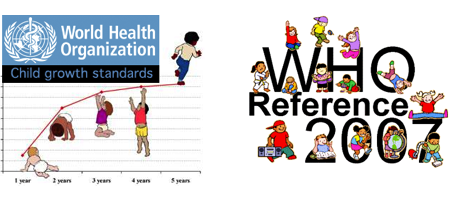 Autism, Sensory Processing Disorders not the same
Groundbreaking research shows children with Sensory Processing Disorders have measureable brain differences from children with Autism Spectrum Disorders.
Researchers at the University of California San Francisco (UCSF) have found that children with Sensory Processing Disorders (SPD) have decreased structural brain connections in specific brain sensory regions different than those found in autism, further establishing SPD as a clinically important neurodevelopmental disorder.
Published in the journal PLOS ONE, this is the first study to compare structural connectivity in the brains of children with an Autism Spectrum Disorder (ASD) diagnosis, those with an SPD diagnosis, and compare both groups with typically developing boys. UCSF produced groundbreaking work in 2013 that found SPD boys have quantifiable regional differences in brain structure when compared to typically developing boys.
"With more than 1 percent of children in the U.S. diagnosed with an Autism Spectrum Disorder, and reports of 5 to 16 percent of children having Sensory Processing Difficulties, it's essential we define the neural underpinnings of these conditions, and identify where they overlap and where they are distinct," explains Pratik Mukherjee, MD, PhD, professor of radiology and biomedical imaging and bioengineering, UCSF, senior author.
"We are starting to catch up with what parents already knew; sensory challenges are real and can be measured both in the lab and in the real world. Our challenge is to find out why some children have SPD and move from our lab results to clinical application," says Elysa Marco MD, a child cognitive and behavioral neurologist at the UCSF Benioff Children's Hospital, and corresponding author.
---
SPD has not been listed in the Diagnostic and Statistical Manual used by psychiatrists and psychologists.

Children with SPD struggle with processing stimulation, which can cause a wide range of symptoms — hypersensitivity to sound, sight and touch, poor fine motor skills and easy distractibility. Some SPD children cannot tolerate the sound of a vacuum, others can't hold a pencil, some struggle with emotional regulation. Often, an irritating sound one day, can be tolerated the next.

The disorder can be baffling for parents and is a source of controversy for clinicians who debate whether it constitutes its own classification.
---
In the study, researchers used an advanced form of MRI called diffusion tensor imaging (DTI), to measure the movement of water molecules within the brain's white matter tracts. White matter forms the "wiring" linking different areas of the brain — essential to perceiving, thinking and action. DTI shows the direction of white matter fibers thereby mapping the structural connections between brain regions.
The study examined the connectivity of specific white matter tracts in16 SPD boys and 15 ASD boys between the ages of 8 and 12 — comparing them with 23 typically developing boys of the same ages.
---
Researchers found that both the SPD and ASD groups showed decreased connectivity in multiple parieto-occipital tracts — areas that handle basic sensory information in the back area of the brain.

However, only ASD children showed impairment in the inferior fronto-occipital fasciculi (IFOF), inferior longitudinal fasciculi (ILF), fusiform-amygdala and the fusiform-hippocampus tracts — critical tracts in social-emotion processing.
---
"One of the classic features of autism is decreased eye-to-eye gaze, and decreased ability to read facial emotions," said Marco. "Impairment in this region of brain connectivity not only differentiates ASD from SPD, but reflects the difficulties autistic patients have in the real world."
Kids with isolated SPD showed less connectivity in the basic perception and integration tracts that connect the auditory, visual and somatosensory (tactile) systems.
"Measuring a child's brain connectivity and function, gives us the ability to monitor if these connections are changing through clinical interventions," said Marco. "Larger studies to replicate this work are clearly needed, but we believe that DTI can be a powerful clinical tool for understanding sensory neurodevelopmental differences."
Abstract
Over 90% of children with Autism Spectrum Disorders (ASD) demonstrate atypical sensory behaviors. In fact, hyper- or hyporeactivity to sensory input or unusual interest in sensory aspects of the environment is now included in the DSM-5 diagnostic criteria. However, there are children with sensory processing differences who do not meet an ASD diagnosis but do show atypical sensory behaviors to the same or greater degree as ASD children. We previously demonstrated that children with Sensory Processing Disorders (SPD) have impaired white matter microstructure, and that this white matter microstructural pathology correlates with atypical sensory behavior. In this study, we use diffusion tensor imaging (DTI) fiber tractography to evaluate the structural connectivity of specific white matter tracts in boys with ASD (n = 15) and boys with SPD (n = 16), relative to typically developing children (n = 23). We define white matter tracts using probabilistic streamline tractography and assess the strength of tract connectivity using mean fractional anisotropy. Both the SPD and ASD cohorts demonstrate decreased connectivity relative to controls in parieto-occipital tracts involved in sensory perception and multisensory integration. However, the ASD group alone shows impaired connectivity, relative to controls, in temporal tracts thought to subserve social-emotional processing. In addition to these group difference analyses, we take a dimensional approach to assessing the relationship between white matter connectivity and participant function. These correlational analyses reveal significant associations of white matter connectivity with auditory processing, working memory, social skills, and inattention across our three study groups. These findings help elucidate the roles of specific neural circuits in neurodevelopmental disorders, and begin to explore the dimensional relationship between critical cognitive functions and structural connectivity across affected and unaffected children.

The study's co-authors are Yi-Shin Chang, BSE, MS , Julia Owen, PhD, Shivani Desai, BS, Susanna Hill, BS, Anne Arnett, MA, and Julia Harris, BS, all of UCSF.
The research was supported by the Wallace Research Foundation, the Gates Family Foundation and the Holcombe Kawaja Family Foundation. The authors have reported that they have no conflicts of interest relevant to the contents of this paper to disclose.
UCSF is the nation's leading university exclusively focused on health. Now celebrating the 150th anniversary of its founding as a medical college, UCSF is dedicated to transforming health worldwide through advanced biomedical research, graduate-level education in the life sciences and health professions, and excellence in patient care. It includes top-ranked graduate schools of dentistry, medicine, nursing and pharmacy; a graduate division with world-renowned programs in the biological sciences, a preeminent biomedical research enterprise and two top-tier hospitals, UCSF Medical Center and UCSF Benioff Children's Hospital San Francisco. Please visit http://www.ucsf.edu.