Welcome to The Visible Embryo, a comprehensive educational resource on human development from conception to birth.

The Visible Embryo provides visual references for changes in fetal development throughout pregnancy and can be navigated via fetal development or maternal changes.

The National Institutes of Child Health and Human Development awarded Phase I and Phase II Small Business Innovative Research Grants to develop The Visible Embryo. Initally designed to evaluate the internet as a teaching tool for first year medical students, The Visible Embryo is linked to over 600 educational institutions and is viewed by more than one million visitors each month.

Today, The Visible Embryo is linked to over 600 educational institutions and is viewed by more than 1 million visitors each month. The field of early embryology has grown to include the identification of the stem cell as not only critical to organogenesis in the embryo, but equally critical to organ function and repair in the adult human. The identification and understanding of genetic malfunction, inflammatory responses, and the progression in chronic disease, begins with a grounding in primary cellular and systemic functions manifested in the study of the early embryo.

---


The World Health Organization (WHO) has created a new Web site to help researchers, doctors and
patients obtain reliable information on high-quality clinical trials. Now you can go to one website and search all registers to identify clinical trial research underway around the world!




Disclaimer: The Visible Embryo web site is provided for your general information only. The information contained on this site should not be treated as a substitute for medical, legal or other professional advice. Neither is The Visible Embryo responsible or liable for the contents of any websites of third parties which are listed on this site.

Content protected under a Creative
Commons License.

No dirivative works may be made or used for commercial purposes.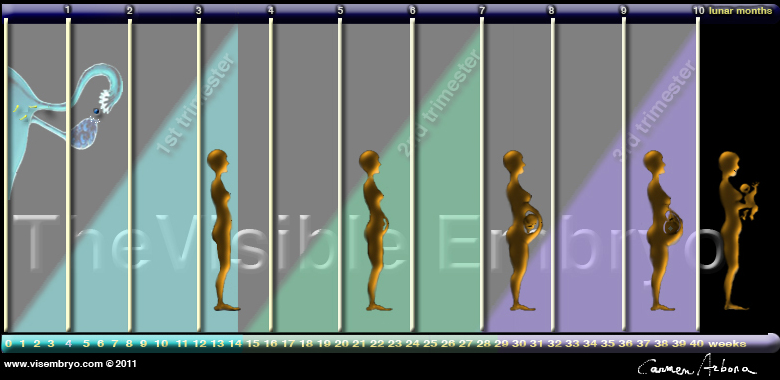 CLICK ON weeks 0 - 40 and follow along every 2 weeks of fetal development
Home | Pregnancy Timeline | News Alerts |News Archive Aug 15, 2014
Within white OVAL: Green POMC neurons were activated by leptin (red nuclei).
Photo illustration: Yale University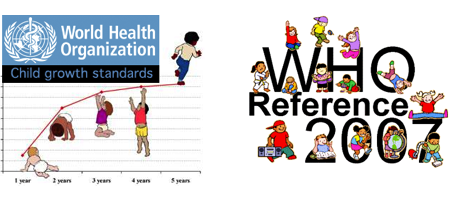 A neural 'sweet spot' may help curb obesity

Preventing weight gain, obesity, and ultimately diabetes could be as simple as keeping a nuclear receptor from becomming activated in a small part of the brain.

According to a new study by Yale School of Medicine researchers published in the Aug. 1 issue of the Journal of Clinical Investigation (JCI), researchers were able to block the effects of PPARgamma, a nuclear receptor, in a small number of brain cells in mice, causing the animals to eat less and become resistant to a high-fat diet.
---
"These animals ate fat and sugar and did not gain weight, while their control littermates gained weight on the same diet. We showed that the PPARgamma receptor in neurons that produce POMC could control responses to a high-fat diet without resulting in obesity."

Sabrina Diano, PhD, lead author, professor, Obstetrics, Gynecology & Reproductive Sciences, Yale School of Medicine, director, the Reproductive Neurosciences Group.
---
POMC neurons are found in the hypothalamus and regulate food intake. When activated, these neurons cause a feeling of fullness and curb appetite. PPARgamma regulates the activation of these neurons.
Diano and her team studied mice that were genetically engineered to delete the PPARgamma receptor from POMC neurons. They wanted to see if they could prevent the obesity associated with a high-fat, high-sugar diet.
---
"When we blocked PPARgamma in these hypothalamic cells, we found an increased free radical level in POMC neurons, and they became more active."

Sabrina Diano, PhD
---
The findings also have key implications in diabetes. PPARgamma is a target of thiazolidinedione (TZD), a class of drugs used to treat type 2 diabetes. They lower blood-glucose levels, but patients gain weight on these medications.
Diano: "Our study suggests that the increased weight gain in diabetic patients treated with TZD reflects this drug in the brain, therefore, targeting PPARgamma to treat type 2 diabetes should be done via TZD compounds that cannot penetrate the brain. We could keep the benefits of TZD without the side-effects of weight gain. Our next step is to test this theory in diabetic mouse models."
Abstract
Activation of central PPARγ promotes food intake and body weight gain; however, the identity of the neurons that express PPARγ and mediate the effect of this nuclear receptor on energy homeostasis is unknown. Here, we determined that selective ablation of PPARγ in murine proopiomelanocortin (POMC) neurons decreases peroxisome density, elevates reactive oxygen species, and induces leptin sensitivity in these neurons. Furthermore, ablation of PPARγ in POMC neurons preserved the interaction between mitochondria and the endoplasmic reticulum, which is dysregulated by HFD. Compared with control animals, mice lacking PPARγ in POMC neurons had increased energy expenditure and locomotor activity; reduced body weight, fat mass, and food intake; and improved glucose metabolism when exposed to high-fat diet (HFD). Finally, peripheral administration of either a PPARγ activator or inhibitor failed to affect food intake of mice with POMC-specific PPARγ ablation. Taken together, our data indicate that PPARγ mediates cellular, biological, and functional adaptations of POMC neurons to HFD, thereby regulating whole-body energy balance.