Welcome to The Visible Embryo, a comprehensive educational resource on human development from conception to birth.

The Visible Embryo provides visual references for changes in fetal development throughout pregnancy and can be navigated via fetal development or maternal changes.

The National Institutes of Child Health and Human Development awarded Phase I and Phase II Small Business Innovative Research Grants to develop The Visible Embryo. Initally designed to evaluate the internet as a teaching tool for first year medical students, The Visible Embryo is linked to over 600 educational institutions and is viewed by more than one million visitors each month.

Today, The Visible Embryo is linked to over 600 educational institutions and is viewed by more than 1 million visitors each month. The field of early embryology has grown to include the identification of the stem cell as not only critical to organogenesis in the embryo, but equally critical to organ function and repair in the adult human. The identification and understanding of genetic malfunction, inflammatory responses, and the progression in chronic disease, begins with a grounding in primary cellular and systemic functions manifested in the study of the early embryo.

---


The World Health Organization (WHO) has created a new Web site to help researchers, doctors and
patients obtain reliable information on high-quality clinical trials. Now you can go to one website and search all registers to identify clinical trial research underway around the world!




Disclaimer: The Visible Embryo web site is provided for your general information only. The information contained on this site should not be treated as a substitute for medical, legal or other professional advice. Neither is The Visible Embryo responsible or liable for the contents of any websites of third parties which are listed on this site.

Content protected under a Creative
Commons License.

No dirivative works may be made or used for commercial purposes.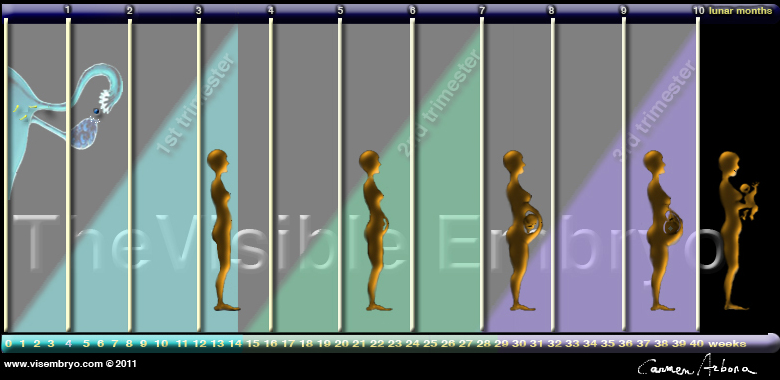 CLICK ON weeks 0 - 40 and follow along every 2 weeks of fetal development
Home | Pregnancy Timeline | News Alerts |News Archive Aug 20, 2014
Prenatal alcohol affects all brain development

Children with fetal alcohol spectrum disorders (FASD) showed weaker brain response during cognitive tasks than unaffected children.
In the first study of its kind, Prapti Gautam, PhD, and colleagues from The Saban Research Institute of Children's Hospital Los Angeles, found children with fetal alcohol spectrum disorders (FASD) showed weaker brain activation during cognitive tasks, than children unaffected by exposure to alcohol in utero. These findings suggest a possible explanation for persistent attention problems seen in individuals with FASD.

The results are published in Cerebral Cortex.
---
"Although functional magnetic resonance imaging (fMRI) has been used to observe brain activity during mental tasks in children with FASD, we are the first to use these techniques to look at the brain over time. We wanted to see if the differences in brain activation between children with FASD and their healthy peers were static, or if they changed as children got older."

Prapti Gautam, PhD, The Saban Research Institute of Children's Hospital Los Angeles
---
FASD covers broad spectrum symptoms linked to in utero alcohol exposure. These symptoms include an impairment in the ability to acquire knowledge, deficits in intelligence and attention, and central nervous system abnormalities. All can lead to problems with attention and problem solving. They also place a higher social and economic burden on the community to support that individual.
During childhood and adolescence, working memory and attention performance are rapidly growing and improving, suggesting this time is crucial for developing new brain networks. To become familiar with the possible advanced affects of prenatal alcohol exposure, researchers observed and compared two groups of children for two years, those unaffected as well as FASD children.

Using fMRI, they recorded brain activity while the children worked mental tasks such as how we visually perceive visio-spatial relationships — between objects in the environment — and working memory.
---
"We found that there were significant differences in the development of brain activation over time between the two groups, even though they did not differ in 'task performance.' While the healthy control group showed an increase in signal intensity over time, the children with FASD showed a decrease in brain activation during visuo-spatial attention activities, especially in the frontal, temporal and parietal brain regions."

Elizabeth Sowell, PhD, director, Developmental Cognitive Neuroimaging Laboratory, The Saban Research Institute, senior author on the manuscript.
---
The fMRI results reveal that prenatal alcohol exposure can change how brain signaling develops during childhood and adolescence — long after the damaging effects of alcohol exposure in utero. The atypical brain development observed in latter stages of development of FASD children might explain the persistent problems in cognitive and behavioral function seen in them as maturing adults.
Abstract
Functional magnetic resonance imaging (fMRI) reveals brain activation abnormalities during visuo-spatial attention and working memory among those with fetal alcohol spectrum disorders (FASD) in cross-sectional reports, but little is known about how activation changes over time during development within FASD or typically developing children. We studied 30 controls and 31 individuals with FASD over 2 years (7–14 years at first participation) with a total of 122 scans, as part of the Collaborative Initiative on Fetal Alcohol Spectrum Disorders. Despite comparable performance, there were significant group differences in visuo-spatial activation over time bilaterally in frontal, parietal, and temporal regions. Controls showed an increase in signal intensity in these multiple regions whereas FASD participants showed a decrease in brain activation. Effects were also found in 2 small independent samples from the USA, corroborating the findings from the larger group. Results suggest that the long-lasting effect of prenatal alcohol may impact the maturation of visuo-spatial attention and differentiate those with FASD from controls. Based on this first longitudinal fMRI study in FASD children, our novel findings suggest a possible neural mechanism for attention deficits common among individuals with FASD.

About Children's Hospital Los Angeles
Children's Hospital Los Angeles has been named the best children's hospital in California and among the top five in the nation for clinical excellence with its selection to the prestigious US News & World Report Honor Roll. Children's Hospital is home to The Saban Research Institute, one of the largest and most productive pediatric research facilities in the United States, is one of America's premier teaching hospitals and has been affiliated with the Keck School of Medicine of the University of Southern California since 1932.
For more information, visit http://www.CHLA.org. Follow us on Twitter, Facebook, YouTube and LinkedIn, or visit our blog: ResearCHLAblog.org
Media Contact: Jennifer Jing, jjing@chla.usc.edu
Return to top of page