Welcome to The Visible Embryo, a comprehensive educational resource on human development from conception to birth.

The Visible Embryo provides visual references for changes in fetal development throughout pregnancy and can be navigated via fetal development or maternal changes.

The National Institutes of Child Health and Human Development awarded Phase I and Phase II Small Business Innovative Research Grants to develop The Visible Embryo. Initally designed to evaluate the internet as a teaching tool for first year medical students, The Visible Embryo is linked to over 600 educational institutions and is viewed by more than one million visitors each month.

Today, The Visible Embryo is linked to over 600 educational institutions and is viewed by more than 1 million visitors each month. The field of early embryology has grown to include the identification of the stem cell as not only critical to organogenesis in the embryo, but equally critical to organ function and repair in the adult human. The identification and understanding of genetic malfunction, inflammatory responses, and the progression in chronic disease, begins with a grounding in primary cellular and systemic functions manifested in the study of the early embryo.

---


The World Health Organization (WHO) has created a new Web site to help researchers, doctors and
patients obtain reliable information on high-quality clinical trials. Now you can go to one website and search all registers to identify clinical trial research underway around the world!




Disclaimer: The Visible Embryo web site is provided for your general information only. The information contained on this site should not be treated as a substitute for medical, legal or other professional advice. Neither is The Visible Embryo responsible or liable for the contents of any websites of third parties which are listed on this site.

Content protected under a Creative
Commons License.

No dirivative works may be made or used for commercial purposes.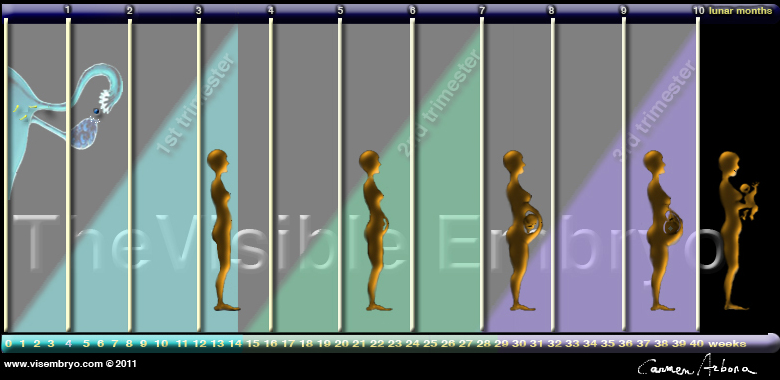 CLICK ON weeks 0 - 40 and follow along every 2 weeks of fetal development
Home | Pregnancy Timeline | News Alerts |News Archive Sept 3, 2014

(LEFT) 3-D reconstructions of dysferlin localized in muscle of a healthy person
(MIDDLE) 3-D reconstruction of dysferlin deficient muscle of MD patient before treatment
(RIGHT) 3-D reconstruction 36 hours after a single dose of bortezomib - a proteasome inhibitor.

Image Credit: Neuromuscular Center, Clinic of Neurology, University Hospital of Basel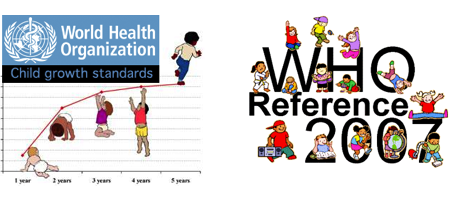 Missing protein restored in muscular dystrophy

For the first time, a research team has succeeded in restoring a missing repair protein in skeletal muscle of patients with muscular dystrophy.

Researchers from the University Hospital of Basel, Department of Biomedicine and Clinic of Neurology, report their recent findings in the scientific journal Science Translational Medicine.
When muscle cell membranes are damaged, the repair protein dysferlin is activated and reseals tears in muscle membranes. If dysferlin is altered due to a genetic mutation, our body's "quality control" system (made up of proteasomes located in the nucleus and cytoplasm) identifies the defect and eliminates it. Without dysferlin, injured muscle cell membranes cannot be repaired, which leads to progressive loss of skeletal muscle cells and muscle wasting.
---
It appears the body's own quality control system neutralizes mutated dysferlin even if the mutation does not impair dysferlin's repair function.
---
Researchers led by Professor Michael Sinnreich at the Departments of Neurology and Biomedicine, University Hospital of Basel, had previously shown that proteasome inhibitors can reactivate mutated dysferlin in culture. Inhibiting exaggerated cell quality enables dysferlin to regain its function and repair damaged muscle membranes.
Now the team has translated these findings into clinical application and has, in a proof-of-principle study, restored the missing dysferlin protein in skeletal muscle of patients with muscular dystrophy.
---
Three patients carrying a dysferlin mutation received a single systemic dose of a proteasome inhibitor. After only a few days the patients' musculature produced the missing dysferlin to levels that were therapeutically effective.
---
For Sinnreich, the new findings serve as groundwork for future long-term clinical trials: "These findings could be of importance for the treatment of patients with muscular dystrophy as well as other, previously incurable genetic diseases."
Abstract
No treatment is available for patients affected by the recessively inherited, progressive muscular dystrophies caused by a deficiency in the muscle membrane repair protein dysferlin. A marked reduction in dysferlin in patients harboring missense mutations in at least one of the two pathogenic DYSF alleles encoding dysferlin implies that dysferlin is degraded by the cell's quality control machinery. In vitro evidence suggests that missense mutated dysferlin might be functional if salvaged from degradation by the proteasome. We treated three patients with muscular dystrophy due to a homozygous Arg555Trp mutation in dysferlin with the proteasome inhibitor bortezomib and monitored dysferlin expression in monocytes and in skeletal muscle by repeated percutaneous muscle biopsy. Expression of missense mutated dysferlin in the skeletal muscle and monocytes of the three patients increased markedly, and dysferlin was correctly localized to the sarcolemma of muscle fibers on histological sections. Salvaged missense mutated dysferlin was functional in a membrane resealing assay in patient-derived muscle cells treated with three different proteasome inhibitors. We conclude that interference with the proteasomal system increases expression of missense mutated dysferlin, suggesting that this therapeutic strategy may benefit patients with dysferlinopathies and possibly other genetic diseases.
B. A. Azakir, B. Erne, S. Di Fulvio, G. Stirnimann, M. Sinnreich
Proteasome inhibitors increase missense mutated dysferlin in patients with muscular dystrophy
Science Translational Medicine (2014) | doi:

The study was funded by the Gebert Rüf Foundation, the Uniscientia Foundation, the Swiss National Science Foundation, the Neuromuscular Research Association Basel, the Association Française contre les Myopathies, the Swiss Muscle Society as well as the Swiss Foundation for Research on Muscle Diseases, and conducted with the support of the Clinical Trial Unit of the Basel University Hospital.

Return to top of page