Welcome to The Visible Embryo, a comprehensive educational resource on human development from conception to birth.

The Visible Embryo provides visual references for changes in fetal development throughout pregnancy and can be navigated via fetal development or maternal changes.

The National Institutes of Child Health and Human Development awarded Phase I and Phase II Small Business Innovative Research Grants to develop The Visible Embryo. Initally designed to evaluate the internet as a teaching tool for first year medical students, The Visible Embryo is linked to over 600 educational institutions and is viewed by more than one million visitors each month.

Today, The Visible Embryo is linked to over 600 educational institutions and is viewed by more than 1 million visitors each month. The field of early embryology has grown to include the identification of the stem cell as not only critical to organogenesis in the embryo, but equally critical to organ function and repair in the adult human. The identification and understanding of genetic malfunction, inflammatory responses, and the progression in chronic disease, begins with a grounding in primary cellular and systemic functions manifested in the study of the early embryo.

---


The World Health Organization (WHO) has created a new Web site to help researchers, doctors and
patients obtain reliable information on high-quality clinical trials. Now you can go to one website and search all registers to identify clinical trial research underway around the world!




Disclaimer: The Visible Embryo web site is provided for your general information only. The information contained on this site should not be treated as a substitute for medical, legal or other professional advice. Neither is The Visible Embryo responsible or liable for the contents of any websites of third parties which are listed on this site.

Content protected under a Creative
Commons License.

No dirivative works may be made or used for commercial purposes.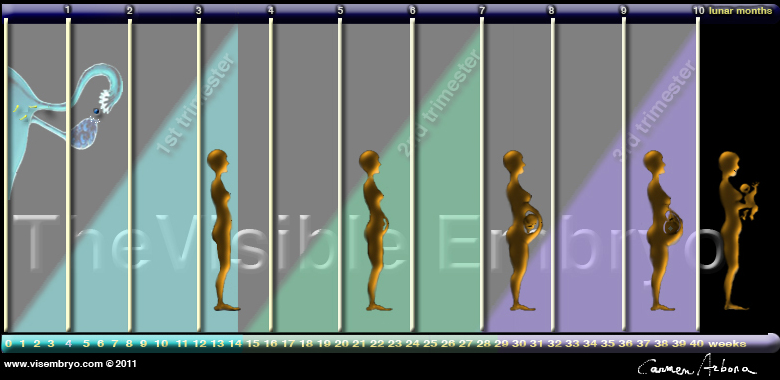 CLICK ON weeks 0 - 40 and follow along every 2 weeks of fetal development
Home | Pregnancy Timeline | News Alerts |News Archive Sept 9, 2014
Pregnant women NEED to get flu vaccine

Both mother and fetus are at increased risk for complications of flu infection during pregnancy. And prenatal care providers say they're advising women to get the flu vaccine. But many pregnant women don't understand — and don't get the vaccine.
Robert Arao, MPH, a biostatistician at Group Health Research Institute, did a statewide survey—the first of its kind—to assess what doctors think and do about flu vaccines for pregnant women. Mr. Arao was at the Oregon Health & Science University (OHSU) and the Oregon Health Authority's (OHA) Public Health Division when he did this work. He e-published "Influenza vaccination of pregnant women: attitudes and behaviors of Oregon physician prenatal care providers" with Kenneth D. Rosenberg, MD, MPH and Katrina Hedberg, MD, MPH, of OHA's Public Health Division, and Shannon McWeeney, PhD, of OHSU, in the Maternal and Child Health Journal.
They found that most doctors who provide prenatal care in Oregon understood the importance of flu vaccination during pregnancy and communicated it to their patients. The research team mailed a survey to a random sample of more than 1,000 obstetricians and family physicians in Oregon. And from that survey, respondents who provided prenatal care in the last year, nearly nine out of 10 said they routinely recommended flu vaccine to their healthy pregnant patients. Doctors who were younger, saw more pregnant patients, or both were even more likely to do so.
---
"Women understand the importance of not putting potential toxins, like alcohol and tobacco, into their body during pregnancy. But they need to understand that getting a flu vaccination during pregnancy protects both the mother and the baby."

Robert Arao, MPH, biostatistician, Group Health Research Institute, Oregon Health & Science University
---
Nationwide, only half of American women get flu vaccine while pregnant, and three quarters of pregnant women who receive a recommendation from a clinician actually get the vaccine. And in the Pacific Northwest, rates for many vaccinations tend to be lower than those for the nation as a whole.
Abstract
In spite of increased risk of influenza complications during pregnancy, only half of US pregnant women get influenza vaccination. We surveyed physician prenatal care providers in Oregon to assess their knowledge and behaviors regarding vaccination of pregnant women. From September through November 2011, a state-wide survey was mailed to a simple random sample (n = 1,114) of Oregon obstetricians and family physicians. The response rate was 44.5 %. Of 496 survey respondents, 187 (37.7 %) had provided prenatal care within the last 12 months. Of these, 88.5 % reported that they routinely recommended influenza vaccine to healthy pregnant patients. No significant differences in vaccine recommendation were found by specialty, practice location, number of providers in their practice, physician gender or years in practice. In multivariable regression analysis, routinely recommending influenza vaccine was significantly associated with younger physician age [adjusted odds ratio (AOR) 2.01, 95 % confidence interval (CI) 1.29-3.13] and greater number of pregnant patients seen per week (AOR 1.95, 95 % CI 1.25-3.06). Among rural physicians, fewer obstetricians (90.3 %) than family physicians (98.5 %) had vaccine-appropriate storage units (p = 0.001). Most physician prenatal care providers understand the importance of influenza vaccination during pregnancy. To increase influenza vaccine coverage among pregnant women, it will be necessary to identify and address patient barriers to receiving influenza vaccination during pregnancy.

Return to top of page