Welcome to The Visible Embryo, a comprehensive educational resource on human development from conception to birth.

The Visible Embryo provides visual references for changes in fetal development throughout pregnancy and can be navigated via fetal development or maternal changes.

The National Institutes of Child Health and Human Development awarded Phase I and Phase II Small Business Innovative Research Grants to develop The Visible Embryo. Initally designed to evaluate the internet as a teaching tool for first year medical students, The Visible Embryo is linked to over 600 educational institutions and is viewed by more than one million visitors each month.

Today, The Visible Embryo is linked to over 600 educational institutions and is viewed by more than 1 million visitors each month. The field of early embryology has grown to include the identification of the stem cell as not only critical to organogenesis in the embryo, but equally critical to organ function and repair in the adult human. The identification and understanding of genetic malfunction, inflammatory responses, and the progression in chronic disease, begins with a grounding in primary cellular and systemic functions manifested in the study of the early embryo.

---


The World Health Organization (WHO) has created a new Web site to help researchers, doctors and
patients obtain reliable information on high-quality clinical trials. Now you can go to one website and search all registers to identify clinical trial research underway around the world!




Disclaimer: The Visible Embryo web site is provided for your general information only. The information contained on this site should not be treated as a substitute for medical, legal or other professional advice. Neither is The Visible Embryo responsible or liable for the contents of any websites of third parties which are listed on this site.

Content protected under a Creative
Commons License.

No dirivative works may be made or used for commercial purposes.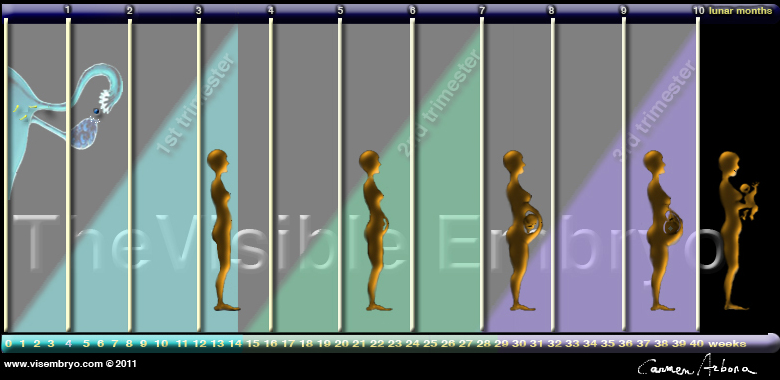 CLICK ON weeks 0 - 40 and follow along every 2 weeks of fetal development
Home | Pregnancy Timeline | News Alerts |News Archive Sept 15, 2014
"This data should help ease concerns about the long-term effects of caffeine treatment in
premature infants.", Carole L. Marcus, lead author, Children's Hospital of Philadelphia.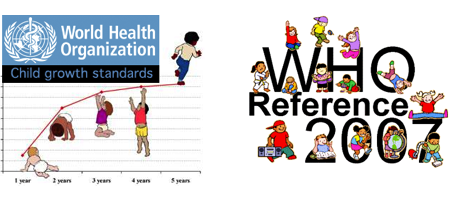 Preemie apnea therapy has no long-term effects

Caffeine therapy, given for sleep apnea in premature infants, has no long-term harmful effects on sleep or their breathing control, according to a new study, the first in humans.
---
"Animal studies have suggested that administration of neonatal caffeine to premature infants, while improving survival, may have long-term detrimental effects on sleep and control of breathing during sleep.

"In our follow-up study of 201 premature infants who participated as infants in the randomized, double-blind, placebo-controlled Caffeine for Apnea of Prematurity study, we found no evidence of long-term detrimental effects of caffeine treatment on sleep duration or sleep apnea during childhood."

Carole L. Marcus, lead author, MBBCh, Children's Hospital of Philadelphia.
---
The findings were published online ahead of print in the American Thoracic Society's American Journal of Respiratory and Critical Care Medicine.

Follow-up of the 201 preterm children, 98 of whom received caffeine as infants, consisted of two weeks of measurement of their sleep versus wakefulness — based on their body movements — along with one night of home polysomnography, to detect sleep-related medical conditions. Caregivers completed sleep diaries and questionnaires on each child during this period of research.
---
The overall results gave no significant difference between children who received caffeine or those who received placebo as infants.
---
Interestingly, the study did show a higher prevalence in children with obstructive sleep apnea syndrome (9.6 percent) and/or elevated periodic limb movements in the excessive range (14.2 percent) in the study population (ages 5-12) overall. Again — whether or not they had received caffeine treatment in infancy.

This result was much higher than population estimates for school-age children, which range from 1 to 4 percent for sleep apnea and 5 to 8 percent for elevated periodic limb movements of sleep.

Dr. Marcus:"Administration of therapeutic caffeine to premature infants had no long-term negative effects on sleep or sleep disorders in our study. Ex-preterm infants, whether treated with caffeine or not, have a higher than expected prevalence at school age of obstructive sleep apnea syndrome and periodic limb movements during sleep."

From the article:

Scientific Knowledge on the Subject
Therapeutic caffeine administration for apnea of prematurity has been shown to have beneficial short and long-term effects on survival and neurodevelopmental disabilities. Animal studies have suggested that neonatal caffeine has long-term detrimental effects on sleep and control of breathing, but corresponding human studies have not been performed.
What This Study Adds to the Field
This study shows that therapeutic neonatal caffeine administration has no long-term effects on sleep quality or quantity, or on pathologic conditions during sleep. This finding should allay concerns about the long-term effects of the drug on sleep. In addition, this study demonstrates a higher than expected prevalence of obstructive sleep apnea syndrome and periodic limb movements during sleep in ex-preterm infants.

About the American Journal of Respiratory and Critical Care Medicine:
With an impact factor of 11.986, the AJRRCM is a peer-reviewed journal published by the American Thoracic Society. It aims to publish the most innovative science and the highest quality reviews, practice guidelines and statements in the pulmonary, critical care and sleep-related fields.

Founded in 1905, the American Thoracic Society is the world's leading medical association dedicated to advancing pulmonary, critical care and sleep medicine. The Society's 15,000 members prevent and fight respiratory disease around the globe through research, education, patient care and advocacy.

Return to top of page