Home | Pregnancy Timeline | News Alerts |News Archive Oct 15, 2014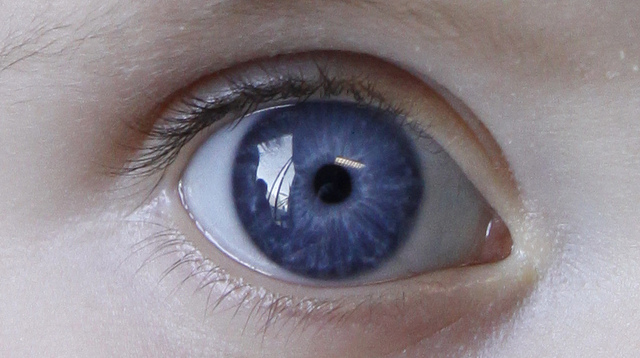 Retinoblastomas originate in cells which are the precursors to cone photoreceptor cells.
A cone precursor cell is an immature cell, not fully differentiated into a working cone cell.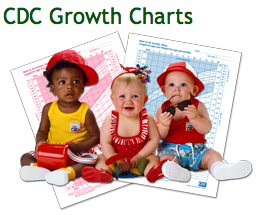 CDC Growth Standards 0 to 2 Years of Age
How a gene change causes childhood eye tumors
Retinoblastoma is a childhood tumor of the retina usually affecting children one to two years old. Although rare, it is the most common malignant tumor of the eye in children.

Left untreated, retinoblastoma (RB) can result in blindness or become fatal. Because retinoblastomas develop in response to the mutation of a single gene — the RB1 gene — it demonstrates how some cells are only one step away from developing into life-threatening malignancies.
David E. Cobrinik, MD, PhD, of The Vision Center at Children's Hospital Los Angeles (CHLA), together with colleagues at Memorial Sloan-Kettering Cancer Center, has now answered a long-standing question of why mutations to the RB1 gene leads primarily to tumors of the retina and not other cell types.

His work is published in the journal Nature.
---
"These findings significantly advance our understanding of cancer, because they show cancers can develop through collaboration between one cancer-causing mutation — inactivation of the RB1 gene — and the cell circuit specific to that cell type."

David E. Cobrinik, scientist, The Saban Research Institute of CHLA, associate professor of Ophthalmology, USC Eye Institute, Keck School of Medicine at the University of Southern California.
---
The RB1 gene encodes the Rb protein to prevent cell growth by inhibiting the cell cycle. However, if both copies of the RB1 gene are mutated, the Rb protein is made inactive and allows cells to proliferate.
---
Although Rb protein regulates the cell cycle in many cell types, only cells in the retina routinely become cancerous when RB1 gene function is lost.
---
Cobrinik and colleagues discovered retinoblastomas originate in cells which are the precursors to cone photoreceptor cells. Cone cells are one of two types of photoreceptor cells in the retina, and are responsible for color vision. A cone precursor cell is the immature cone cell, not yet fully differentiated into a working cone cell.
The study found that cone precursor cells express key proteins which enable proliferation of the cell and suppress apoptosis — cell death. As the role of the Rb protein is to inhibit cell proliferation — the loss of the Rb protein allows for continuous cell proliferation, causing retinoblastoma cancer.
---
"Losing the RB1 gene results in abnormal cell proliferation as cone precursor cells lack self-monitoring — which normally causes aberrant proliferating cells to die. Instead, cells divide uncontrollably and become cancerous."

David E. Cobrinik, MD, PhD
---
Abstract
Retinoblastoma is a childhood retinal tumour that initiates in response to biallelic RB1 inactivation and loss of functional retinoblastoma (Rb) protein. Although Rb has diverse tumour-suppressor functions and is inactivated in many cancers, germline RB1 mutations predispose to retinoblastoma far more strongly than to other malignancies. This tropism suggests that retinal cell-type-specific circuitry sensitizes to Rb loss, yet the nature of the circuitry and the cell type in which it operates have been unclear. Here we show that post-mitotic human cone precursors are uniquely sensitive to Rb depletion. Rb knockdown induced cone precursor proliferation in prospectively isolated populations and in intact retina. Proliferation followed the induction of E2F-regulated genes, and depended on factors having strong expression in maturing cone precursors and crucial roles in retinoblastoma cell proliferation, including MYCN and MDM2. Proliferation of Rb-depleted cones and retinoblastoma cells also depended on the Rb-related protein p107, SKP2, and a p27 downregulation associated with cone precursor maturation. Moreover, Rb-depleted cone precursors formed tumours in orthotopic xenografts with histological features and protein expression typical of human retinoblastoma. These findings provide a compelling molecular rationale for a cone precursor origin of retinoblastoma. More generally, they demonstrate that cell-type-specific circuitry can collaborate with an initiating oncogenic mutation to enable tumorigenesis.

Additional contributors include first author Xiaoliang L. Xu, Lu Wang, David H. Abramson and Suresh C. Jhanwar, Memorial Sloan-Kettering Cancer Center, New York; Hardeep P. Singh and Dong-Lai Qui, The Saban Research Institute of Children's Hospital Los Angeles; and Bradford K. Poulos, Albert Einstein College of Medicine. Funding for the study was provided in part by NIH grant R01CA137124.

Researchers at Children's Hospital Los Angeles were among the first to isolate and clone the RB1 gene. The Vision Center at CHLA is one of the largest clinical programs in the U.S. for the treatment of retinoblastoma, was one of the first sites in the nation to offer gene testing for all retinoblastoma patients, and the first to offer a prenatal diagnosis for the disease. In June of this year, a team of physicians and scientists here announced development of a retinoblastoma next generation (RB1 NextGen) sequencing panel. CHLA became the first place to offer this whole-gene sequencing to patients and family members who may also have inherited the gene mutation, placing them at high risk.
About Children's Hospital Los Angeles
Children's Hospital Los Angeles has been named the best children's hospital on the West Coast and among the top five in the nation for clinical excellence with its selection to the prestigious U.S. News & World Report Honor Roll. Children's Hospital is home to The Saban Research Institute, one of the largest and most productive pediatric research facilities in the United States. Children's Hospital is also one of America's premier teaching hospitals through its affiliation since 1932 with the Keck School of Medicine of the University of Southern California.
Return to top of page