Home | Pregnancy Timeline | News Alerts |News Archive Oct 22, 2014
Sulforaphane can be extracted from broccoli sprouts and has some ability to bolster
the body's natural defenses against oxidative stress, inflammation and DNA damage.
It would be very difficult to achieve the levels of sulforaphane used in this study
by eating large amounts of broccoli or other cruciferous vegetables. .
Image Credit: Johns Hopkins Medicine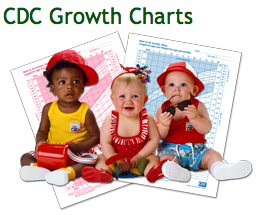 CDC Growth Standards 0 to 2 Years of Age
Broccoli sprouts show promise in treating autism
Results of a small clinical trial suggest a chemical derived from broccoli sprouts may ease classic behavioral symptoms in those with autism spectrum disorders (ASDs).
The study is a joint effort by scientists at University of Massachusetts Memorial Medical Center for Children and the Johns Hopkins University School of Medicine. It involved 40 teenage boys and young men, ages 13 to 27, with moderate to severe autism. Improvements were seen within 4 weeks and generally persisted throughout treatment.
In a report published in the journal Proceedings of the National Academy of Sciences researchers found that many who received a daily dose of the chemical sulforaphane experienced substantial improvements in their social interaction and verbal communication, along with decreases in repetitive, ritualistic behaviors, when compared to those who received a placebo.
"We believe that this may be preliminary evidence for the first treatment for autism that improves symptoms by apparently correcting some of the underlying cellular problems," says Paul Talalay, M.D., professor of pharmacology and molecular sciences, the Johns Hopkins University School of Medicine, who has researched these vegetable compounds for the past 25 years.
---
ASD experts estimate that these disorders affect 1 to 2 percent of the world's population, with a much higher incidence in boys than girls. Behavioral symptoms, such as poor social interaction and verbal communication, are well known and were first described 70 years ago by Leo Kanner MD, founder of pediatric psychiatry at The Johns Hopkins University School of Medicine.
---
Unfortunately, its root causes remain elusive though progress is being made in identifying some of the biochemical and molecular abnormalities which accompany ASD, says Talalay. Many of these molecular abnormalities are related to the efficiency or lack of efficiency, in the energy generation of a cell. Cells of those with ASD often have high levels of oxidative stress which is the buildup of harmful byproducts from a cell's use of oxygen. These byproducts can cause inflammation damaging DNA, leading to cancer or other chronic disease.
Talalay's 1992 research group discovered sulforaphane has some ability to bolster the body's natural defense against oxidative stress, thus inflammation and subsequent DNA damage. The chemical also improved the body's heat-shock response — a cascade of events which protects cells from stress caused by high temperatures, including fever.
Intriguingly, about one-half of parents report that their children's autistic behavior noticeably improves with a fever — but reverts when the fever is gone. Zimmerman, a principal collaborator in the current study, in 2007 tested this anecdotal trend clinically and found it to be true, though he could not identify a mechanism promoting these fever effects.
---
Sulforaphane, like fever, initiates the body's heat-shock response. So, Zimmerman and Talalay wondered if it could cause a temporary improvement in autism as seen with fevers.
---
Before beginning the trial, patient caregivers and physicians answered three standard behavioral assessments: an Aberrant Behavior Checklist (ABC), Social Responsiveness Scale (SRS) and Clinical Global Impressions - Improvement scale (CGI-I). ABC, SRS and CGI-I assessments measure sensory sensitivity, ability to relate to others, verbal communication skills, social interactions and other behaviors of autism.
Twenty-six subjects were randomly selected to receive 9 to 27 milligrams of sulforaphane daily based on their weight — 14 received placebos. Behavioral assessments were repeated at four, 10 and 18 weeks while sulforaphane treatment continued. A final assessment was taken four weeks after sulforaphane treatment ended.
Most who responded to sulforaphane showed significant improvements at four weeks and continued to improve through the entire treatment. After 18 weeks, the average ABC and SRS scores of those on sulforaphane had decreased 34 and 17 percent, respectively, with improvements in bouts of irritability, lethargy, repetitive movements, hyperactivity, awareness, communication, motivation and mannerisms. Using the CGI-I scale, sulforaphane recipients experienced noticeable improvement in social interaction (46%), aberrant behavior (54%) and verbal communication (42%) after 18 weeks of treatment. However, scores trended back toward their original values after sulforaphane treatment was stopped, just as seen in those experiencing improvements during a fever lose those improvements when the fever ends.
---
"It seems like sulforaphane is temporarily helping cells to cope with their handicaps."

Paul Talalay MD, professor pharmacology and molecular sciences, The Johns Hopkins School of Medicine

"We are far from being able to declare a victory over autism, but this gives us important insights into what might help."

Andrew Zimmerman MD, co-investigator, professor of pediatric neurology, University of Massachusetts Memorial Medical Center
---
Zimmerman adds that before they learned which subjects got the sulforaphane or placebo, the impressions of the clinical team — including parents — were that 13 of the participants noticeably improved. For example, some treated subjects looked them in the eye and shook their hands, which they had not done before. They found out later that all 13 had been taking sulforaphane.
---
Talalay cautions that the levels of sulforaphane precursors present in different varieties of broccoli are highly variable. Furthermore, each ASD individual's capacity to convert sulforaphane precursors into active use also varies greatly.

It would be very difficult to achieve the levels of sulforaphane used in this study by eating large amounts of broccoli or other cruciferous vegetables.
---
Significance
Autism spectrum disorder (ASD), encompassing impaired communication and social interaction, and repetitive stereotypic behavior and language, affects 1–2% of predominantly male individuals and is an enormous medical and economic problem for which there is no documented, mechanism-based treatment. In a placebo-controlled, randomized, double-blind clinical trial, daily oral administration for 18 wk of the phytochemical sulforaphane (derived from broccoli sprouts) to 29 young men with ASD substantially (and reversibly) improved behavior compared with 15 placebo recipients. Behavior was quantified by both parents/caregivers and physicians by three widely accepted measures. Sulforaphane, which showed negligible toxicity, was selected because it upregulates genes that protect aerobic cells against oxidative stress, inflammation, and DNA-damage, all of which are prominent and possibly mechanistic characteristics of ASD.
Abstract
Autism spectrum disorder (ASD), characterized by both impaired communication and social interaction, and by stereotypic behavior, affects about 1 in 68, predominantly males. The medico-economic burdens of ASD are enormous, and no recognized treatment targets the core features of ASD. In a placebo-controlled, double-blind, randomized trial, young men (aged 13–27) with moderate to severe ASD received the phytochemical sulforaphane (n = 29)—derived from broccoli sprout extracts—or indistinguishable placebo (n = 15). The effects on behavior of daily oral doses of sulforaphane (50–150 µmol) for 18 wk, followed by 4 wk without treatment, were quantified by three widely accepted behavioral measures completed by parents/caregivers and physicians: the Aberrant Behavior Checklist (ABC), Social Responsiveness Scale (SRS), and Clinical Global Impression Improvement Scale (CGI-I). Initial scores for ABC and SRS were closely matched for participants assigned to placebo and sulforaphane. After 18 wk, participants receiving placebo experienced minimal change (<3.3%), whereas those receiving sulforaphane showed substantial declines (improvement of behavior): 34% for ABC (P < 0.001, comparing treatments) and 17% for SRS scores (P = 0.017). On CGI-I, a significantly greater number of participants receiving sulforaphane had improvement in social interaction, abnormal behavior, and verbal communication (P = 0.015–0.007). Upon discontinuation of sulforaphane, total scores on all scales rose toward pretreatment levels. Dietary sulforaphane, of recognized low toxicity, was selected for its capacity to reverse abnormalities that have been associated with ASD, including oxidative stress and lower antioxidant capacity, depressed glutathione synthesis, reduced mitochondrial function and oxidative phosphorylation, increased lipid peroxidation, and neuroinflammmation.

These studies were designed at The Johns Hopkins University by Andrew Zimmerman in collaboration with Paul Talalay and Kirby Smith. Jed Fahey prepared the sulforaphane-rich broccoli sprout extract that was administered in capsules to patients. The clinical studies were done at the Lurie Center in Lexington, Massachusetts, which is dedicated to the study of autism and is a satellite of Massachusetts General Hospital's Department of Pediatrics. Other authors of the report include Kanwaljit Singh, Eric Macklin and Susan Connors of Harvard Medical School.
This work was supported by grants from the Nancy Lurie Marks Family Foundation, the Hussman Foundation, the Lewis B. and Dorothy Cullman Foundation, the Agnes Gund Foundation, the N of One Foundation and the Brassica Foundation for Chemoprotection Research.
U.S. patent applications have been filed by The Johns Hopkins University for inventors Smith, Talalay and Zimmerman. Talalay and Zimmerman have divested themselves from all potential financial benefits. The sulforaphane-rich broccoli sprout extract is not a commercial product. Broccoli sprouts and seeds rich in glucosinolates have been licensed by Johns Hopkins to Brassica Protection Products LLC; Antony Talalay, son of Paul Talalay, is chief executive officer. The university owns Brassica Protection Products stock, which is subject to certain restrictions under university policy. The terms of this arrangement are being managed by The Johns Hopkins University in accordance with its conflict of interest policies.

Return to top of page