Welcome to The Visible Embryo, a comprehensive educational resource on human development from conception to birth.

The Visible Embryo provides visual references for changes in fetal development throughout pregnancy and can be navigated via fetal development or maternal changes.

The National Institutes of Child Health and Human Development awarded Phase I and Phase II Small Business Innovative Research Grants to develop The Visible Embryo. Initally designed to evaluate the internet as a teaching tool for first year medical students, The Visible Embryo is linked to over 600 educational institutions and is viewed by more than one million visitors each month.

Today, The Visible Embryo is linked to over 600 educational institutions and is viewed by more than 1 million visitors each month. The field of early embryology has grown to include the identification of the stem cell as not only critical to organogenesis in the embryo, but equally critical to organ function and repair in the adult human. The identification and understanding of genetic malfunction, inflammatory responses, and the progression in chronic disease, begins with a grounding in primary cellular and systemic functions manifested in the study of the early embryo.

---


The World Health Organization (WHO) has created a new Web site to help researchers, doctors and
patients obtain reliable information on high-quality clinical trials. Now you can go to one website and search all registers to identify clinical trial research underway around the world!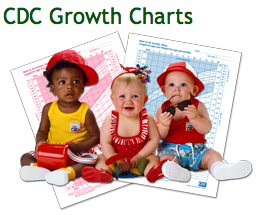 Disclaimer: The Visible Embryo web site is provided for your general information only. The information contained on this site should not be treated as a substitute for medical, legal or other professional advice. Neither is The Visible Embryo responsible or liable for the contents of any websites of third parties which are listed on this site.

Content protected under a Creative
Commons License.

No dirivative works may be made or used for commercial purposes.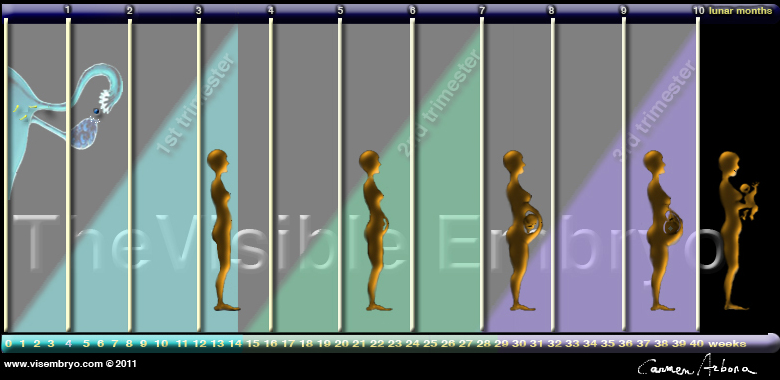 CLICK ON weeks 0 - 40 and follow along every 2 weeks of fetal development
Home | Pregnancy Timeline | News Alerts |News Archive Nov 10, 2014
Human brain showing the putamen in purple and the amygdala and thalamus in orange.
Image Credit: Wikipedia
Prematurity may explain some neurological risks

Premature birth occurs before many brain's structures are fully developed and appears to disturb the brain's neuro-circuitry. Premature babies have a higher risk for Attention Deficit Hyperactivity and Autism Spectrum Disorders.

Natasha Lepore PhD of The Saban Research Institute of Children's Hospital Los Angeles, has identified anatomical changes in two brain structures as the result of premature birth. Knowing of these changes and may lead to better prevention strategies and earlier interventions for cognitively disabled children.

Her work is described in the journal Brain Structure and Function.

Using three-dimensional magnetic resonance imaging (MRI), Lepore and her colleagues analyzed 17 preterm and 19 fullterm babies, examining the infants' thalamus and putamen. The thalamus is the brain's relay station, critical to sending and receiving sensory information. The putamen is part of an intricate neurocircuit connected to the brain's frontal lobe and involved in a number of different processes — notably regulating movement and learning.
---
Many studies have spotted alterations in various brain structures in prematurity, but this is the first to link structural abnormalities to specific neuro-circuits in a brain's communication pathways.
---
"We found that regional abnormalities of the thalamus are associated with alterations of the putamen, possibly due to disturbed development of shared connections," said first author Yi Lao, MS, of the Department of Radiology at CHLA. Regions of the thalamus and putamen are shared in the frontal and sub-cortical pathways of the brain — regions essential to attention, decision-making, planning, abstract reasoning and memory.

Lepore feels that her research demonstrates feasibility for looking for abnormalities in preterm newborns as possible indicators of future cognitive and behavioral problems.
---
"The ability to identify structural signs of neurodevelopmental disease shortly after birth in premature infants could allow for early interventions, increasing a child's social and learning behaviors as they age."

Natasha Lepore PhD
---
Abstract
Finding the neuroanatomical correlates of prematurity is vital to understanding which structures are affected, and to designing efficient prevention and treatment strategies. Converging results reveal that thalamic abnormalities are important indicators of prematurity. However, little is known about the localization of the abnormalities within the subnuclei of the thalamus, or on the association of altered thalamic development with other deep gray matter disturbances. Here, we aim to investigate the effect of prematurity on the thalamus and the putamen in the neonatal brain, and further investigate the associated abnormalities between these two structures. Using brain structural magnetic resonance imaging, we perform a novel combined shape and pose analysis of the thalamus and putamen between 17 preterm (41.12 ± 5.08 weeks) and 19 term-born (45.51 ± 5.40 weeks) neonates at term equivalent age. We also perform a set of correlation analyses between the thalamus and the putamen, based on the surface and pose results. We locate significant alterations on specific surface regions such as the anterior and ventral anterior (VA) thalamic nuclei, and significant relative pose changes of the left thalamus and the right putamen. In addition, we detect significant association between the thalamus and the putamen for both surface and pose parameters. The regions that are significantly associated include the VA, and the anterior and inferior putamen. We detect statistically significant surface deformations and pose changes on the thalamus and putamen, and for the first time, demonstrate the feasibility of using relative pose parameters as indicators for prematurity in neonates. Our methods show that regional abnormalities of the thalamus are associated with alterations of the putamen, possibly due to disturbed development of shared pre-frontal connectivity. More specifically, the significantly correlated regions in these two structures point to frontal-subcortical pathways including the dorsolateral prefrontal-subcortical circuit, the lateral orbitofrontal-subcortical circuit, the motor circuit, and the oculomotor circuit. These findings reveal new insight into potential subcortical structural covariates for poor neurodevelopmental outcomes in the preterm population.

Additional contributors include Yalin Wang, PhD, and Jie Shi, MS, Arizona State University; Rafael Ceschin, MS, Children's Hospital of Pittsburgh; Ashok Panigrahy, MD, Children's Hospital Los Angeles and Children's Hospital of Pittsburgh; and Marvin D. Nelson, MD, Children's Hospital Los Angeles. This work was supported by the National Institutes of Health through NIH grant 5K23-NS063371 and grants R21EB012177 and R21AG043760.

About Children's Hospital Los Angeles
Children's Hospital Los Angeles has been named the best children's hospital on the West Coast and among the top five in the nation for clinical excellence with its selection to the prestigious U.S. News & World Report Honor Roll. Children's Hospital is home to The Saban Research Institute, one of the largest and most productive pediatric research facilities in the United States. Children's Hospital is also one of America's premier teaching hospitals through its affiliation since 1932 with the Keck School of Medicine of the University of Southern California.