Welcome to The Visible Embryo, a comprehensive educational resource on human development from conception to birth.

The Visible Embryo provides visual references for changes in fetal development throughout pregnancy and can be navigated via fetal development or maternal changes.

The National Institutes of Child Health and Human Development awarded Phase I and Phase II Small Business Innovative Research Grants to develop The Visible Embryo. Initally designed to evaluate the internet as a teaching tool for first year medical students, The Visible Embryo is linked to over 600 educational institutions and is viewed by more than one million visitors each month.

Today, The Visible Embryo is linked to over 600 educational institutions and is viewed by more than 1 million visitors each month. The field of early embryology has grown to include the identification of the stem cell as not only critical to organogenesis in the embryo, but equally critical to organ function and repair in the adult human. The identification and understanding of genetic malfunction, inflammatory responses, and the progression in chronic disease, begins with a grounding in primary cellular and systemic functions manifested in the study of the early embryo.

---


The World Health Organization (WHO) has created a new Web site to help researchers, doctors and
patients obtain reliable information on high-quality clinical trials. Now you can go to one website and search all registers to identify clinical trial research underway around the world!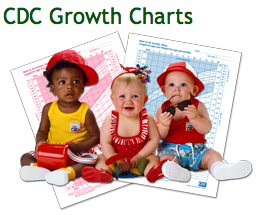 Disclaimer: The Visible Embryo web site is provided for your general information only. The information contained on this site should not be treated as a substitute for medical, legal or other professional advice. Neither is The Visible Embryo responsible or liable for the contents of any websites of third parties which are listed on this site.

Content protected under a Creative
Commons License.

No dirivative works may be made or used for commercial purposes.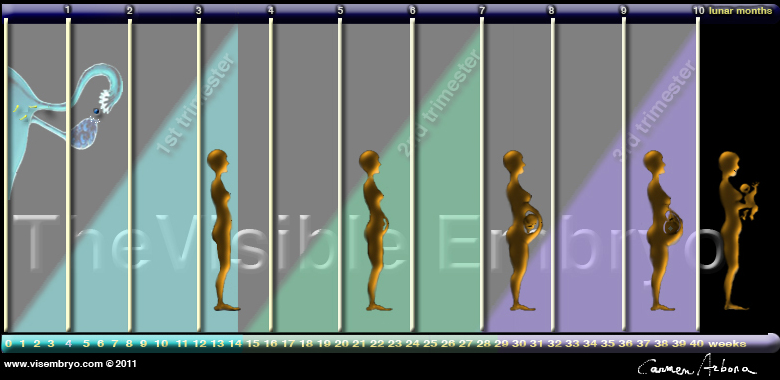 CLICK ON weeks 0 - 40 and follow along every 2 weeks of fetal development
Home | Pregnancy Timeline | News Alerts |News Archive Feb 10, 2015
DNA methylation in vertebrates typically occurs at cytosine-phosphate-guanine sites,
that is, where a cytosine is directly followed by a guanine in the DNA sequence.
Image Credti: Wikipedia
Gene differences between male and female brains

New research shows DNA methylation plays a significant role in the complex process of prenatal human brain development.
The study by scientists at the University of Exeter and King's College London, published in the journal Genome Research, examined changes in the way that genes are regulated during human brain development.
---
One observation was that a number of differences exist between male and female brains due to a process called DNA methylation. These differences potentially contribute to sex identified behaviour in brain function and disease response.
---
The study focussed on the molecular "switches" that regulate how genes are activated without changing the underlying DNA blueprint. Known as epigenetic events, these processes will direct the way in which different cell and tissue types appear, and help differentiate brain cells from other cells developing in the body.
---
"The prenatal period is a time of dramatic plasticity, when the brain is laying down the structures that control neurobiological function throughout life. Understanding the way in which genes are activated during this important period could teach us about the origins of disorders with a neurodevelopmental component, such as autism and schizophrenia."

Professor Jonathan Mill, University of Exeter Medical School and King's College London, the study leader.

"Males and females show differences in their susceptibility to some neurological conditions. For example, autism affects five males to every female. Understanding sex differences in brain development may help us understand the origins of these differences."

Helen Spiers PhD, King's College London, and first author on the study.
---
DNA methylation chemically modifies one of the four bases that make up our genetic code. It is the best-understood epigenetic process. Using cutting-edge technology, researchers measured genome-wide patterns of DNA methylation in nearly 200 samples, spanning day 23 to day 184 following conception or fertilization.

Significant changes in DNA methylation were found in more than 7% of 400,000 genomic sites assessed spanning brain development.
Abstract
Epigenetic processes play a key role in orchestrating transcriptional regulation during development. The importance of DNA methylation in fetal brain development is highlighted by the dynamic expression of de novo DNA methyltransferases during the perinatal period and neurodevelopmental deficits associated with mutations in the methyl-CpG binding protein 2 (MECP2) gene. However, our knowledge about the temporal changes to the epigenome during fetal brain development has, to date, been limited. We quantified genome-wide patterns of DNA methylation at ∼400,000 sites in 179 human fetal brain samples (100 male, 79 female) spanning 23 to 184 d post-conception. We identified highly significant changes in DNA methylation across fetal brain development at >7% of sites, with an enrichment of loci becoming hypomethylated with fetal age. Sites associated with developmental changes in DNA methylation during fetal brain development were significantly underrepresented in promoter regulatory regions but significantly overrepresented in regions flanking CpG islands (shores and shelves) and gene bodies. Highly significant differences in DNA methylation were observed between males and females at a number of autosomal sites, with a small number of regions showing sex-specific DNA methylation trajectories across brain development. Weighted gene comethylation network analysis (WGCNA) revealed discrete modules of comethylated loci associated with fetal age that are significantly enriched for genes involved in neurodevelopmental processes. This is, to our knowledge, the most extensive study of DNA methylation across human fetal brain development to date, confirming the prenatal period as a time of considerable epigenomic plasticity.
The study was part funded by the Medical Research Council and used tissue samples from the MRC/Wellcme Trust Human Developmental Biology Resource (HDBR).