Home | Pregnancy Timeline | News Alerts |News Archive Apr 1, 2015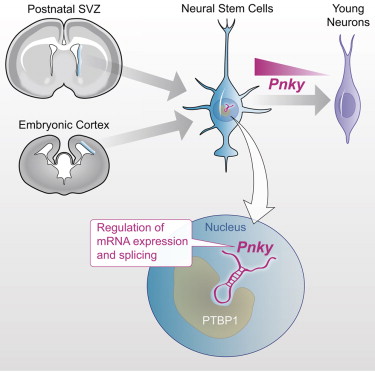 Pinky is a long non-coding RNA (lncRNA) that regulates the formation of neurons
made from neural stem cells in the embryonic brain as well as the postnatal brain.
Image Credit: Cell Stem Cell
Why we need to make neurons from stem cells

A research team at UC San Francisco has discovered an RNA molecule called Pnky (pronounced "Pinky" and inspired by the American cartoon series Pinky and the Brain) can increase the production of neurons made by neural stem cells.
---
Pnky is one of a number of newly discovered Long Non-coding RNAs (lncRNAs), with stretches of 200 or more nucleotides that do not code proteins, yet have a biologic function.
---
"Pnky is encoded near a gene called 'Brain,'" said Daniel A. Lim MD PhD, and neurosurgeon at the University of California San Francisco California (UCSF). Alex Ramos PhD and Rebecca Andersen (co-first authors and students in the Lim laboratory) went on to find Pnky in mouse neural stem cells. They also identified the Pnky molecule in human brain neural stem cells. When they removed Pnky in mice via a process called knockdown, their neurons increased three to four times more than normal.
---
"It is remarkable that when you take Pnky away, the stem cells produce many more neurons. These findings suggest that Pnky, and perhaps lncRNAs in general, could eventually be important in regenerative medicine and cancer treatment."

Daniel A. Lim MD PhD, an assistant professor of neurological surgery and Director of Restorative Surgery at UCSF.
---
Pnky also has a connection to brain tumors. Using a technique called mass spectrometry, Ramos found that Pnky binds with the protein PTBP1 — which has been found to drive brain tumor growth. In neural stem cells, Pnky and PTBP1 appear to function together in suppressing the production of neurons.
---
"Take away one or the other and stem cells differentiate, making more neurons. It is also possible that Pnky can regulate brain tumor growth, which means we may have identified a target for the treatment of brain tumors."

Daniel A. Lim MD PhD, neurosurgeon, University of California San Francisco California
---
The research adds to a growing base of knowledge around lncRNAs which had previously been unknown sections of the genome that some biologists referred to as the "dark matter" of the human genome.
---
"Recently, over fifty thousand human lncRNAs have been discovered. Thus, there may be more human lncRNAs than genes that code for proteins. It is possible that not all lncRNAs have important biological functions, but we are making a start toward learning which ones do, and how they function."

Daniel A. Lim MD PhD
---
The research is published in the March 19, 2015 edition of Cell Stem Cell.

Abstract
Highlights
•The lncRNA Pnky is expressed in mouse and human neural stem cells in vivo
•Pnky knockdown increases neuronal differentiation in culture and in vivo
•Pnky localizes to the nucleus and interacts with the mRNA splicing regulator PTBP1
•PTBP1 and Pnky regulate expression of key transcripts related to differentiation

Summary
While thousands of long noncoding RNAs (lncRNAs) have been identified, few lncRNAs that control neural stem cell (NSC) behavior are known. Here, we identify Pinky (Pnky) as a neural-specific lncRNA that regulates neurogenesis from NSCs in the embryonic and postnatal brain. In postnatal NSCs, Pnky knockdown potentiates neuronal lineage commitment and expands the transit-amplifying cell population, increasing neuron production several-fold. Pnky is evolutionarily conserved and expressed in NSCs of the developing human brain. In the embryonic mouse cortex, Pnky knockdown increases neuronal differentiation and depletes the NSC population. Pnky interacts with the splicing regulator PTBP1, and PTBP1 knockdown also enhances neurogenesis. In NSCs, Pnky and PTBP1 regulate the expression and alternative splicing of a core set of transcripts that relates to the cellular phenotype. These data thus unveil Pnky as a conserved lncRNA that interacts with a key RNA processing factor and regulates neurogenesis from embryonic and postnatal NSC populations.

Co-authors of the study are Siyuan John Liu, Tomasz Jan Nowakowski, Sung Jun Hong, Caitlin Gertz, Ryan D. Salinas, Hosniya Zarabi and Arnold Kriegstein, MD, PhD, all of UCSF.

The study was supported by funds from the National Institutes of Health, U.S. Department of Veterans Affairs, NSF, UCSF, San Francisco State University and the Howard Hughes Medical Institute.

UCSF is the nation's leading university exclusively focused on health. Now celebrating the 150th anniversary of its founding as a medical college, UCSF is dedicated to transforming health worldwide through advanced biomedical research, graduate-level education in the life sciences and health professions, and excellence in patient care. It includes top-ranked graduate schools of dentistry, medicine, nursing and pharmacy; a graduate division with world-renowned programs in the biological sciences, a preeminent biomedical research enterprise and two top-tier hospitals, UCSF Medical Center and UCSF Benioff Children's Hospital San Francisco. Please visit www.ucsf.edu.