Developmental Biology - Pregnancy High Blood Pressure
Pregnancy High Blood Pressure Link to DNA Methylation

Gene adaptations correspond to blood pressure increases at distinct intervals during pregnancy...
---
Higher maternal blood pressure in pregnancy is associated with normal chemical modifications to placental genes, according to a study by researchers from the Eunice Kennedy Shriver National Institute of Child Health and Human Development (NICHD), part of the National Institutes of Health (NIH).

These chemical changes involve DNA methylation, the method by which compounds known as methyl groups compress DNA to fit it into a cell or into a cell nucleus. This necessary function can sometimes impair gene activity depending on which area of the DNA molecule is compressed.
---
At the same time, exposure to maternal high blood pressure in the womb increases fetal risk for impaired growth and later possible cardiovascular disease in adult life.
---
Therefore, knowing more of how the fetal cardiovascular system forms will help scientists identify the earliest origins of cardiovascular diseases — and may lead to development of preventative interventions.

Researchers conducting comprehensive genetic analysis, called an epigenome-wide association study (EWAS), on biopsies of placentas delivered from 301 pregnant women in the NICHD Fetal Growth Study, detected how DNA methylation, and other changes, affect gene function.
---
The authors believe their study is the first EWAS to compare placental DNA methylation to maternal blood pressure across all 3 trimesters.

They also found distinct patterns of DNA methylation in placental tissue corresponded to maternal elevation in blood pressure during pregnancy.

Many of these methylated genes had been identified in earlier studies as involved in cardiovascular function.
---
The researchers intend to extend their study into larger groups of pregnant women to identify any specific patterns created via DNA methylation — including pregnancy-associated blood pressure disorders such as preeclampsia.

Abstract
Stochastic pulsing of gene expression can generate phenotypic diversity in a genetically identical population of cells, but it is unclear whether it has a role in the development of multicellular systems. Here, we show how stochastic pulsing of gene expression enables spatial patterns to form in a model multicellular system: Bacillus subtilis bacterial biofilms.

We use quantitative microscopy and time-lapse imaging to observe pulses in the activity of the general stress response sigma factor aB in individual cells during biofilm development. Both aB and sporulation activity increase in a gradient, peaking at the top of the biofilm, even though aB represses sporulation. As predicted by a simple mathematical model, increasing aB expression shifts the peak of sporulation to the middle of the biofilm. Our results demonstrate how stochastic pulsing of gene expression can play a key role in pattern formation during biofilm development.

Authors
Eugene Nadezhdin, Niall Murphy, Neil Dalchau, Andrew Phillips and James C. W. Locke.

Acknowledgements
Funding for the work was provided by NICHD, the National Institute on Minority Health and Health Disparities and the National Institute of Diabetes and Digestive and Kidney Diseases, all part of NIH.

The Eunice Kennedy Shriver National Institute of Child Health and Human Development (NICHD) leads research and training to understand human development, improve reproductive health, enhance the lives of children and adolescents, and optimize abilities for all. For more information, visit https://www.nichd.nih.gov.

About the National Institutes of Health (NIH): NIH, the nation's medical research agency, includes 27 Institutes and Centers and is a component of the U.S. Department of Health and Human Services. NIH is the primary federal agency conducting and supporting basic, clinical, and translational medical research, and is investigating the causes, treatments, and cures for both common and rare diseases. For more information about NIH and its programs, visit https://www.nih.gov.

Return to top of page.


Feb 24 2020 Fetal Timeline Maternal Timeline News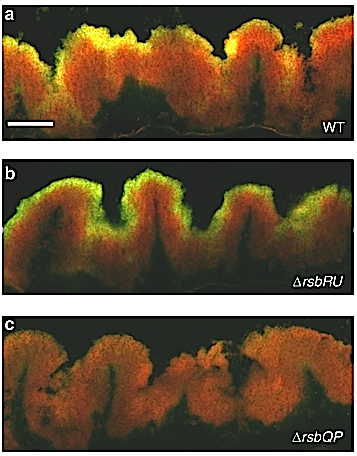 Using confocal microscopy to observe the biofilm: Bacillus subtilis as a substitute
for a developing placenta, central parts of this growing biofilm colony pulse
RED—PsigA-RFP and GREEN—PsigB-YFP reflecting their diverse cell activity.
CREDIT the authors.