Developmental Biology - Precision Medicine
Rare Congenital Heart Defect Rescued

Small molecule restores normal heart development in model organism with genetic disorder...
---
A research team at the Greenwood Genetic Center (GGC) has successfully used small molecules to restore normal heart and valve development in zebra fish. Zebra fish are acting as an animal model for progressive heart disease in humans. The particular form of heart disease under study is associated with a rare genetic disorder Mucolipidosis II (ML II) — research results being published in the Journal of Clinical Investigation, JCI Insight.

These small molecules include cathepsin protease K inhibitor, odanacatib, plus an inhibitor of the growth factor signal TGFß. Cathepsin proteases are associated with late-onset heart disease including atherosclerosis, cardiac hypertrophy, and valvular stenosis — but, their role in congenital heart defects had been unclear.
---
The current study gives new insight into how mislocated proteases, like cathepsin K, can alter heart development in a zebrafish model of ML II.



---


"Mutations in GNPTAB, the gene responsible for ML II, alter the localization and increase the activity of cathepsin proteases. This disturbs growth factor signaling and disrupts heart and valve development in our GNPTAB deficient zebrafish embryos.

By inhibiting this process, normal cardiac development was restored. This finding highlights the potential of small molecules and validates the need for moore studies into their efficacy."

Heather Flanagan-Steet PhD, Director of the Hazel and Bill Allin Aquaculture Facility, and Director of Functional Studies at GGC.
---
Dr. Flanagan-Steet also hopes the current work with ML II zebrafish will move "precision medicine" one step closer to treatment of developmental heart diseases.

Abstract
Although congenital heart defects (CHDs) represent the most common birth defect, a comprehensive understanding of disease etiology remains unknown. This is further complicated since CHDs can occur in isolation or as a feature of another disorder. Analyzing disorders with associated CHDs provides a powerful platform to identify primary pathogenic mechanisms driving disease. Aberrant localization and expression of cathepsin proteases can perpetuate later-stage heart diseases, but their contribution toward CHDs is unclear. To investigate the contribution of cathepsins during cardiovascular development and congenital disease, we analyzed the pathogenesis of cardiac defects in zebrafish models of the lysosomal storage disorder mucolipidosis II (MLII). MLII is caused by mutations in the GlcNAc-1-phosphotransferase enzyme (Gnptab) that disrupt carbohydrate-dependent sorting of lysosomal enzymes. Without Gnptab, lysosomal hydrolases, including cathepsin proteases, are inappropriately secreted. Analyses of heart development in gnptab-deficient zebrafish show cathepsin K secretion increases its activity, disrupts TGF-?–related signaling, and alters myocardial and valvular formation. Importantly, cathepsin K inhibition restored normal heart and valve development in MLII embryos. Collectively, these data identify mislocalized cathepsin K as an initiator of cardiac disease in this lysosomal disorder and establish cathepsin inhibition as a viable therapeutic strategy.

Authors
Po-Nien Lu, Trevor Moreland, Courtney J. Christian, Troy C. Lund, Richard A. Steet and Heather Flanagan-Steet1

Acknowledgements
The authors would like to thank Brian Kwan for his early contributions and help generating the gnptab-KO line. This work was supported by an R01 to RS from the NIHGMS GM086524, grants to HFS from the National MPS Society and the ISMRD, as well as a grant to RS by the Yash Ghandi Foundation. We would also like to thank Matthew Bogyo (Stanford University) for contributing the BMV109 and BMV157 probes used in this study. We would like to thank Koichi Kawakami and Yoshiko Takahashi (National Institute of Genetics, Japan) for providing the TOL2 transgenesis constructs (MTA K2019-055) (68). Additionally, we are grateful to Andrei Alexandrov (Clemson Center for Human Genetics) for his expert assistance with FAC sorting of zebrafish cells. We would also like to acknowledge that much of the zebrafish work related to this study was performed on animals raised in the Hazel and Bill Allin Aquaculture Facility housed at the Greenwood Genetic Center. We thank the staff of the facility for their excellent animal care and husbandry.

Return to top of page.


Oct 19 2020 Fetal Timeline Maternal Timeline News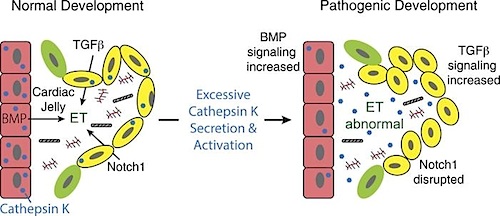 Heart disease and the chain of events leading up to cardiac defects, were studied using zebrafish as models of lysosomal storage disorders known as mucolipidosis II (MLII). CREDIT The Authors.