High Level of Fried Food Toxins Found in Infants
Advanced Glycation End products (AGEs) are found in most heated foods and in commercial infant formulas. Also found, reducing AGEs improves adult diabetes.
Sox2 Marks Pluripotency in Most Adult Stem Cells
Sox2 appears to be the only transcription factor appearing in all stem cell stages – embryonic, fetal and adult. It may also indicate pluripotent adult stem cells.
'Genetic Biopsy' Could Help Pick Best Eggs for IVF
Analyzing genetic material in polar bodies, shed at fertilization, can yield information about gene expression in the egg without disturbing the egg itself.
Stem Cell Reprogramming Safer than Thought
Selecting better donor cells and using more sensitive genome-survey techniques allows identifying and reprogramming methods safer than in current use.
October 6, 2011--------News Archive
Invasive Melanoma Higher in Children Than Adults
A study of young people with melanoma, a deadly form of skin cancer, has found that some children have a higher risk of invasive disease than adults.
All Human Egg Donors Should Be Compensated
When you donate your eggs to fertility clinics for infertile parents, you are compensated. But if you donate your eggs for stem research, you are not.
Chronic Stress Short-circuits Some Parents
Moms with higher depressive responses exhibit symptoms of extreme stress with distinct types of problem parenting, from neglect and hostility to insensitivity.
October 5, 2011--------News Archive
Intensive Exposure Best for Reading Difficulties
Intensive daily training for a limited period is better for children with reading and writing difficulties than the traditional remedial tuition offered by schools.
A Shot of Cortisone Will Stop Traumatic Stress!
A single injection of cortisone can prevent PTSD in 60% who experience trauma.
Asthma Guidelines Do Not Reduce Readmissions
Hospital compliance with The Children's Asthma Care (CAC) guidelines makes little difference in a patient's return for another asthma attack.
October 4, 2011--------News Archive
How the Brain Makes Memories: Rhythmically!
The brain learns through changes in the strength of its synapses in response to stimuli. However, the stimulus must be rhythmic - timed at exact intervals.
Anesthesia Exposure Linked to Learning Disability
Research has found a link among children undergoing multiple surgeries requiring general anesthesia before age 2 and learning disabilities later in childhood.
How Vertebrates Establish Left–Right Asymmetry
Although we appear bilaterally symmetrical on the outside, our internal organs are asymmetrically positioned along a left–right axis.
October 3, 2011--------News Archive
Glucosamine-like Supplement Suppresses MS Attacks
UCI study shows promise of metabolic therapy for autoimmune diseases.
Early to Bed and Barly to Rise - Keeps Kids Lean
Bedtime found to be as important for preteens and teens as getting enough sleep.
Discovered: "Flexible" Brain DNA Changes to Suit
Finding has implications for treatment of wide range of diseases.
Mother's Love Unravels Gene Sequencing Mystery
A mother's determination solves the strange symptoms in her twins. Personalized medicine through genome sequencing is working for this family.
Genome Architecture Foretells Genome Instability
In normal cell division, DNA gets copied perfectly and distributed between daughter cells evenly. But occasional breaks during division rearrange the results.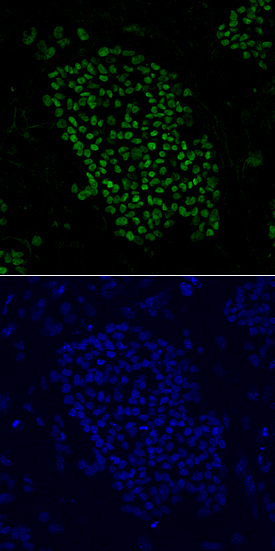 SOX2 in BG01V Human Embryonic Stem Cells
Investigators at the Massachusetts General Hospital (MGH) Center for Regenerative Medicine and the Harvard Stem Cell Institute (HSCI) have found that Sox2 – one of the transcription factors used in the conversion of adult stem cells into induced pluripotent stem cells (iPSCs) – is expressed in many adult tissues where it had not been previously observed.
They also confirmed that Sox2-expressing cells found in the stomach, testes, cervix and other structures are true adult stem cells that can give rise to all mature cell types in those tissues. The study appears in the October issue of Cell Stem Cell.
"We have known that Sox2 is essential for maintaining pluripotency in embryonic stem cells and neural stem cells and, with three other embryonic genes, is sufficient to convert adult cells into iPSCs," says Konrad Hochedlinger, PhD, of the MGH Center for Regenerative Medicine and HSCI, who led the study.
"Our study shows that Sox2 is a much more widespread marker of adult stem cells and suggests these cells may share common genetic programs to maintain stem cell fate, findings that could be exploited to amplify or modify these cells for applications in regenerative medicine."
Hochedlinger's team set out to investigate whether genes known to be important to pluripotent stem cells – cells that can give rise to several different types of tissue – also play a role in adult stem cells, which maintain populations of particular types of tissue.
Sox2 is one of four embryonic genes that are required to be expressed for the generation of iPSCs – which have many of the characteristics of embryonic stem cells – but the other three genes are not expressed in adult stem cells. Sox2 is known to be expressed at the very earliest stages of embryonic development and to play a role in development of several types of fetal tissue. But prior to this study, its expression had been observed in only a few types of adult tissues.
In a series of experiments with mice, the researchers first showed that Sox2 continues to be expressed in specific populations of adult cells of the stomach, esophagus, testes, cervix, anus and the lens of the eye. These Sox2-expressing cells were proven to be able both to replenish their population and to give rise to the fully differentiated cells found within the particular tissue, confirming their status as adult stem cells.
Additional findings revealed that fetal tissues expressing Sox2, which are at a stage before the appearance of true stem cells, will develop into tissues that include Sox2-expressing adult stem cells and that Sox2 appears to be the only transcription factor expressed in stem cells at all stages of development – embryonic, fetal and adult.
However, Sox2 expression has never been found in muscle or connective tissue, blood cells, or in organs such as the heart or kidney, indicating that other factors must play a similar role in those tissues.
"Adult stem cells are difficult to isolate and manipulate, so the fact that Sox2 appears to be a marker for many adult stem cells may allow researchers to isolate them more easily and study them in more detail," Hochedlinger explains.
"Manipulation of Sox2 expression could help us push embryonic stem cells into particular types of adult stem cells and, when combined with certain growth factors, induce differentiation into desired types of tissue. All of these possibilities need to be investigated." Hochedlinger is an associate professor of Medicine at Harvard Medical School and a Howard Hughes Medical Institute Early Career Scientist.
Additional authors of the Cell Stem Cell paper are lead author Katrin Arnold, PhD, Abby Sarkar, Mary Anna Yram, Jose Polo, PhD, and Neils Geijsen, PhD, all of the MGH Center for Regenerative Medicine and the Harvard Stem Cell Institute; Rod Bronson, DVM, Harvard Medical School; and Sumitra Sengupta and Marco Seandel, MD, PhD, Weill Cornell Medical College. The study was supported by the Harvard Stem Cell Institute, a National Institute of Health Director's New Innovator Award, and the Kimmel and V Foundations for Cancer Research.
Celebrating the 200th anniversary of its founding in 1811, Massachusetts General Hospital (http://www.massgeneral.org) is the original and largest teaching hospital of Harvard Medical School. The MGH conducts the largest hospital-based research program in the United States, with an annual research budget of nearly $700 million and major research centers in AIDS, cardiovascular research, cancer, computational and integrative biology, cutaneous biology, human genetics, medical imaging, neurodegenerative disorders, regenerative medicine, systems biology, transplantation biology and photomedicine.
.Original article:http://www.eurekalert.org/pub_releases/2011-10/mgh-eop100511.php