Home | Pregnancy Timeline | News Alerts |News Archive May 7, 2015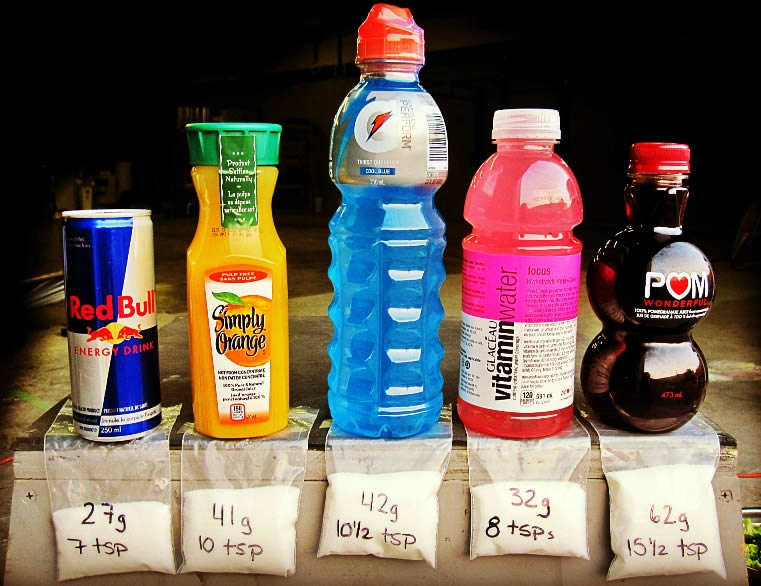 In 2012, 86 million Americans age 20 and older had pre-diabetes. This number is up from 79 million in 2010. Diabetes remains the 7th leading cause of death in the United States in 2010, with 69,071 death certificates listing it as the cause of death, and a total of 234,051 death certificates listing diabetes as a contributing cause of death.
Image Credit: Reaching Utopia
Replace 1 sugar drink a day - cut risk of diabetes

A new study indicates that for every 5% energy increase provided by sweet drinks, in tandem the risk of developing type 2 diabetes can increase by 18%. However, the study also estimates replacing your daily consumption of one sugary drink with either water or unsweetened tea or coffee — lowers your risk of developing diabetes by between 14% and 25%.
The research appears in Diabetologia (the journal of the European Association for the Study of Diabetes) and is based on the large EPIC-Norfolk study which included more than 25,000 men and women ages 40-79 years, living in Norfolk, United Kingdom. The study participants recorded everything they ate and drank for 7 consecutive days including weekends. Particular attention was given to type, amount and frequency of food and liquid consumed, and whether sugar was added by the participant. During approximately 11 years of follow-up, 847 study participants were diagnosed with new-onset type 2 diabetes.
---
"By using this detailed dietary assessment with a food diary, we were able to study several different types of sugary beverages, including sugar-sweetened soft drinks, sweetened tea or coffee and sweetened milk drinks as well as Artificially Sweetened Beverages (ASB) and fruit juice, and examine what happens if water, unsweetened tea, coffee or ASB were substituted for sugary drinks."

Nita Forouhi PhD, lead scientist, member of the IDF (International Diabetes Federation) Diabetes Atlas Committee, adviser to the National Institute of Health and Clinical Excellence, Associate Editor for Diabetic Medicine; leader of Nutritional Epidemiology program for the United Kingdom Medical Research Council (MRC) Epidemiology Unit, University of Cambridge, UK
---
The analysis accounted for a range of important factors including total energy intake. Researchers found an approximate 22% increased risk of developing type 2 diabetes based on an extra serving per day of either soft drinks, sweetened milk beverages or ASBs, but consumption of either fruit juice, sweetened tea or coffee were not related to diabetes. After accounting for body mass index and waist size as markers of obesity, a higher risk of diabetes was associated with consumming both soft drinks and sweetened milk drinks, but the link with ASBs no longer remained. This is likely explained by the greater consumption of ASBs by people already overweight or obese.
This new research adds to previous research published in Diabetologia by the authors in 2013 which collected information from food frequency questionnaires across 8 European countries. That previous work indicated habitual daily consumption of sugar sweetened beverages (defined as carbonated soft drinks or diluted syrups) was also linked to a higher risk of type 2 diabetes consistent with the new findings.
The authors also found that if study participants replaced a serving of soft drinks with a serving of water or unsweetened tea or coffee, the risk of diabetes could have been cut by 14%. By replacing a serving of sweetened milk beverage with water or unsweetened tea or coffee, the reduction could have been 20%-25%.
Finally, the authors estimated that if study participants had reduced their sweet beverages to below 10%, 5% or 2% of total daily consumed, 3%, 7% or 15% respectively of new-onset diabetes cases could have been avoided.
Dr Forouhi: "The good news is that our study provides evidence that replacing a daily serving of a sugary soft drink or sugary milk drink with water or unsweetened tea or coffee can help cut the risk of diabetes, offering practical suggestions for healthy alternative drinks for the prevention of diabetes."
---
Dietary research typically relies on asking people what they eat, but this study used follow-up and detailed assessment of diet collected in real-time as people consumed food and drinks, rather than relying on memory.
---
On the wider implications of these results, Dr Forouhi adds: "Our new findings on the potential to reduce the burden of diabetes by reducing the percentage of energy consumed from sweet beverages adds further important evidence to the recommendation from the World Health Organization to limit the intake of free sugars in our diet."
Abstract
Aims/hypothesis
This study aimed to evaluate the association of types of sugar-sweetened beverages (SSB) (soft drinks, sweetened-milk beverages, sweetened tea/coffee), artificially sweetened beverages (ASB) and fruit juice with incident type 2 diabetes and determine the effects of substituting non-SSB for SSB and the population-attributable fraction of type 2 diabetes due to total sweet beverages.

Methods
Beverage consumption of 25,639 UK-resident adults without diabetes at baseline (1993–1997) in the European Prospective Investigation into Cancer and Nutrition (EPIC)-Norfolk study was assessed using 7-day food diaries. During 10.8 years of follow-up 847 incident type 2 diabetes cases were verified.

Results
In adjusted Cox regression analyses there were positive associations (HR [95% CI] per serving/day]) for soft drinks 1.21 (1.05, 1.39), sweetened-milk beverages 1.22 (1.05, 1.43) and ASB 1.22 (1.11, 1.33), but not for sweetened tea/coffee 0.98 (0.94, 1.02) or fruit juice 1.01 (0.88, 1.15). Further adjustment for adiposity attenuated the association of ASB, HR 1.06 (0.93, 1.20). There was a positive dose–response relationship with total sweet beverages: HR per 5% energy 1.18 (1.11, 1.26). Substituting ASB for any SSB did not reduce the incidence in analyses accounting for energy intake and adiposity. Substituting one serving/day of water or unsweetened tea/coffee for soft drinks and for sweetened-milk beverages reduced the incidence by 14%–25%. If sweet beverage consumers reduced intake to below 2% energy, 15% of incident diabetes might be prevented.

Conclusions/interpretation
The consumption of soft drinks, sweetened-milk beverages and energy from total sweet beverages was associated with higher type 2 diabetes risk independently of adiposity. Water or unsweetened tea/coffee appear to be suitable alternatives to SSB for diabetes prevention. These findings support the implementation of population-based interventions to reduce SSB consumption and increase the consumption of suitable alternatives.