Welcome to The Visible Embryo, a comprehensive educational resource on human development from conception to birth.

The Visible Embryo provides visual references for changes in fetal development throughout pregnancy and can be navigated via fetal development or maternal changes.

The National Institutes of Child Health and Human Development awarded Phase I and Phase II Small Business Innovative Research Grants to develop The Visible Embryo. Initally designed to evaluate the internet as a teaching tool for first year medical students, The Visible Embryo is linked to over 600 educational institutions and is viewed by more than one million visitors each month.

Today, The Visible Embryo is linked to over 600 educational institutions and is viewed by more than 1 million visitors each month. The field of early embryology has grown to include the identification of the stem cell as not only critical to organogenesis in the embryo, but equally critical to organ function and repair in the adult human. The identification and understanding of genetic malfunction, inflammatory responses, and the progression in chronic disease, begins with a grounding in primary cellular and systemic functions manifested in the study of the early embryo.

---


The World Health Organization (WHO) has created a new Web site to help researchers, doctors and patients obtain reliable information on high-quality clinical trials. Now you can go to one website and search all registers to identify clinical trial research underway around the world!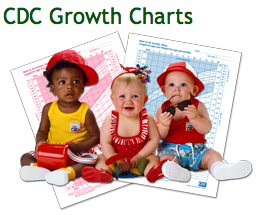 Disclaimer: The Visible Embryo web site is provided for your general information only. The information contained on this site should not be treated as a substitute for medical, legal or other professional advice. Neither is The Visible Embryo responsible or liable for the contents of any websites of third parties which are listed on this site.

Content protected under a Creative
Commons License.

No dirivative works may be made or used for commercial purposes.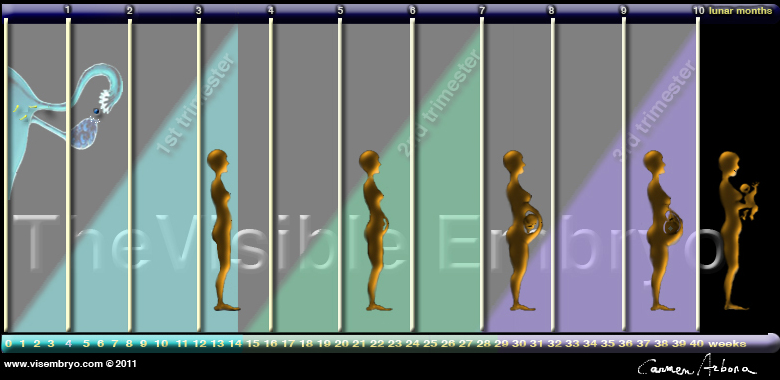 CLICK ON weeks 0 - 40 and follow along every 2 weeks of fetal development
Home | Pregnancy Timeline | News Alerts |News Archive May 14, 2015
Placenta protects baby with transporter proteins
An important function of the human placenta is to protect the fetus from toxic substances cirulating through maternal blood. Placental membrane-bound transporter proteins, known as multidrug resistance proteins, protect the fetus by recirculating unwanted materials back into the mother's blood away from the fetus.

A study in The American Journal of Pathology reports that bacterial and viral infections have a uniquely timed influence on these transporter proteins in early and late pregnancy. The timing suggests a possible mechanism that underlies infection-related pregnancy complications such as preterm birth and fetal brain damage.
---
"Our data show that bacterial and viral challenges can reduce the expression of multidrug transporter [proteins] in the human placenta.

"Because intrauterine infection and inflammation is relatively common during pregnancy and associated with significant pregnancy disorders, reducing the expression of drug transporters may expose the embryo and fetus to potentially harmful drugs, toxins, and hormones that cross from the maternal circulation."

Stephen G. Matthews PhD, Professor, Department of Physiology, Faculty of Medicine, University of Toronto, Toronto, Canada.
---
Researchers analyzed placental tissues from patients in the first trimester (8 to 10 weeks) and from cesarean deliveries in the third trimester (greater than 37 weeks). These placental materials were then treated to simulate bacterial or viral infection, then treated with bacterial or viral antigens to produce antibodies against these infections.

ABC transporters P-glycoprotein (P-gp, or ABCB1) and breast cancer resistance protein (BCRP, or ABCG2) usually protect the fetus from exposure to toxins and foreign chemical substances that might be circulating through a mother's blood. Previous studies have shown that viral or bacterial intra-uterine exposures alter the performance of placental multidrug transporter proteins in pregnant rodents. TLRs or toll-like receptors, are other essential components of the signaling network that stimulate the release of compounds to initiate an immune system response to toxins.

The investigators looked at the effects of pregnancy on LPS (toll-like receptor-4 or TLR-4) and poly(I:C, or TLR-3). TLR-3/4 mRNA expression increased from the first to the third trimesters, and location changed from the inner layer to the outer layer of the placenta by term of pregnancy. This is the first time a gestational age-dependent pattern of expression was found for TLR or toll-like receptor-3. The expression of toll-like receptors was not changed by LPS at either time in pregnancy, whereas poly(I:C) decreased the expression of both receptors in the third trimester and to no effect in the first trimester.
---
"Our data suggest that infection and inflammation are capable of inducing changes in the levels of drug transporters. It also suggests that the placenta exhibits a different response to infectious agents ... greater for bacterial challenges when compared to viral challenges.

"The first-trimester placenta appears to be more sensitive to the effects of bacterial infection, potentially leading to increased exposure of the embryo/fetus to drugs and toxins at a critical time in development — whereas viral infections may disrupt fetal protection [more] in later stages of pregnancy."

Stephen G. Matthews PhD
---
Abstract
The ABC transporters P-glycoprotein (P-gp, official gene symbol ABCB1) and breast cancer resistance protein (BCRP, official gene symbol ABCG2) protect the conceptus from exposure to toxins and xenobiotics present in the maternal circulation. Viral or bacterial challenges alter expression of placental multidrug transporters in rodents. We hypothesized that exposure to lipopolysaccharide (LPS, bacterial antigen) and polyinosinic–polycytidylic acid (poly(I:C), viral antigen) would decrease P-gp and BCRP in the human placenta. Placental explants from first and third trimesters were challenged with 0.1 to 10 μg/mL LPS or 1 to 50 μg/mL poly(I:C) for 4 or 24 hours; mRNA levels, protein expression, and localization were assessed by quantitative real-time PCR, Western blot analysis, and immunohistochemistry, respectively. Toll-like receptor (TLR)-3 and TLR-4 mRNA expression increased from the first to third trimester (P < 0.01), and the receptors localized to cytotrophoblasts in the first trimester and to syncytiotrophoblasts in the third trimester. LPS exposure in first-trimester explants decreased (P < 0.001) ABCB1 and ABCG2 mRNA and protein levels. In contrast, poly(I:C) decreased (P < 0.05) ABCB1, TLR-3, and TLR-4 mRNA levels in the third trimester but not first trimester. LPS and poly(I:C) treatments increased (P < 0.01) IL-8 and chemokine ligand 2. Results suggest that bacterial infections likely alter exposure of the conceptus to toxins and drugs during early pregnancy, whereas viral infections may disrupt fetal protection in later stages of pregnancy.