Home | Pregnancy Timeline | News Alerts |News Archive Jul 13, 2015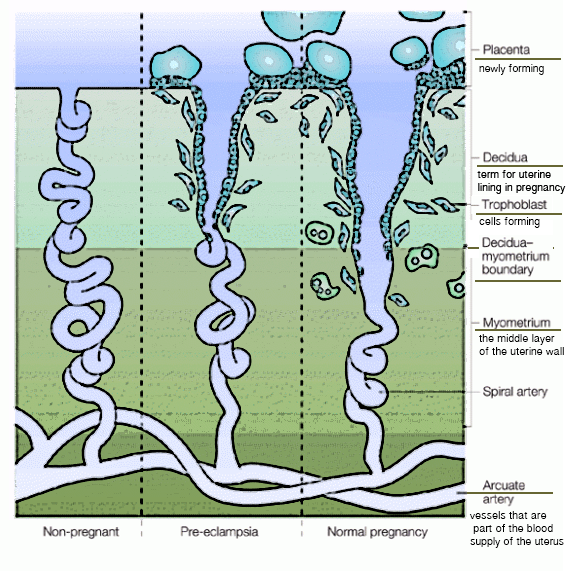 Mother's blood suppy is the lower, darker green layer of the uterine wall
The mid-point — decidua-myometrium boundary — is where the placenta begins.
Top layer is where trophoblast cells build the placenta.
Diagram art adapted from Nature Reviews, Immunology

'Avandia' to be clinically tested for preeclampsia

Rosiglitazone, a drug sold as Avandia for diabetic use, has been found to stimulate the placenta and halt severe preeclampsia — high blood pressure — during pregnancy.
---
Sascha Drewlo PhD, Assistant Professor of Obstetrics and Gynecology, Wayne State University School of Medicine, has received a $1.25 million grant from the National Heart, Lung and Blood Institute of the National Institutes of Health, to study rosiglitazone - sold as the diabetic medication Avandia - to improve placental function. His research will explore rosiglitazone's effectiveness in stimulating a placental halt to severe preeclampsia.
---
Sascha Drewlo PhD, is exploring a novel signaling pathway within the placenta that, when treated with rosiglitazone, can restore normal vascular function, preventing preeclampsia.
---
Preeclampsia is a sudden increase in blood pressure after the 20th week of pregnancy, and is the leading cause of fetal and maternal death worldwide. Women not killed by preeclampsia can suffer lifelong health problems from the condition. Indicated by a sudden increase in blood pressure along with a protein spike in a mother's urine. Preeclampsia can include headaches, swelling in the face and hands, blurred vision, chest pain, and shortness of breath. While the condition can become serious to mother and infant within a few hours, some women report few — if any symptoms.
The condition is responsible for 76,000 maternal deaths and more than 500,000 infant deaths annually, according to estimates from the Preeclampsia Foundation. The condition occurs only during pregnancy. Some mothers develop seizures (eclampsia) and suffer intracranial hemorrhage, the main cause of death in those who develop the disorder. The babies of preeclamptic mothers may develop intrauterine growth restriction or die in utero. According to the Preeclampsia Foundation, the condition, also known as toxemia or pregnancy-induced hypertension, affects 5 to 8 percent of pregnancies. About 13 percent of all maternal deaths worldwide - every 12 minutes - have been attributed to eclampsia. Preeclampsia is responsible for nearly 18 percent of all maternal deaths in the United States.
Severe preeclampsia, Drewlo explained, is believed to stem from the placenta as the only known "cure" for the condition is delivering the baby even when not mature enough for survival. In severe cases, early preterm birth carries a host of long-term complications for the infant.
At the molecular level, Drewlo knew that PPAR-γ is a protein which regulates fatty acid storage, glucose metabolism, and controls specific glial cells which are missing GCM-1 — a protein affecting the formation of blood vessels in embryos. And he knew that disruption of GCM-1 can result in preeclampsia. Drewlo's research in mice found that PPAR-γ can be stimulated by the drug rosiglitazone to reduce preeclampsia-like symptoms. But if inhibited, PPAR-γ induces preeclampsia. In diabetic patients, rosiglitazone binds PPAR-γ receptors in fat cells, making them more responsive to insulin.
---
"We hypothesized that human trophoblast differentiation is regulated by the axis between PPARγ and GCM1, which can be pharmacologically activated to improve placental and maternal endothelial function. The ultimate goal of the proposed research is to improve pregnancy outcomes by restoring placental and maternal vascular function in severe preeclampsia."

Sascha Drewlo PhD, Assistant Professor of Obstetrics and Gynecology, Wayne State University School of Medicine
---
Drewlo adds that in pregnancy, PPAR-γ oversees the release of factors that inhibit the growth of new blood vessels through a GCM-1-pathway. Preliminary studies in human placental cells within a laboratory setting, suggest that PPAR-γ directly controls trophoblast differentiation through regulation of GCM-1. PPAR-γ activation with rosiglitazone significantly decreases blood vessel growth inhibitors.
---
Even if treated successfully, preeclampsia can bring future health problems. Women who have had preeclampsia have double the risk for heart disease and stroke over the next five to 15 years after treatment. Even causing blindness in some.
---
About Wayne State University
Wayne State University is one of the nation's pre-eminent public research universities in an urban setting. Through its multidisciplinary approach to research and education, and its ongoing collaboration with government, industry and other institutions, the university seeks to enhance economic growth and improve the quality of life in the city of Detroit, state of Michigan and throughout the world. For more information about research at Wayne State University, visit http://research.wayne.edu.