Welcome to The Visible Embryo, a comprehensive educational resource on human development from conception to birth.

The Visible Embryo provides visual references for changes in fetal development throughout pregnancy and can be navigated via fetal development or maternal changes.

The National Institutes of Child Health and Human Development awarded Phase I and Phase II Small Business Innovative Research Grants to develop The Visible Embryo. Initally designed to evaluate the internet as a teaching tool for first year medical students, The Visible Embryo is linked to over 600 educational institutions and is viewed by more than one million visitors each month.

Today, The Visible Embryo is linked to over 600 educational institutions and is viewed by more than 1 million visitors each month. The field of early embryology has grown to include the identification of the stem cell as not only critical to organogenesis in the embryo, but equally critical to organ function and repair in the adult human. Identification and understanding of genetic malfunction, inflammatory responses, and the progression in chronic disease, begins with a grounding in primary cellular and systemic functions manifested in the study of the early embryo.

---



The World Health Organization (WHO) has created a new Web site to help researchers, doctors and patients obtain reliable information on high-quality clinical trials. Now you can go to one website and search all registers to identify clinical trial research underway around the world!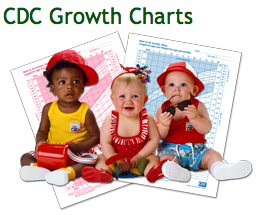 Disclaimer: The Visible Embryo web site is provided for your general information only. The information contained on this site should not be treated as a substitute for medical, legal or other professional advice. Neither is The Visible Embryo responsible or liable for the contents of any websites of third parties which are listed on this site.

Content protected under a Creative
Commons License.

No dirivative works may be made or used for commercial purposes.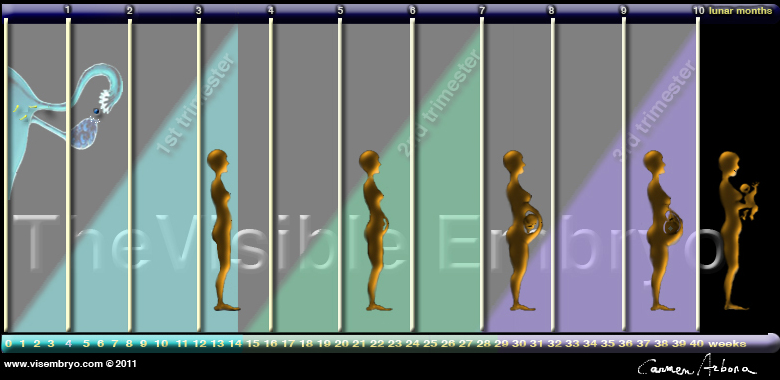 CLICK ON weeks 0 - 40 and follow along every 2 weeks of fetal development
Home | Pregnancy Timeline | News Alerts |News Archive Jul 21, 2015
Joel Brandon Jr., or 'J.J.', was born in May, 2015 weighing 14lbs and 22 inches long
shocking his mother (pictured). He could be the biggest baby born in the USA in 2015.
His mother says his large size could be because of her Type 1 diabetes.
Image credit: DailyMail.co.uk
Metformin does not reduce baby birthweights

Treating obese pregnant women with a diabetes drug does not stop their babies from being born overweight. Doctors had hoped such treatment would help reduce obesity rates and lower the number of difficult births.
---
Heavier babies are more likely to grow into overweight adults. They also have a higher risk of illnesses later in life, such as diabetes and heart disease. It is believed that the additional weight gain in the womb is caused by exposure to excess blood sugar from mom.
Researchers treated overweight mothers-to-be with the diabetes drug metformin - which helps regulate blood sugar - in hopes it would reduce the weight of their babies. Two hundred and twentysix obese pregnant women were treated with the medication from their second trimester until the birth of their babies. However, there was no difference in the weight of babies born to mothers who received metformin compared with a group of 223 mothers who received a dummy pill.
Metformin also had no effect on the number of birth complications, such as miscarriages and still births, the group experienced. The treatment did help reduce blood sugar levels in mothers-to-be and also helped lower the levels of other markers linked to pre-eclampsia and premature births. Researchers will need to follow the babies involved in the study for longer to determine whether the treatment lowers their chances of developing other health problems in later life.
The study was led by the University of Edinburgh in collaboration with the Universities of Warwick and Sheffield, and Liverpool. It is published in The Lancet Diabetes and Endocrinology. The research was funded by the Efficacy and Mechanism Evaluation Program, a Medical Research Council and National Institute for Health Research partnership.
---
"The children of obese pregnant women face a lifetime of long term health complications as they grow up. The results of the EMPOWaR study emphasise the importance for women to be of normal weight before pregnancy."

Jane Norman PhD, Professor, Director, Tommy's Centre for Maternal and Fetal Health, the University of Edinburgh.
---
Jane Brewin, Chief Executive of the baby charity Tommy's, adds: "This well conducted study illustrates one of the most important health challenges we face. We must find ways to encourage women to manage their weight before they become pregnant to minimise the potential adverse impact on their children. This study shows us there are no easy answers and we must re-double our efforts to find effective ways to help women who are overweight in pregnancy."

Abstract Findings
Between Feb 3, 2011, and Jan 16, 2014, inclusive, we randomly assigned 449 women to either placebo (n=223) or metformin (n=226), of whom 434 (97%) were included in the final modified intention-to-treat analysis. Mean birthweight at delivery was 3463 g (SD 660) in the placebo group and 3462 g (548) in the metformin group. The estimated effect size of metformin on the primary outcome was non-significant (adjusted mean difference −0·029, 95% CI −0·217 to 0·158; p=0·7597). The difference in the number of women reporting the combined adverse outcome of miscarriage, termination of pregnancy, stillbirth, or neonatal death in the metformin group (n=7) versus the placebo group (n=2) was not significant (odds ratio 3·60, 95% CI 0·74–17·50; p=0·11).
Interpretation
Metformin has no significant effect on birthweight percentile in obese pregnant women. Further follow-up of babies born to mothers in the EMPOWaR study will identify longer-term outcomes of metformin in this population; in the meantime, metformin should not be used to improve pregnancy outcomes in obese women without diabetes.
Funding
The Efficacy and Mechanism Evaluation (EME) Programme, a Medical Research Council and National Institute for Health Research partnership.