Fetal Timeline Maternal Timeline News News Archive Aug 14, 2015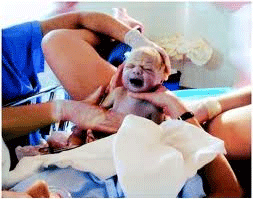 Active labor will dilate the cervix up to 10 centimeters (cm) and last 8 hours and longer.
And labor gets stronger with time - not weaker. Lovingly, the third stage of labor is birth.
How can labor contractions keep growing stronger?

Scientists, for the first time, have identified a mechanism in muscle cells of the uterus that explain how contractions in childbirth grow stronger.
---
The hormone oxytocin plays a significant role in stimulating uterine contractions. Strong contractions help move a baby down the birth canal. But, what is not known is how contractions keep increasing in strength over the long hours of labor.
A research team at the University of Liverpool Women's Hospital has now investigated how it is possible for uterine contractions to grow stronger when 'biological rules' dictate they should grow weaker. As labor progresses, the tightening uterine muscle squeezes blood vessels, reducing oxygen in the blood, as well as blood flow overall.
---
"Laboratory tests have shown us that even when the hormone oxytocin is interrupted, surprisingly, uterine muscle carries on contracting — and can grow stronger. This tells us that oxytocin, although significant, is not the only thing contributing to muscle contraction during labor. Prompting us to ask the question - how does this powerful muscle carry on, working against the odds?"

Susan Wray PhD, Professor, Cellular and Molecular Physiology, University of Liverpool; editor-in-chief, Physiological Reports; Director, Centre of Better Births, Liverpool Women's Hospital, University's Institute of Translational Medicine.
---
Researchers looked for clues in the phenomenon called hypoxic preconditioning found in heart muscle. Hypoxic preconditioning can elicit cellular changes to protect the heart from serious drops in oxygen that are life-threatening. The team found that the uterus reacts to a repetitive lack of oxygen and blood supply, by triggering a previously unidentified process in muscle cells they call Hypoxia-Induced Force Increase (HIFI).
Laboratory experimentation on uterine tissues, revealed that routine contractions subjected to transient dips in oxygen levels (or hypoxia), respond by gradually increasing contraction strength. Once the HIFI mechanism has been triggered — it was sustainable for many hours, just as seen during labor. These results are published in the journal Proceedings of the National Academy of Sciences (PNAS).
---
"This is an exciting discovery, not only for increasing our general understanding of how biological systems respond to the stress of low oxygen, but also for opening up new research pathways in difficult labors.

"We believe this uterine trigger could be key in resolving issues of prolonged labor, and the increasing number of births ending in emergency caesarean."

Susan Wray PhD
---
Significance
Parturition requires strong uterine contractions. A longstanding enigma has been how contractions strengthen despite also causing transient ischemia as they occlude uterine blood vessels. Here we demonstrate a hitherto undescribed mechanism whereby in an adaptation at labor, brief hypoxia in uterine muscle, stimulates the contractile activity. We have named this hypoxia-induced force increase, or HIFI. We identify the underlying mechanism, which involves adenosine and prostaglandin and a rise in intracellular calcium, and show it is present in animal and human uterus, but only close to delivery. We speculate that aberrations in this powerful mechanism could underlie contractions being triggered too early (preterm labor) or if HIFI is deficient, weak contractions, and thus poor and unsuccessful term labors.
Abstract
For successful birth, contractions need to become progressively stronger. The underlying mechanisms are unknown, however. We have found that a novel mechanism, hypoxia-induced force increase (HIFI), is switched on selectively, at term, and is essential to strengthening contractions. HIFI is initiated as contractions cyclically reduce blood flow and produce repeated hypoxic stresses, with associated metabolic and transcriptomic changes. The increases in contractility are a long-lasting, oxytocin-independent, intrinsic mechanism present only in the full-term pregnant uterus. HIFI is inhibited by adenosine receptor antagonism and blockade of cyclooxygenase-2 signaling, and partially reproduced by brief episodes of acidic (but not alkalotic) pH. HIFI explains how labor can progress despite paradoxical metabolic challenge, and provides a new mechanistic target for the 1 in 10 women suffering dysfunctional labor because of poor contractions.