Every high school biology class learns about mitosis, the steps in cell division which end in two daughter cells, each having the same genetic material as the "parent" cell. Now, one particular spindle matrix protein, BuGZ, has been identified for its role in the process.
---
Mitosis involves copying or "replicating" each of a cell's DNA-containing chromosomes, and then separating them into two new cells exaclty like the parent cell.

Since each chromosome carries distinct genes, each daughter cell needs to have all of them, and is damaged by having too many or too few. Errors in mitosis can lead to cancer and many other diseases, so understanding every detail of cell division is of great interest in medicine.
It's known that chromosome separation is facilitated by a structure called the spindle, a frame of interconnected fiber like microtubules. Each chromosome copy is made when DNA is attached to the spindle's microtubule fibers and pulled apart to opposite sides of a dividing cell. This split gives each daughter cell one complete copy of the original set of genes.
---
Besides microtubule fibers, the spindle also contains the spindle matrix, densely packed materials only visible under an electron microscope.
---
New work published in Cell and from a team led by Carnegie's Yixian Zheng, focused on one of those spindle matrix proteins called BuGZ.

They found that BuGZ supports the assembly of the spindle matrix and its microtubules through a unique feature. BuGZ molecules are water-repellant (hydrophobic) and reject all surrounding cell fluids. Instead, BuGZ proteins only self-associate as "inward-facing" droplets. This is an example of coacervation a unique type of electrostatically-driven liquid on liquid phase separation, a result of the association of oppositely charged macro-ions.
Coacervate droplets can measure from 1 to 100 micrometres across, and are spherical aggregates of colloidal droplets held together by hydrophobic forces. "Coacervate" is from the Latin coacervare, meaning "to assemble together or cluster".
During spindle-assembly, BuGZ molecules condense along the microtubule fibers as micro droplets. During mitosis, the BuGZ droplets promote the spindle matrix to make more microtubule fibers which link together and extend the spindle. Scientists speculate that the whole spindle matrix may be formed through the self-association of the hydrophobic protein segments — which would explain why so many seemingly unrelated proteins make up the spindle matrix, one of the central mysteries of cell-division.
---
"Because BuGZ is evolutionarily conserved and found in both vertebrates and invertebrates, our findings should open the door to future research on spindles and their matrices in a wide variety of organisms."

Yixian Zheng PhD, Department of Embryology, Carnegie Institution for Science, Baltimore, MD
---
Abstract Highlights
•The spindle regulator BuGZ undergoes temperature-dependent phase transition
•Phase transition of BuGZ relies on the aromatic and hydrophobic Phe and Tyr
•BuGZ droplets promote microtubule polymerization
•Phase transition of BuGZ promotes assembly of spindle and its matrix

Summary
Spindle assembly required during mitosis depends on microtubule polymerization. We demonstrate that the evolutionarily conserved low-complexity protein, BuGZ, undergoes phase transition or coacervation to promote assembly of both spindles and their associated components. BuGZ forms temperature-dependent liquid droplets alone or on microtubules in physiological buffers. Coacervation in vitro or in spindle and spindle matrix depends on hydrophobic residues in BuGZ. BuGZ coacervation and its binding to microtubules and tubulin are required to promote assembly of spindle and spindle matrix in Xenopus egg extract and in mammalian cells. Since several previously identified spindle-associated components also contain low-complexity regions, we propose that coacervating proteins may be a hallmark of proteins that comprise a spindle matrix that functions to promote assembly of spindles by concentrating its building blocks.
Her co-authors were: Carnegie's Hao Jiang (lead author, also of the Chinese Academy of Sciences) and Shusheng Wang (co-lead author); as well as Yuejia Huang of Carnegie, Xiaonan He, and Xueliang Zhu of The Chinese Academy of Sciences; and Honggang Cui of Johns Hopkins University.
This work was supported by the Chinese Academy of Sciences, the Ministry of Science and Technology of China, the National Science Foundation of China, and the U.S. National Institutes of Health.
The Carnegie Institution for Science is a private, nonprofit organization headquartered in Washington, D.C., with six research departments throughout the U.S. Since its founding in 1902, the Carnegie Institution has been a pioneering force in basic scientific research. Carnegie scientists are leaders in plant biology, developmental biology, astronomy, materials science, global ecology, and Earth and planetary science.
Sep 22, 2015 Fetal Timeline Maternal Timeline News News Archive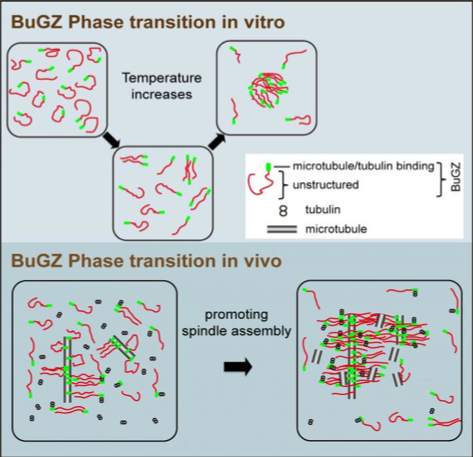 .
Concentrattions of broken down cells can be made by spinning mature Xenopus [frog] eggs
in a centrifuge. This system has allowed investigators to discover a spindle matrix protein
called BuGZ that uses its property of droplet-forming, self-association to support assembly
of spindle and its matrix.
Images Credit: Yixian Zheng and Hao Jiang.