Virus in pregnancy causes autism-like behavior

A new study in pregnant mice suggests that blocking immune reaction to a virus, can restore normal brain structures in mice pups that would otherwise be damaged by a mother's inflammatory response.
---
The study found that activating a particular immune response in pregnant mice, alters the brain structure of their pups — causing behavioral changes like those observed in humans with autism spectrum disorder (ASD).
Several past human studies have suggested a correlation between viral infection in pregnancy and risk of autism spectrum disorders. Although these mouse models were created to study immune reaction and autism-like behavior, the underlying mechanisms were still not understood — until now.
In a study published Jan. 28, 2016 in Science, led by researchers from the University of Massachusetts Medical School, Massachusetts Institute of Technology, NYU Langone Medical Center and the University of Colorado, Boulder, it is revealed that increases in a cytokine called interleukin-17a — initiated by a subset of helper T cells (Th17) — is how a mother's inflammatory response leads to mouse versions of ASD symptoms in their pups.

This new study centered on T lymphocytes, immune cells that react to infection. T lymphocytes expand into a cellular army to attack invading microbes. A subset of T cells, Th17 cells, go on to release interleukin 17 (IL-17) stimulating the release of cytokine in an amplified immune response. However, if too overactive or off target, cytokines actually interfere with normal cell function, as seen in autoimmune diseases like psoriasis and inflammatory bowel disease.
---
Specifically, activating Th17 cells to stimulate
IL-17a — are core mechanisms of inflammation that can lead to brain abnormalities in pups.
---
Th17 cells are regulated by ROR gamma t (retinoid-related orphan receptor gamma t ), which turns on genes to enable T cells to mature and produce IL-17a in mice which is useful throughout their lives.
In experiments, the study exposed pups in the womb to IL-17a, by experimentally injecting pregnant mice with a virus inducing high levels of IL-17a. Those mice pups exposed to higher IL-17a levels in the womb had trouble telling the difference between a live mouse and a toy mouse — while normal mice pups spent more time socially interacting with live mice. These over exposed pups pups also vocalized abnormally to their mothers, not crying as normal pups do. Adult mice exposed to to high levels of IL-17a in-utero, were also more likely to bury marbles found in their cages one after the other in a compulsive, repetitive manner.
Researchers also found that the carefully ordered nerve cell layers in the mouse cortex had become chaotic after exposure to increased IL-17a. The cortex is the part of the brain that translates sight and sound impulses into concepts and thoughts. The team focused on this feature in particular, as disorganized cortical architecture is found in studies of human patients with autism.
---
"The study also showed that a therapeutic treatment with antibodies blocking IL-17a corrected certain behavioral abnormalities, suggesting Th17 cells, as well as the specific proteins they produce, may be candidate therapy targets to prevent autism in the children of susceptible mothers.

"To our knowledge, this is the first study to identify a specific population of immune cells that may have a direct role in causing behaviors linked to autism."

Dan Littman MD PhD, Helen L. and Martin S. Kimmel Professor of Molecular Immunology in the Department of Pathology at NYU Langone Medical Center and corresponding author.
---
Littman noted that the immune reactions in this study are the kind caused only by viral infections in the mother, and have "nothing whatsoever to do with vaccines." Some have linked childhood vaccination to autism risk despite "overwhelming scientific evidence to the contrary."
---
"Blocking the function of Th17 cells and IL-17a in the maternal womb, using antibodies and other genetic techniques, completely restored normal behavior and brain structure in the affected offspring."

Jun R. Huh PhD, Assistant Professor, Medicine, Division of Infectious Diseases and Immunology, University of Massachusetts Medical School, and a corresponding author on the study.
---
Blocking the action of Th17 cells completely restored normal structure and function to the brains of the study offspring, regardless of whether this was accomplished by treatment with anti-IL17a antibodies or by blocking the expression of ROR gamma to shut down the IL-17a gene.
"We don't know yet how these findings are correlated in humans," said Huh. "We need to find out, for example, whether Th17 cells have the same key function in human mothers as in mice, so what is needed next is a human study to monitor IL-17a levels in a large number of women, including those infected with viruses or who have autoimmune conditions, during pregnancy and correlate those levels with the diagnosis of autism spectrum disorder in children over several years."
Abstract
Viral infection during pregnancy has been correlated with increased frequency of autism spectrum disorder (ASD) in offspring. This observation has been modeled in rodents subjected to maternal immune activation (MIA). The immune cell populations critical in the MIA model have not been identified. Using both genetic mutants and blocking antibodies in mice, we show that retinoic acid receptor–related orphan nuclear receptor γt (RORγt)–dependent effector T lymphocytes [e.g., T helper 17 (TH17) cells] and the effector cytokine interleukin-17a (IL-17a) are required in mothers for MIA-induced behavioral abnormalities in offspring. We find that MIA induces an abnormal cortical phenotype, which is also dependent on maternal IL-17a, in the fetal brain. Our data suggest that therapeutic targeting of TH17 cells in susceptible pregnant mothers may reduce the likelihood of bearing children with inflammation-induced ASD-like phenotypes.

Researchers: Charles Hoeffer, a professor of integrative physiology at the University of Colorado, is a senior author of the paper, and other authors include MIT postdoc Yeong Yim, NYU graduate student Helen Wong, UMass Medical School visiting scholars Sangdoo Kim and Hyunju Kim, and NYU postdoc Sangwon Kim.

Study title: "The maternal interleukin-17a pathway promotes autism-like phenotypes in offspring"
About the University of Massachusetts Medical School
The University of Massachusetts Medical School (UMMS), one of five campuses of the University system, comprises the School of Medicine, the Graduate School of Biomedical Sciences, the Graduate School of Nursing, a thriving research enterprise and an innovative public service initiative, Commonwealth Medicine. Its mission is to advance the health of the people of the commonwealth through pioneering education, research, public service and health care delivery with its clinical partner, UMass Memorial Health Care. In doing so, it has built a reputation as a world-class research institution and as a leader in primary care education. The Medical School attracts more than $274 million annually in research funding, placing it among the top 50 medical schools in the nation. In 2006, UMMS's Craig C. Mello, PhD, Howard Hughes Medical Institute Investigator and the Blais University Chair in Molecular Medicine, was awarded the Nobel Prize in Physiology or Medicine, along with colleague Andrew Z. Fire, PhD, of Stanford University, for their discoveries related to RNA interference (RNAi). The 2013 opening of the Albert Sherman Center ushered in a new era of biomedical research and education on campus. Designed to maximize collaboration across fields, the Sherman Center is home to scientists pursuing novel research in emerging scientific fields with the goal of translating new discoveries into innovative therapies for human diseases.
Feb 1, 2016 Fetal Timeline Maternal Timeline News News Archive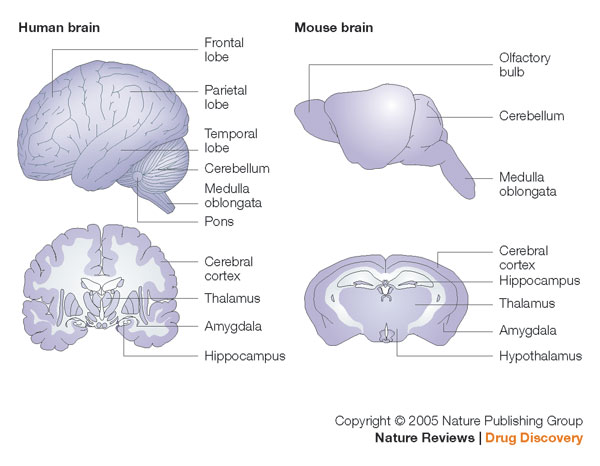 Human brain and mouse brain. The cerebral cortex is the outer layer of the cerebrum, it plays
a key role in memory, attention, perceptual awareness, thought, language, and consciousness.
Image Credit: Nature Reviews