Teaching stem cells to build muscle

New research shows young muscle stem cells can "teach" adult muscle cells to regenerate. Scientists have found a key to enhancing repair of damaged muscle.
---
Published in Cell Reports, scientists describe why fetal muscle stem cells (MuSCs) are better at regenerating muscle compared to adult MuSCs.

Research demonstrated that fetal MuSCs can expand more efficiently than their adult counterparts. This coincides with fetal cells' increased ability to remodel their microenvironment using proteins: tenascin-C, fibronectin, and collagen VI. Continued experiments revealed that these components of the fetal MuSCs extracellular matrix (ECM) are critical and stage-specific regulators of MuSC function. Overall, fetal MuSCs provided cues governing skeletal muscle repair.

The research opens the door for new approaches to treating muscle diseases including muscular dystrophies, which affect approximately 50,000 people in the U.S., and muscle wasting associated with cancer and aging.
---
"We found that fetal MuSCs remodel their microenvironment by secreting specific proteins, then examined whether that same microenvironment can encourage adult MuSCs to more efficiently generate new muscle. It does, which means that how adult MuSCs normally support muscle growth is not an intrinsic characteristic, but can be changed."

Matthew Tierney, graduate student, Sanford Burnham Prebys Medical Discovery Institute (SBP), and first author of the study.
---
The proteins that fetal MuSCs secrete are part of their extracellular matrix (ECM), a mesh of proteins and starches in their cellular environment. As fetal MuSCs mature into adult MuSCs, over time they effectively change their microenvironment. Fetal MuSCs can create new muscle, while adult MuSCs repair damage and sustain a pool of stem cells to mend future injuries.
---
In muscular dystrophies and muscle wasting, progressive degeneration overwhelms the capacity of adult MuSCs.
---
However, adult MuSCs living in a microenvironment along with fetal characteristics, are better at regenerating muscle. This discovery provides a rationale for developing drugs to trigger such a transition.

Muscle stem cells (MuSCs), also called satellite cells, remain in a quiescent state in adult tissue, poised to respond in an injury event. When activated, adult MuSCs self-renew at the same time generating myocyte (muscle fibre) progenitor cells in order to repair damage.

Myocytes are long and tubular. They develop from myoblast cells to form muscles in various myocyte forms: cardiac, skeletal, and smooth muscle cells, all with varying properties.
General structure of a muscle cell

and neuromuscular junction:

1. Axon of nerve

2. Neuromuscular junction

3. Muscle fiber (Myocyte)

4. Myofibril

Image Credit:

Wikipedia
Researchers collected MuSCs cells at various developmental stages identifying them using fluorescence-activated cell sorting (FACS). Finding the expression of α7-integrin helped define fetal muscle cells in different stages of development, they characterized them as follows: cells expressing both α7-integrin and CD34 (fetal); neonatal (postnatal day 7); and juvenile (postnatal day 21), etc. Fetal MuSCs were found to be less fusable than postnatal adult MuScs, suggesting that fusion efficiency increases with developmental aging.
---
"These results help explain differences between the capacity of fetal and adult MuSCs to repair muscle.

"Managing microenvironments is an emerging approach to treat many diseases, from cancer to cardiovascular disease to neurodegeneration. We're excited about the implications for treating muscle diseases, and applying our conclusions toward therapies."

Alessandra Sacco PhD, Associate Professor, Development, Aging, and Regeneration Program at SBP, and senior author of the study.
---
Abstract Highlights
•Fetal MuSCs resist progenitor specification and efficiently expand upon transplant
•Balance between MuSC-mediated muscle repair and niche entry shifts postnatally
•Fetal MuSCs remodel their microenvironment via ECM protein deposition
•Tenascin-C, fibronectin, and collagen VI play stage-specific roles in MuSC function

Summary
Muscle stem cells (MuSCs) exhibit distinct behavior during successive phases of developmental myogenesis. However, how their transition to adulthood is regulated is poorly understood. Here, we show that fetal MuSCs resist progenitor specification and exhibit altered division dynamics, intrinsic features that are progressively lost postnatally. After transplantation, fetal MuSCs expand more efficiently and contribute to muscle repair. Conversely, niche colonization efficiency increases in adulthood, indicating a balance between muscle growth and stem cell pool repopulation. Gene expression profiling identified several extracellular matrix (ECM) molecules preferentially expressed in fetal MuSCs, including tenascin-C, fibronectin, and collagen VI. Loss-of-function experiments confirmed their essential and stage-specific role in regulating MuSC function. Finally, fetal-derived paracrine factors were able to enhance adult MuSC regenerative potential. Together, these findings demonstrate that MuSCs change the way in which they remodel their microenvironment to direct stem cell behavior and support the unique demands of muscle development or repair.
This is an open access article under the CC BY-NC-ND license (http://creativecommons.org/licenses/by-nc-nd/4.0/).
This work was performed in collaboration with the Université de Strasbourg and supported by funding from the Muscular Dystrophy Association, the National Institutes of Health (NIH), California Institute for Regenerative Medicine (CIRM), and the French Institut National du Cancer.
About Sanford Burnham Prebys Medical Discovery Institute
Sanford Burnham Prebys Medical Discovery Institute (SBP) is an independent nonprofit research organization that blends cutting-edge fundamental research with robust drug discovery to address unmet clinical needs in the areas of cancer, neuroscience, immunity, and metabolic disorders. The Institute invests in talent, technology, and partnerships to accelerate the translation of laboratory discoveries that will have the greatest impact on patients. Recognized for its world-class NCI-designated Cancer Center and the Conrad Prebys Center for Chemical Genomics, SBP employs more than 1,100 scientists and staff in San Diego (La Jolla), Calif., and Orlando (Lake Nona), Fla. For more information, visit us at SBPdiscovery.org. The Institute can also be found on Facebook at facebook.com/SBPdiscovery and on Twitter @SBPdiscovery.

Return to top of page
Feb 24, 2016 Fetal Timeline Maternal Timeline News News Archive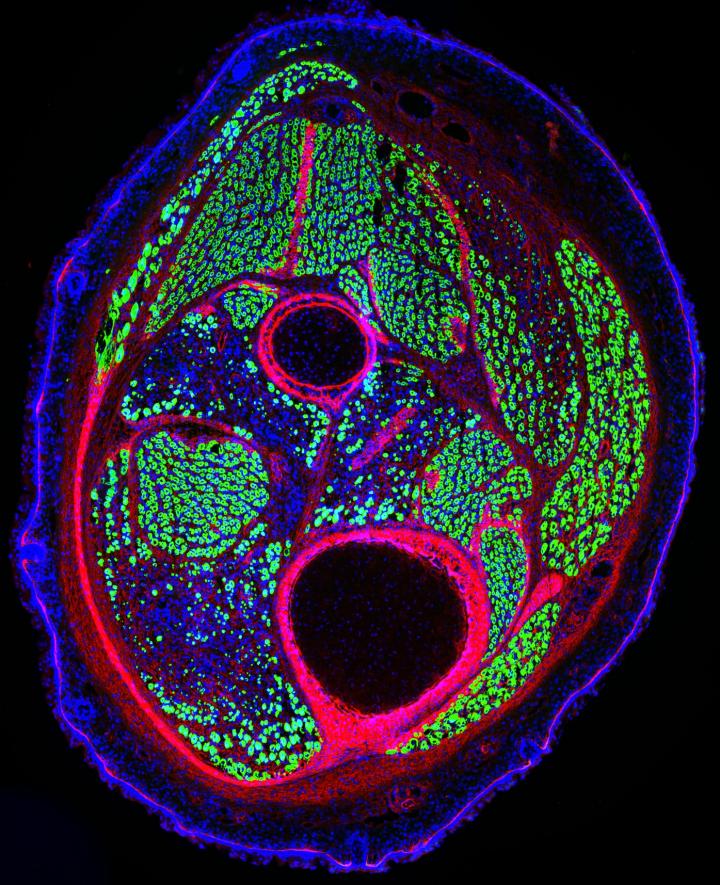 Mouse muscle stem cells both generate new muscle (GREEN) and regenerate it after damage.
Image Credit: Laboratory of Alessandra Sacco, Sanford Burnham Prebys Medical Discovery Institute